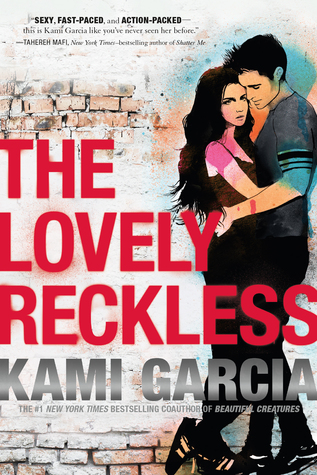 "If you put the clutch to the floor and shift into first gear as soon as you feel that nudge, you won't stall and you won't crash. You'll fly." 

Before Noah died, I never took risks. I was afraid of disappointing someone or screwing up the Plan. Now I've disappointed everyone. There's no Plan and no Noah, and I'm still afraid. Just once, I wish I knew what it felt like to fly.
Title: The Lovely Reckless
Author: Kami Garcia
Series: Standalone
Publication: October 4th 2016 by Imprint
Pages: 384
Source: Netgalley
Summary from Goodreads:
Seventeen-year-old Frankie Devereux would do anything to forget the past. Haunted by the memory of her boyfriend's death, she lives her life by one dangerous rule: Nothing matters. At least, that's what Frankie tells herself after a reckless mistake forces her to leave her privileged life in the Heights to move in with her dad—an undercover cop. She transfers to a public high school in the Downs, where fistfights don't faze anyone and illegal street racing is more popular than football.
Marco Leone is the fastest street racer in the Downs. Tough, sexy, and hypnotic, he makes it impossible for Frankie to ignore him—and how he makes her feel. But the risks Marco takes for his family could have devastating consequences for them both. When Frankie discovers his secret, she has to make a choice. Will she let the pain of the past determine her future? Or will she risk what little she has left to follow her heart?
---
My Thoughts:
Oh my goodness gracious I am in love. I went into The Lovely Reckless with a great deal of skepticism because I am one of those who did not enjoy Beautiful Creatures at all – and I mean, zilch, nada, zip. But, as I started losing myself page after page after page, I realized something: The Lovely Reckless is the most deliciously dangerous contemporary novel I have ever had the pleasure of holding in my hands. Enough said.
The Lovely Reckless took me by surprise in the best of ways. Frankie is a badass and I absolutely adore her. Now, I don't mean badass in the usual sense of she can tear you to pieces with her pinky finger – I mean badass in the sense that she is one of the strongest protagonists I have ever encountered. Frankie witnessed her boyfriend getting beaten to death. Right in front of her face.
Yeah, traumatizing much? This leads me into one of the first things I love about her. She makes some shit choices, that's understandable, but she isn't all "woe is me, woe is me" about it. She wants to find the man that killed Noah, she just can't remember his face. I loved Frankie's inner monologue. While there were moments where she focused on Noah and what happened, a majority of the time her inner worry was projected into things about her friends. I identified with that, and it made bonding with Frankie so, so much easier.
Frankie was a peculiar character in the scope of the novel, and it made it all the more interesting. Her father is a cop. A undercover cop, to be exact. And said undercover cop just happens to be investigating the very thing she gets involved in. Can you say, uh oh? I mean, if it were just that simple this book probably would have taken a completely different turn. But it wasn't.
The Lovely Reckless is a giant web of WTF moments, serious feels, and little, itty-bitty things that will make you want to slam the book (lovingly, of course) into the nearest person's face so that they can suffer with you. Between Frankie and Marco, Lex and Abel, and just adoring the young kids Frankie works with for community service, this book is the epitome of feels central. It likes to rip your heart out. Frankie's fucking dad, man. I swear. If he weren't a cop I would have reached into the book and bitch slapped him for her.
On that note: Marco. My precious sinnamon (I spelled it that way on purpose) roll whom I really want to hug and say everything is gonna be alright. Marco was fantastic. He was patient, sort of. Goodness, I'm sort of at a loss for words about him. He's not a good guy, but he's a good guy, you know what I mean? If not, it'll make sense eventually. He cares for his sister, feeds the one eyed cat in the alley, and doesn't stand for bullshit. Plus, he's a complete heartthrob. So there's that. I cannot accurately explain the feels I have about Marco. I'm just going to say that my love for him is the always kind.
The Lovely Reckless is the kind of book where a lot of bad paves the way for a lot of good. It is exciting, emotionally traumatizing, tantalizing, and a complete and utter thrill ride. It is the kind of contemporary that clings to you long after you've finished it, begging you to come back and dive in once more. The Lovely Reckless is problematically addictive and will kill you slowly in every intimate way it knows how.
---
Save