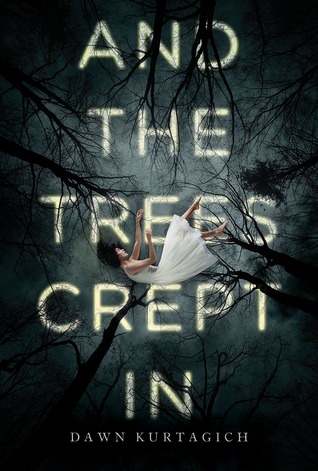 There was an old lady
who lived all alone,
until her nieces
came all the way home.
nightly she prayed
he'd stay away,
but childhood demons,
come back to play.
Title: And the Trees Crept In
Author: Dawn Kurtagich
Series: Standalone
Publication: September 6th 2016 by Little, Brown Books for Young Readers
Pages: 352
Source: Publisher in exchange for a honest review
Summary from Goodreads:
When Silla and Nori arrive at their aunt's home, it's immediately clear that the "blood manor" is cursed. The creaking of the house and the stillness of the woods surrounding them would be enough of a sign, but there are secrets too–the questions that Silla can't ignore: Who is the beautiful boy that's appeared from the woods? Who is the man that her little sister sees, but no one else? And why does it seem that, ever since they arrived, the trees have been creeping closer?
Filled with just as many twists and turns as The Dead House, and with achingly beautiful, chilling language that delivers haunting scenes, AND THE TREES CREPT IN is the perfect follow-up novel for master horror writer Dawn Kurtagich.
A GIF List of my Thoughts and Feels
Basically a summary of my feelings towards the whole thing:
The characters:
The setting:
The plot:
The writing:
The ending:
---