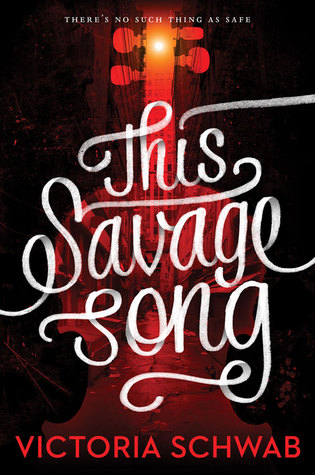 "Monsters, monsters, big and small,
"They're gonna come and eat you all.
Corsai, Corsai, tooth and claw,
Shadow and bone will eat you raw.
Malchai, Malchai, sharp and sly,
Smile and bite and drink you dry.
Sunai, Sunai, eyes like coal,
Sing you a song and steal your soul.
Monsters, monsters, big and small,
They're gonna come and eat you all!"
Title: This Savage Song
Author: Victoria Schwab
Series: Monsters of Verity # 1
Publication:  July 5th 2016 by Greenwillow Books
Pages: 464
Source: OwlCrate
Summary from Goodreads:
There's no such thing as safe in a city at war, a city overrun with monsters. In this dark urban fantasy from author Victoria Schwab, a young woman and a young man must choose whether to become heroes or villains—and friends or enemies—with the future of their home at stake. The first of two books.
Kate Harker and August Flynn are the heirs to a divided city—a city where the violence has begun to breed actual monsters. All Kate wants is to be as ruthless as her father, who lets the monsters roam free and makes the humans pay for his protection. All August wants is to be human, as good-hearted as his own father, to play a bigger role in protecting the innocent—but he's one of the monsters. One who can steal a soul with a simple strain of music. When the chance arises to keep an eye on Kate, who's just been kicked out of her sixth boarding school and returned home, August jumps at it. But Kate discovers August's secret, and after a failed assassination attempt the pair must flee for their lives.
---
My Thoughts:
This Savage Song is a deliciously mouthwatering masterpiece. It is a symphony of emotion, subtle yet powerfully striking imagery, vivid and luscious characters, and monsters that will make you nightmares seem like daydreams. It weaves an inescapable spell; pulling you in and dragging you way down under until it consumes you completely. This Savage Song is the thing nightmares are made of – but in the best way possible.
"It was a cruel trick of the universe, thought August, that he only felt human after doing something monstrous."
The story of Verity is dark, monstrous, and deadly. The aftermath of an accumulation of human terror, murder, and other unmentionable horrors has led to an unstoppable force:  the monstrosity that is humanity. What happens when you pull the trigger? What happens when your sins or your actions take on a body of their own and begin to hunt? Verity is full of monsters, and the humans are to blame.
"Why did everyone have to ruin the quiet by asking questions? The truth was a disastrous thing."
This Savage Song is a terrifyingly beautiful creation. The monsters are of our own creation. There is no clear cut good or bad. There is no justice, no salvation, no safety. There is only living, if you can even call it that. This Savage Song has gone where no book, at least no book I've ever seen, has gone before – and I loved it. I loved every single gut-wrenching second of it and I cannot wait for the second book to sink its claws into me just as deeply as the first did. While the world building did not have a sturdy foundation, the support of the characters and the rich detail of their passions, struggles, and lives shot this book sky high.
It was a cycle of whimpers and bangs, gruesome beginnings and bloody ends.
I keep going on about the characters, so I might as well gush about them some more. I am in love with Kate Harker and August Flynn. Head over heels, heart bleeding, body melting love. They are both monsters in their own right, yet neither of them are truly monsters. They were good, bad, broken, bleeding, and bruised. They were lovable, sometimes on the side of "oh my god what are you doing", and almost always pulling at your heart strings and making you want to root for them. Kate was ruthless. RUTHLESS. It was perfection. Kate is her father's daughter, but she is so, so much worse and so much better all at the same time. She is dangerous and deadly and fantastic. Then we have August Flynn, the little precious Sunai that I want to wrap into a great giant bear hug. He is flail worthy. Seriously. I don't even mean in a romantic way, but in the Bucky Barnes way where you just want to wrap him up in bubble wrap and protect him from the universe.
"He wasn't made of flesh and bone, or starlight.
He was made of darkness."
This Savage Song is one of those novels that clings to your heart. It sinks its claws in and bleeds you dry. I want more. There isn't much to say that can describe the perfection of This Savage Song, and that is part of why it is so perfect. It is indescribable.
---