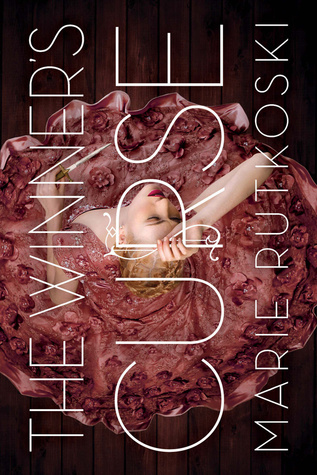 "Happiness depends on being free, and freedom depends on being courageous."
Title: The Winner's Curse
Author: Marie Rutkoski
Series: The Winner's Trilogy # 1
Publication:  March 4th 2014 by Farrar Straus Giroux
Pages: 355
Source: Purchased
Summary from Goodreads:
As a general's daughter in a vast empire that revels in war and enslaves those it conquers, seventeen-year-old Kestrel has two choices: she can join the military or get married. But Kestrel has other intentions.
One day, she is startled to find a kindred spirit in a young slave up for auction. Arin's eyes seem to defy everything and everyone. Following her instinct, Kestrel buys him—with unexpected consequences. It's not long before she has to hide her growing love for Arin.
But he, too, has a secret, and Kestrel quickly learns that the price she paid for a fellow human is much higher than she ever could have imagined.
Set in a richly imagined new world, The Winner's Curse by Marie Rutkoski is a story of deadly games where everything is at stake, and the gamble is whether you will keep your head or lose your heart.
---
My Thoughts:
The Winner's Curse is something I have never read before, though many parts of it seem familiar – like looking at your own skin, but with new and better eyes. The world of The Winner's Curse, while brutal and vivid, was also unique in a very specific manner: a delicate balance of brutality and sophistication not often seen in Roman-esque fantasy novels.
If I am to be perfectly honesty, I had a very difficult time getting into the novel itself. The world was wonderful, a diamond coated blade just waiting to sink into your spine. The characters were intriguing, animated, and layered – like onions. You could peel away layers and layers of walls and secrets and stories, each time they would become a little bit more real and a hell of a lot more fun to root for. My difficulty with getting into the story lay within the plot itself. While the world and the characters and everything else was fresh and new, the plot was something I have seen millions of times before. A bad boy meets girl and a forbidden romance, no matter what awesome badass disguise it was cloaked with. I loved Arin, I loved Kestrel, I loved the conflict of the Valorians and the Herrani – but I did not like the building blocks of Arin and Kestrel's relationship. I thought it was overdone and forced – though it still ended up giving me all the feels by the end.
I have to take some time to talk about Kestrel and Arin, because that is really what The Winner's Curse is about.  Kestrel is something else entirely. She isn't physically strong, not like what is expected of her by society. Also, from the very start of the novel we know she has a difficult choice ahead of her: the military or marriage. I like Kestrel for two main reasons. One, she is brilliant. She is the queen of blackmail and I would pay damn good money to see her go at it with Kaz Breker from Six Of Crows. Two, she does not have a heart of gold and her emotional conflict over right and wrong in the face of war was so breathtakingly honest and believable.
Kestrel is basically the queen of pretending not to care while simultaneously thinking of a million and one ways to have your head chopped off. She is vicious, she is kind. She is smart, but she can be oh so damn naive too. If you're not rooting for her by the end of The Winner's Curse, she will come for you. Just sayin'.
The we have Arin, whom I also love. Arin is a difficult sort of character. You find out some things about him early on in the story, which – as the story progresses- make his character increasingly problematic and very, very hard to get behind even though you love him with all your heart. He isn't a bad guy, not in the slightest. I think that might be one of the reasons I love this book so much – it is yet another case of a morally gray, holy crap which side do I root for brawl. Arin at one helm, Kestrel at the other – yet the two of them are a package deal if you get what I'm saying. The slow burn between the two of them, their resistance and their yearning (especially Arin's) is heartbreaking. Another reason I love Arin is because of his history and how he doesn't  let the hatred rule him. You'll see what I'm talking about. But honestly, Arin is a special sort of guy.
The Winner's Curse is a fantastic spring board for a fantasy series I am eager to fall into. It is brilliant, original, and so many other amazing things that I couldn't even begin to list them for you. It is lyrical, vibrant, and thought provoking. The Winner's Curse is the type of novel that will haunt you long after you've finished with it, and I cannot wait to dive into the rest of the series.
"The Winner's Curse is when you come out on top of the bid, but only by paying a steep price."
---