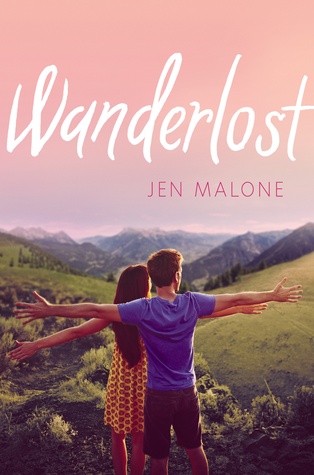 "You can't miss what you don't know. Except, what if we were wrong?… Maybe there are other kinds of people inside us and we just need the right circumstances to draw them out?"
Title: Wanderlost
Author: Jen Malone
Series: Standalone
Publication: May 31st 2016 by HarperTeen
Pages:  352
Source: Purchased
Summary from Goodreads:
Not all those who wander are lost, but Aubree Sadler most definitely is on this novel's whirlwind trip through Europe.
Aubree can't think of a better place to be than in perfectly boring Ohio, and she's ready for a relaxing summer. But when her older sister, Elizabeth, gets into real trouble, Aubree is talked into taking over Elizabeth's summer job, leading a group of senior citizens on a bus tour through Europe.
Aubree doesn't even make it to the first stop in Amsterdam before their perfect plan unravels, leaving her with no phone, no carefully prepared binder full of helpful facts, and an unexpected guest: the tour company owner's son, Sam. Considering she's pretending to be Elizabeth, she absolutely shouldn't fall for him, but she can't help it, especially with the most romantic European cities as the backdrop for their love story.
But her relationship with Sam is threatening to ruin her relationship with her sister, and she feels like she's letting both of them down. Aubree knows this trip may show her who she really is—she just hopes she likes where she ends up.
---
My Thoughts:
OH MY GOODNESS THAT WAS SO FREAKEN ADORABLE! Wanderlost was fun, sweet, quirky, swoonworthy, and everything in between. It's the sort of contemporary that tugs at your heartstrings in the best way possible. It makes you laugh, cry a little bit, and smile. It will make you want to pack your bags and hightail it to Europe on the next possible flight. Wanderlost is exactly what the synopsis promised, a whirlwind trip through Europe that will steal your heart.
To be perfectly honest, I had a bit of a hard time getting into this book at the start. The beginning requires some suspension of disbelief. I mean, what happened with Aubree's sister Elizabeth is so out of the blue and ridiculous, I couldn't wrap my head around it. But, once you get past that the story and the cast of wild and amazing characters sweeps you away into road trip wonderland. As someone who has always wanted to do exactly what these characters were doing, I couldn't devour it fast enough. Add in a cute guy to the equation, plus a side of cute-as-hell romance, and you've got yourself a winner of a contemporary.
Now, Aubree. I have a love hate relationship with this chick. I admire her guts. I admire her for her willingness to protect her sister. I admire her for trying and for not giving up – but she did annoy the hell out of me at the beginning. She really needed to pull her head out of her ass, and thank heavens she finally did and it turned the whole book around. I started rooting for her. I started wanting to see more of her being herself, not the fake Elizabeth. I think I fell in love with her as a narrator on the Sound of Music tour – I mean, how could I not when she completely geeked out like that? It was awesome. As I said, I really do admire Aubree for trying. She was literally up shit creek without a paddle, but she kept going. She tried her damnedest to do her best and she gets major brownie points for that.
Sam. Holy mother of sin, I love Sam. (and yes, the name is awesome). He was perfection. He was adorable, quirky, hilarious, and on top of things. He made this book for me. Not the romance between him and Aubree, though that was pretty darn cute, but Sam as a character. He sort of just lights up the entire scenario. He put a smile on my face every time he was on the page. Come on, he called Rolfe an asswaffle and I just about died.
If you're a fan of swoonworthy boys in fantastical European settings, Wanderlost is definitely the book for you. Wanderlost was fun, original, delightful, and utterly captivating. It will sweep you off of your feet and take you on a wild ride.With unexpected humor, a lovable gang of older ladies and gentlemen, and hidden water fountain shenanigans, Wanderlost is the perfect heartwarming contemporary to get you out of any book funk.
---
---
If you liked Wanderlost, try: