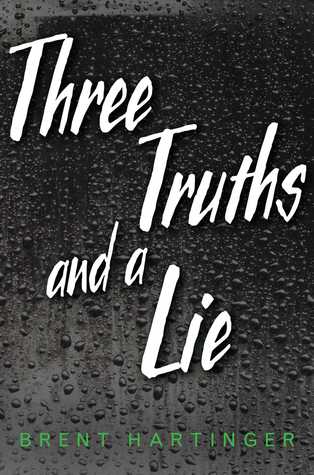 "It was my fault, everything that happened that weekend. It's hard for me to admit that, but it's the truth."
Title: Three Truths and a Lie
Author: Brent Hartinger
Series: Standalone
Publication: August 2nd 2016 by Simon Pulse
Pages: 272
Source: Publisher in exchange for a honest review
Summary from Goodreads:
A weekend retreat in the woods and an innocent game of three truths and a lie go horribly wrong in this high-octane psychological thriller filled with romantic suspense by a Lambda Award–winning author.
Deep in the forest, four friends gather for a weekend of fun.
Truth #1: Rob is thrilled about the weekend trip. It's the perfect time for him to break out of his shell…to be the person he really, really wants to be.
Truth #2: Liam, Rob's boyfriend, is nothing short of perfect. He's everything Rob could have wanted. They're perfect together. Perfect.
Truth #3: Mia has been Liam's best friend for years…long before Rob came along. They get each other in a way Rob could never, will never, understand.
Truth #4: Galen, Mia's boyfriend, is sweet, handsome, and incredibly charming. He's the definition of a Golden Boy…even with the secrets up his sleeve.
One of these truths is a lie…and not everyone will live to find out which one it is.
My Thoughts:
Three Truths and a Lie is one of those books that captures your attention with its creative and intriguing synopsis but then blindsides you with the actual story. What could go wrong? I mean, it's a mash up of Cabin In The Woods, Pretty Little Liars, and the game of Truth or Dare. Just picture that for a second. A group of friends staying in the woods on vacation while things start going wrong, people start dying, and chaos runs rampant? Hell to the yes.
While the book isn't perfect, Three Truths and a Lie is perfectly entertaining. It will make you guess and wonder and the ending will take your breath away because you won't see it coming. It's a topsy turvey thriller of a novel and the narrator only adds to the overall atmosphere of "what the hell is going on". I actually thought Rob, the narrator, was one of the best plot devices. He's telling the story to you. It's not an action as you go, it's a "this is how I saw what happened" – and it will make you question everything.
If you're a fan of horror films, or even the widely loved Scary Movie parodies,  I highly recommend Three Truths and a Lie. It is entertaining, exciting, unique in certain ways, and getting to that plot twist of an ending is well worth suffering through the horrible, scary movie-esque decisions the characters make. Both surprising and satisfying, Three Truths and a Lie is the perfect summer thriller to pass the time with.
---