A secret is a strange thing.

There are three kinds of secrets. One is the sort everyone knows about, the sort you need at least two people for. One to keep it. One to never know.

The second is a harder kind of secret: one you keep from yourself. Every day, thousands of confessions are kept from their would-be confessors, none of these people knowing that their never-admitted secrets all boil down to the same three words: I am afraid.

And then there is the third kind of secret, the most hidden kind. A secret no one knows about.
Title: The Dream Thieves
Author: Maggie Stiefvater
Series: The Raven Cycle # 2
Publication: September 17th 2013 by Scholastic Press
Pages: 437
Source: Purchased
Summary from Goodreads:
Ronan Lynch has secrets. Some he keeps from others. Some he keeps from himself.
One secret: Ronan can bring things out of his dreams.
And sometimes he's not the only one who wants those things.
Ronan is one of the raven boys—a group of friends, practically brothers, searching for a dead king named Glendower, who they think is hidden somewhere in the hills by their elite private school, Aglionby Academy. The path to Glendower has long lived as an undercurrent beneath town. But now, like Ronan's secrets, it is beginning to rise to the surface—changing everything in its wake.
Of The Raven Boys, Entertainment Weekly wrote, "Maggie Stiefvater's can't-put-it-down paranormal adventure will leave you clamoring for book two." Now the second book is here, with the same wild imagination, dark romance, and heart-stopping twists that only Maggie Stiefvater can conjure.
---
My Thoughts:
This was basically my reaction to the mind blowing masterpiece that was The Dream Thieves: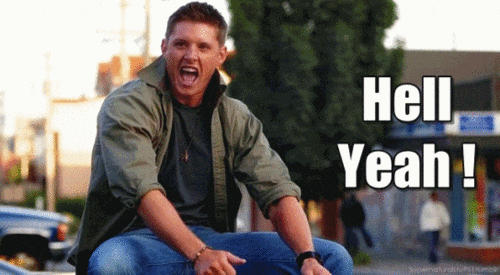 So yea, that about covers it. Sort of. The Dream Thieves is just as fantastic as The Raven Boys, though it does move a bit slower and it is a hell of a lot harder to wrap your head around. The characters were there, the writing was lyrically unbelievable, and the plot was that wonderful slow build that drives you helplessly insane.
I am having a difficult time turning my feelings about this novel into words. I loved it, that's for sure. The Dream Thieves plays off of the beauty and graceful magic of the first novel, before blowing it into whole new unbelievable heights. The Dream Thieves is enchanting, it is intoxicating, and it is the very thing dreams are made of.
"In that moment, Blue was a little in love with all of them.
Their magic. Their quest. Their awfulness and strangeness.
Her raven boys."
---