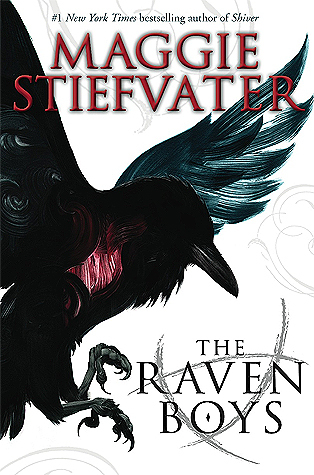 "She wasn't interested in telling other people's futures. She was interested in going out and finding her own."
Title: The Raven Boys
Author: Maggie Stiefvater
Series: The Raven Cycle # 1
Publication: September 18th 2012 by Scholastic Press
Pages: 409
Source: Purchased, after much coercion and urging from rabid fans whom I admire.
Summary from Goodreads:
Every year, Blue Sargent stands next to her clairvoyant mother as the soon-to-be dead walk past. Blue never sees them–until this year, when a boy emerges from the dark and speaks to her.
His name is Gansey, a rich student at Aglionby, the local private school. Blue has a policy of staying away from Aglionby boys. Known as Raven Boys, they can only mean trouble.
But Blue is drawn to Gansey, in a way she can't entirely explain. He is on a quest that has encompassed three other Raven Boys: Adam, the scholarship student who resents the privilege around him; Ronan, the fierce soul whose emotions range from anger to despair; and Noah, the taciturn watcher who notices many things but says very little.
For as long as she can remember, Blue has been warned that she will cause her true love to die. She doesn't believe in true love, and never thought this would be a problem. But as her life becomes caught up in the strange and sinister world of the Raven Boys, she's not so sure anymore.
---
My Thoughts:
I, for some reason, have been very late to jumping on the Raven Cycle bandwagon. I didn't even own the books until very, very recently – and I come to you now asking: WHY DIDN'T SOMEONE HIT ME UPSIDE THE HEAD EARLIER!?! The Raven Boys is fantastic in its own special way. It's not the sort of book that you read and go "Oh yea, this is it" or something, it's like how Hazel falls in love with Agustus Waters… slowly, and then all at once.
I for one, am usually very put off by supernatural psychic thingys – sort of like how I have an extreme uneasiness with witchcraft – but The Raven Boys was so amazing that I couldn't bring myself to care about it. The Raven Boys is one of those books where the in-you-face plot isn't the plot at all. The supernatural stuff did play a key part, but the real gem lies in the building of relationships and the exploration of friendship, family, and sacrifice. It was a slow moving, hook sinking masterpiece. You don't know it's got its hooks sunk into you until it's too late and you are suddenly wholeheartedly invested in the chaos that is Blue Sargent and her raven boys.
While the characters are fantastic, the brightest spot of this whole shindig is the writing. Maggie Stiefvater has an effortless way of turning the mundane into the extraordinary. The words fly off the page, singing songs in your ears and filling you with this sense of complete otherness. Her writing is beautiful. It is lyrical perfection that will make you feel things you didn't know you could feel. Each word has obviously been carefully thought about and each sentence is a work of art in its own right. You put that all together, and what do you get? A fucking masterpiece soon to be even more of a phenomenon, that's what.
I don't even know what to say about Blue, her crazy and strangely lovable family, and the quartet of irresistible Raven boys from Aglionby.   Blue is… well, she's Blue. She is a force of nature, that's for sure. I think one of my absolute favorite parts of the book is her first meeting with Gansey and she yells at him because he is basically trying to bribe her into talking with Adam. Just… *sighs*, the way she lays into him is beautiful. Blue is the ultimate best friend for life sort of girl. She's a take no shit and take no prisoner sort of chick and that has made her squad goals to the max.
Gansey and the other raven boys? Oh my goodness, I didn't think I could care that much about characters – especially when they sort of rubbed me wrong as a first impression. I had a hard time getting to like someone who was so privileged, knew it, and threw it around like it was nothing. I guess I was sort of like Blue in that way. But, Gansey did grow on me, and so did Ronan. I think the reason I fell in love with them the way I did was because of the way they loved and cared for each other. Gansey, Ronan, Adam, and Noah are a family – and I sort of felt like I was almost spying on them. Their relationship was something different, and I felt privileged to have witnessed it.
The Raven Boys as I have said, is something special. It is entirely unique. I have never read anything like The Raven Boys before, it is in its own untouchable playing field. It is brilliant, deliberate, and haunting. The Raven Boys is an experience unto itself, and it is well worth picking up. It will transport you to a realm entirely unknown but ready to be discovered.
---
---
If you like The Raven Boys, try: