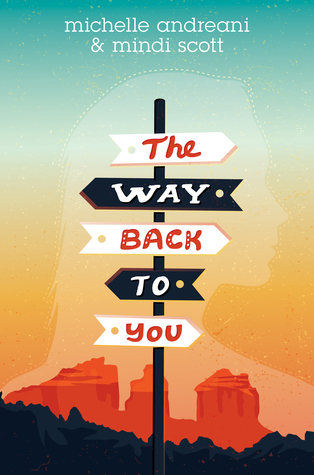 "Grief doesn't need much space at all. It's more like it tightens and squeezes until there's no more of you left."
Title: The Way Back to You
Authors: Michelle Andreani and Mindi Scott
Series: Standalone
Publication: May 3rd 2016 by Katherine Tegen Books
Pages: 384
Source: Purchased
Summary from Goodreads:
Six months ago, Ashlyn Montiel died in a bike accident.
Her best friend Cloudy is keeping it together, at least on the outside. Cloudy's insides are a different story: tangled, confused, heartbroken.
Kyle is falling apart, and everyone can tell. Ashlyn was his girlfriend, and when she died, a part of him went with her. Maybe the only part he cares about anymore.
As the two people who loved Ashlyn best, Cloudy and Kyle should be able to lean on each other. But after a terrible mistake last year, they're barely speaking. So when Cloudy discovers that Ashlyn's organs were donated after her death and the Montiel family has been in touch with three of the recipients, she does something a little bit crazy and a lot of out character: she steals the letters and convinces Kyle to go on a winter break road trip with her, from Oregon to California to Arizona to Nevada. Maybe if they see the recipients—the people whose lives were saved by Ashlyn's death—the world will open up again. Or maybe it will be a huge mistake.
With hundreds of miles in front of them, a stowaway kitten, and a list of people who are alive because of Ashlyn, Cloudy and Kyle just may find their way to back to her…and to each other.
---
My Thoughts:
This is a very special book for two reasons. One: it deals with grief in a way that is both realistic and easy to relate to. Two: I managed to pick this book up at the perfect point in my life. (I finished reading it the day after my younger sister's eighteenth birthday. May 8th was the thirteenth anniversary of her death). I, of course, had a very difficult time reading this novel  – but I managed it, and it made me realize a lot of things about myself. The Way Back to You is special, it is poignant,  and it is powerful in a subtle way. It will make you think, it makes you understand what happens when you bottle everything up and push people away – even if you don't realize you are doing it. It showcases how different people handle their grief in different ways: be it becoming a busy body, a shut in, and or completely blocking it out of you head all together. Besides that, though, it is also a story about love and realizing that you don't have to sacrifice your own happiness. It is about discovery, it is about friendship, and it is about family. The Way Back to You was the perfect book in the perfect moment, and I am so, so glad I read it.
I am at a loss for words, in all honesty. I love The Way Back to You. It was fun, cute, quirky – and yet that didn't diminish from the grief and the healing that took place. I cannot even begin to accurately describe how powerful the subtle shifting of the character's was within this story. It is character driven, no doubt about it. But there is no singular giant revelation that makes these characters change course, no. It is a slow, brick by brick healing and learning that is both refreshing to see portrayed and heartbreaking all at the same time. Cloudy and Kyle are broken in their own way after the death of a best friend and a girlfriend, Ashlyn, yet they keep trucking along. I think the most powerful part of this story was seeing them grow in the way they did. They had their moments where they blew up. They had their breakdowns, their mistakes and miscalculations,  and those moments when suddenly everything seemed alright and their heart stopped breaking. It was breathtaking.
Cloudy and Kyle are opposites, sort of. Cloudy is cheerleader extraordinaire and Kyle is the baseball star – yet they are so much more than that. Seeing them together, watching them grow together as they sped along highways and made pit stops on their journey was both fascinating and heartbreaking. They needed each other, yet they sort of refused to admit it. They needed each other, the friendship, companionship, romance – whatever word you want to pick,  in order to ground themselves and start to let Ashlyn's death stop being the big bad nasty under the bed. This book is not about the romance between these two characters, it is about watching them grow and heal. It was a artful blend of light and laughable moments and then darkness that could threaten to drown you. It was real. It was authentic. It honors the hardships of getting through the death of someone you love without shoving it down your throat.
The Way Back to You spoke to me on a level only certain books ever manage to do. It screams that you are not alone, even if you think you are. It is a road trip down the road of healing and renewal that you won't want to end, yet it is so much more than that. The Way Back to You is not lighthearted, but it is easy to read and you will suddenly find yourself consumed by it. The friendship and complete and utter care that is highlighted throughout this novel will give you all the feels in the best way possible.
"Eventually, the happier will come easier than the suckiness. It has too."

---
---
If you liked The Way Back to You, try: