Teaser Tuesday is a weekly bookish meme, hosted by MizB at Books and A Beat
This week's Teaser Tuesday is for My Lady Jane by Cynthia Hand, Brodi Ashton, and Jodi Meadows!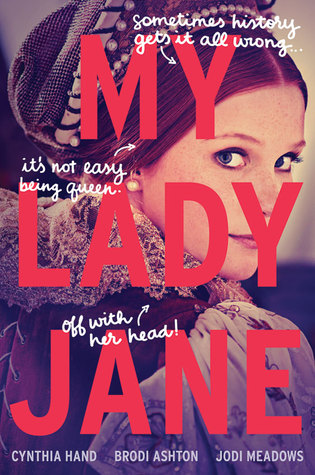 "Poor King Edward, now under the ground.
Hacked his lungs out. They've yet to be found."

"Edward couldn't imagine his cousin Jane with a husband and a child, even though she was sixteen years old and sixteen was a bit spinsterish, by the standards of the day."

"You're wrong," Lord Dudley said. "You've always been a fool."
"The fool thinks he is wise," G retorted. "But the wise man knows himself to be a fool."
---
Summary from Goodreads:
The comical, fantastical, romantical, (not) entirely true story of Lady Jane Grey. In My Lady Jane, coauthors Cynthia Hand, Brodi Ashton, and Jodi Meadows have created a one-of-a-kind fantasy in the tradition of The Princess Bride, featuring a reluctant king, an even more reluctant queen, a noble steed, and only a passing resemblance to actual history—because sometimes history needs a little help.
At sixteen, Lady Jane Grey is about to be married off to a stranger and caught up in a conspiracy to rob her cousin, King Edward, of his throne. But those trifling problems aren't for Jane to worry about. Jane gets to be Queen of England.
---