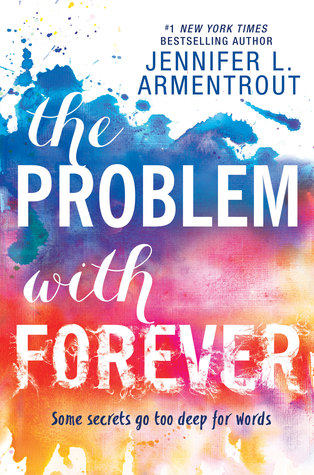 "Forever was something we all took for granted, but the problem with forever was that it really didn't exist."
Title: The Problem with Forever
Author: Jennifer L. Armentrout
Series: Standalone
Publication: May 17th 2016 by Harlequin Teen
Pages: 480
Source: Purchased
Summary from Goodreads:
For some people, silence is a weapon. For Mallory "Mouse" Dodge, it's a shield. Growing up, she learned that the best way to survive was to say nothing. And even though it's been four years since her nightmare ended, she's beginning to worry that the fear that holds her back will last a lifetime.
Now, after years of homeschooling with loving adoptive parents, Mallory must face a new milestone—spending her senior year at public high school. But of all the terrifying and exhilarating scenarios she's imagined, there's one she never dreamed of—that she'd run into Rider Stark, the friend and protector she hasn't seen since childhood, on her very first day.
It doesn't take long for Mallory to realize that the connection she shared with Rider never really faded. Yet the deeper their bond grows, the more it becomes apparent that she's not the only one grappling with the lingering scars from the past. And as she watches Rider's life spiral out of control, Mallory faces a choice between staying silent and speaking out—for the people she loves, the life she wants, and the truths that need to be heard.
---
My Thoughts:
I love Jennifer L. Armentrout. Love, love, love her writing. I have yet to find something of hers that I haven't fallen head over heels in love with – and The Problem with Forever is no exception. Be it New Adult romance, Young Adult fantasy or contemporary, Jennifer L. Armentrout is a masterful manipulator of words and feelings. The Problem with Forever is a hard hitting contemporary read worth every penny.
Mallory is a sweet heart, a soft spoken and gentle soul. Of course, she has her reasons. Mallory has a horrific past, filled with violence and terror – but there is a single bright spot in it, and his name was Rider Stark. Mallory was a wonderful heroine. Watching her grow, seeing her journey from "Mouse" to someone who wasn't afraid to stand up for what she believed in, was amazing. I really felt for her, I felt her struggle and I felt her learning how to hope. Armentrout has always had this ability to make characters that feel so completely real, so, so real it is like they are standing there in front of you. Even if you don't have any way to relate to their circumstances or their history, you become a part of the characters. You feel what they feel, fear what they fear, and love what they love. Mallory is no different. While I cannot personally relate to anything she went through, Mallory is now a part of me and it is a part I will never let go of. I whole heartedly embrace being a Mouse, though I might have claws.
Then we have the second half of the equation, the super-swoonworthy Rider Stark. OHHHH MY GOODNESS. Rider is…. I can't even find the words to describe him. That reunion scene, when he and Mallory first see each other? I had tears in my eyes. Rider is something special, and when you put him Mallory it becomes feels central. I ship them so hard, I swear it made my teeth ache. Rider on his own, though, is wonderful. Of course, he has is faults – as do we all. He isn't perfect, but he is perfect for Mallory. He is kind, considerate, smart, everything. He protected Mallory when they were children and he continues to do so now, though we soon figure out nothing is as it really seems. Rider's journey, paired with Mallory's, makes for an incredible tale of self-discovery and healing.
The Problem with Forever is fantastic. It is heartwarming, heartbreaking, and thought provoking. It will make you cry, characters will make you crack up and others will make you want to rip out your hair. Everything is perfection. The characters are real, the plot even more so. This is the type of book that will stay with you forever, it will remain in your thoughts long after you've finished reading. Perhaps that is the problem with forever, it never leaves you. But I have to say, if The Problem with Forever will be a part of me for all the years to come, I couldn't pick a better book.
---