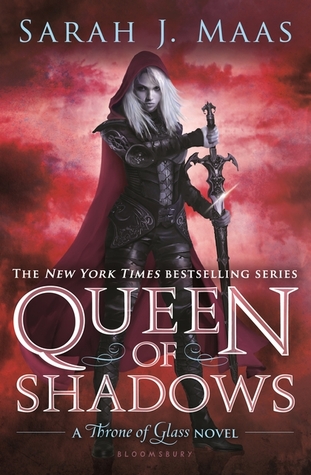 "She was fire, and light, and ash, and embers. She was Aelin Fireheart, and she bowed for no one and nothing, save the crown that was hers by blood and survival and triumph."
Title: Queen of Shadows
Author: Sarah J. Maas
Series: Throne of Glass # 4
Publication: September 1st 2015 by Bloomsbury USA Childrens
Pages: 648
Source: Purchased
Summary from Goodreads:
Everyone Celaena Sardothien loves has been taken from her. But she's at last returned to the empire—for vengeance, to rescue her once-glorious kingdom, and to confront the shadows of her past…
She has embraced her identity as Aelin Galathynius, Queen of Terrasen. But before she can reclaim her throne, she must fight.
She will fight for her cousin, a warrior prepared to die for her. She will fight for her friend, a young man trapped in an unspeakable prison. And she will fight for her people, enslaved to a brutal king and awaiting their lost queen's triumphant return.
The fourth volume in the New York Times bestselling series continues Celaena's epic journey and builds to a passionate, agonizing crescendo that might just shatter her world.
---
My Thoughts:
HOLY BATCRAP ROBIN! Ahhh! All the feels, this book has all the damn feels. It was so amazing.. I can't even begin to explain how amazing this book is. Queen of Shadows is a particular kind of masterpiece where everything goes to hell and simultaneously everything finally seems to be alright. Queen of Shadows delves deeper into the lives of our new characters from Heir of Fire, it illustrates harrowing escapes and dangerous plans, we get to see just how badass and amazing Celaena – or Aelin – can be, and so much more.
My brain has literally exploded from all the amazingness this book contains. Filled with far fetched schemes and plots that somehow make perfect sense, hilarious territorial male Fae bullshit (and just hilarious male Fae), brutal fights and brawls that make everything else look like child's play, and swoonworthy moments that make you melt out of your skin. Queen of Shadows is both the perfect installment for the series to move it forward and the perfect mix of happiness and despair. It will kill you slowly while also lifting your spirits. It will make you scream and cry while also making you weep with joy, join in the battle cry, and laughing at Rowan and Aeidon's antics.
Let's just say this, our fire-breathing-bitch-queen is back in full force and I couldn't be happier. While Heir of Fire was Aelin's heartbreaking journey of rediscovery and redemption in her own eyes, Queen of Shadows is a window into just how powerful and determined she can be. Aelin, Celaena, is unstoppable. She is unrelenting, yet she is kind and willing to make sacrifices for the greater good. She is willing to forget her need for revenge to give someone she cares about what they need. She is selfless, yet she is also, undeniably, Celaena. Celaena who loves music, books, pretty things. Celaena who knows how to torture, how to cause the most pain, how to keep someone alive, how to maim and kill without breaking a sweat. Celaena who just wants to go home and be free. You've known this from the start, but Aelin is my absolute favorite. She is everything to me, my favorite heroine and all that – I don't know what it is about her but she has a very, very special place in my heart.
Speaking of characters…. Aelin's Court! Oh my goodness I do not know what to do with myself. Rowan is amazing. I've loved him from day one, too. I mean… it's Rowan: territorial, badass, ancient, powerful, Fae, and completely devoted to Aelin Rowan. I am glad to say my ship has fucking sailed, and I will leave it at that.
"You make me want to live, too, Aelin Galathynius," he said. "Not exist—but live." He cupped her cheek, and took a steadying breath—as if he'd thought about every word these past three days, over and over again. "I spent centuries wandering the world, from empires to kingdoms to wastelands, never settling, never stopping—not for one moment. I was always looking toward the horizon, always wondering what waited across the next ocean, over the next mountain. But I think … I think that whole time, all those centuries, I was just looking for you."
We also have Lysandra, and yes folks, she' back and she's fucking amazing. If you've read The Assassin's Blade, you know who she is and why Celaena hates her. In Queen of Shadows, there is an amazing bond formed. Celaena has needed a female friend since Crown of Midnight – and Lysandra becomes just that. Also, I CAN'T BELIEVE SHE DID THAT. It made me so damn happy, so, so damn happy. If you've read it, you know exactly what I am talking about. Not only did Aelin give her friend what she needed, I CAN'T BELIEVE LYSANDRA FUCKING DID WHAT SHE DID AND I LOVE IT SO MUCH.
"You and I are nothing but wild beasts wearing human skins."
Then we have Aedion, precious Aedion who needs a great big hug. I love him, I really do. Aelin's cousin and eternal body guard, just… awww! I thought he was adorable, albeit a bit scary at times. I also think he is hilarious – I mean, especially when he was getting into some sort of verbal pissing contest with Rowan. Aedion was amazing. All of the characters are amazing in their own way, but he's a special little cinnamon roll. The moment when he sees Aelin again for the first time, when they are finally reunited was so heartbreaking and heartwarming all at the same time.
"Whatever you had to do to survive, whatever you did from spite or rage or selfishness … I don't give a damn. You're here—and you're perfect. You always were, and you always will be."
Overall, Queen of Shadows has to be my favorite book in the series yet. There is little bit of everything: political intrigue, subterfuge, brutality, romance, friendship, family, forgiveness, revenge and vengeance, all of it. Queen of Shadows is a wild adventure – it is an adventure I will never forget. Queen of Shadows is about finally taking your place, about accepting who you are and using it to your advantage. It is about finding your home, loving your family, and protecting those you care about. It is about love, loss, and redemption. It is everything.
"She was fury, she was wrath, she was vengeance."

---