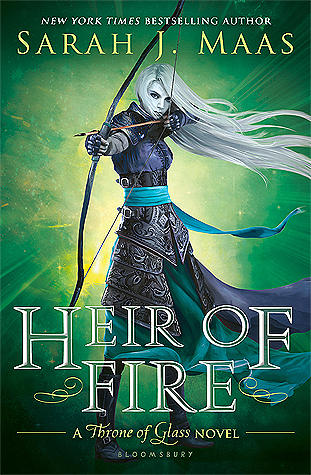 She was the heir of ash and fire, and she would bow to no one.
Title: Heir of Fire
Author: Sarah J. Maas
Series: Throne of Glass # 3
Publication: September 2nd 2014 by Bloomsbury USA Childrens
Pages: 562
Source: Purchased
Summary from Goodreads:
Celaena Sardothien has survived deadly contests and shattering heartbreak—but at an unspeakable cost. Now she must travel to a new land to confront her darkest truth…a truth about her heritage that could change her life—and her future—forever.
Meanwhile, brutal and monstrous forces are gathering on the horizon, intent on enslaving her world. To defeat them, Celaena must find the strength to not only fight her inner demons but to battle the evil that is about to be unleashed.
The king's assassin takes on an even greater destiny and burns brighter than ever before in this follow-up to the New York Timesbestselling Crown of Midnight.
---
My Thoughts:
There is  no possible way for me to review this book, this series – even. That is a statement that will appear again and again as I move forward. Heir of Fire introduces us to new characters, though our beloved Chaol, Dorian, and Celaena are still right in the thick of things, leaving chaos in their wake (and I love it). We are also introduced to a slew of new characters, who – throughout the course of the novel – have also wedged themselves deeply within my heart. Rowan, Aedion, and Manon are welcome additions to our crew of misfits. Heir of Fire is everything. It is everything a book should be and even then it is so much more.
I think, despite everything else within this novel, Celaena's battle with herself, with her guilt and her sheer and utter terror, is perhaps the most beautiful part of this story. We've always known Celaena was far from perfect, far, far from it. But, I think it is here that we see her at her lowest. She never let Endovier break her, though it did leave its multiple scars and cracks within her soul. She didn't let the King break her. But here…. here, Celaena is doing all she can just to keep herself breathing while she rebels against herself. It was heartbreaking. Gut wrenching. There was no pity in my heart, that is never what Celaena wanted nor needed. She just needed someone to tell her it was okay to fight back – someone other than the monster she claims resides within her. I think her transformation is beautiful. I think she is fierce, she is mesmerizing, she is a force to be reckoned with that rises and rises again. It's incredible.
Overall, Heir of Fire will pull you deep into its grasp and it will not let you go. You will feel what Celaena feels, you will fight her fight to whatever end (See what I did there?). You will cheer, you will cry, you will scream and rage and curse – this book will rip your soul out through your chest. This book will break you into a million pieces. I will not be afraid, and neither will you.
I leave you with a list of quotes that either made my heart sing, break, or I just plain liked them.
"She was the heir of ash and fire, and she would bow to no one."

"You cannot pick and choose what parts of her to love."

"I claim you, Rowan Whitethorn. I don't care what you say and how much you protest. I claim you as my friend."

"It would not take a monster to destroy a monster – but light, light to drive out darkness."

"Because I am lost," she whispered onto the earth. "And I do not know the way."

"You collect scars because you want proof that you are paying for whatever sins you've committed. And I know this because I've been doing the same damn thing for two hundred years."

"I claim you, Aelin. To whatever end."

"There is one true king in this room—­there always has been. And he is not sitting on that throne."
Dorian stiffened.
But Chaol went on. "There is a queen in the north, and she has already beaten you once. She will beat you again. And again. Because what she represents, and what your son represents, is what you fear most: hope. You cannot steal it, no matter how many you rip from their homes and enslave. And you cannot break it, no matter how many you murder."
"You didn't need a weapon at all when you were born one."

"She was Aelin Ashryver Galathynius—­and she would not be afraid."
---