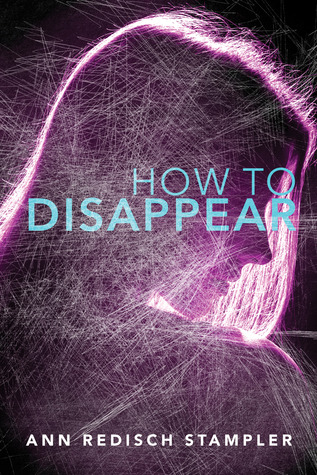 Title: How to Disappear
Author: Ann Redisch Stampler
Series: Standalone
Publication:  June 14th 2016 by Simon Pulse
Pages: 416
Source: Edelweiss
Summary from Goodreads:
This electric cross-country thriller follows the game of cat and mouse between a girl on the run from a murder she witnessed—or committed?—and the boy who's sent to kill her.
Nicolette Holland is the girl everyone likes. Up for adventure. Loyal to a fault. And she's pretty sure she can get away with anything…until a young woman is brutally murdered in the woods near Nicolette's house. Which is why she has to disappear.
Jack Manx has always been the stand-up guy with the killer last name. But straight A's and athletic trophies can't make people forget that his father was a hit man and his brother is doing time for armed assault. Just when Jack is about to graduate from his Las Vegas high school and head east for college, his brother pulls him into the family business with inescapable instructions: find this ruthless Nicolette Holland and get rid of her. Or else Jack and everyone he loves will pay the price.
As Nicolette and Jack race to outsmart each other, tensions—and attractions—run high. Told in alternating voices, this tightly plotted mystery and tense love story challenges our assumptions about right and wrong, guilt and innocence, truth and lies.
---
My Thoughts: 
Usually when you're reading a really good book, you can't put it down and it consumes you (as it is with anything written by Sarah J. Maas). However, How to Disappear has done something different – it was so good I had to put it down and walk away for fear of exploding. How to Disappear is no ordinary story, and it sure as hell is no ordinary teen thriller. It is dark, gritty, and packages vibrant characters, engaging action, and an unbelievable web of secrets and lies with a dark little bow. How to Disappear is one of those special cases where each and every event outdoes the events before it, and so on. It is twisted, dark, dangerous, and amazing.
How to Disappear is special for two reasons: Nicolette and Jack. Each their own character, each their own person, and each having their own, singular story that is told through an interwoven point of view and timeline. There are two stories in one here, and while they overlap, they are spectacularly independent as well. Nicolette is your average girl, sort of. She is on the run and battling for her own survival after something terrible happens in the woods. I love Nicolette for one very important reason – she is not the chosen one. She is normal, so blandly average that it could be any one you pass on the street, and yet, she endures. Nicolette's character is the pedestal this book elevates itself with. She proves that you don't have to have secret skills, be a genius, or have superpowers to save yourself. You can save yourself just by being you. It was breathtaking. She is also a very good example of the things most characters in books ignore until forced to acknowledge it: her conscience. What exactly is she willing to do to survive? Who knows? She certainly doesn't.
Then we have Jack, incredibly sarcastic Jack. You know from those two words right there that I love him. Give me a healthy dosage of sarcasm and wit and you know I'm hooked. Jack's story line is more internally focused, which I respect. He isn't running from an outside threat, as it were, but rather, he is running from himself. Jack's story line is one of self-realization – about fighting against yourself. It was powerful, especially when paired with the chill inducing aspects of Nicolette's plot. Put the two of them together and woohoo! We got ourselves a party.
One of the things that worked really well to promote the theme and overall sense of feeling throughout the novel was the pacing. It is fast. The chapters are short, brutal. You just read and read and read… and then it's all over and you sit there trying to figure out what the hell just happened and why your chest hurts. The writing is remarkable, it takes an incredible skill to weave not one, but two complex story lines together in such a way that makes them seamless. There are no safety nets, and Stampler embraces it.
Overall, How to Disappear was fantastic. There is no way for me to accurately describe just how wonderful, how thrilling and surprising this was. You will walk away with goosebumps and chills running down your spine – if you can walk away at all afterwards.
---