It's that time of the month my lovelies, more books are coming out soon. I have no idea what to do with myself, THERE ARE SO MANY AMAZING BOOKS COMING OUT! Argh, I need them all. I can't wait to get my hands on some of these beauties.
1.738 Days by Stacey Kade
Summary from Goodreads:
At fifteen, Amanda Grace was abducted on her way home from school. 738 days later, she escaped. Her 20/20 interview is what everyone remembers—Amanda describing the room where she was kept, the torn poster of TV heartthrob Chase Henry on the wall. It reminded her of home and gave her the strength to keep fighting.
Now, years later, Amanda is struggling to live normally. Her friends have gone on to college, while she battles PTSD. She's not getting any better, and she fears that if something doesn't change soon she never will.
Six years ago, Chase Henry defied astronomical odds, won a coveted role on a new TV show, and was elevated to super-stardom. With it, came drugs, alcohol, arrests, and crazy spending sprees. Now he's sober and a Hollywood pariah, washed up at twenty-four.
To revamp his image, Chase's publicist comes up with a plan: surprise Amanda Grace with the chance to meet her hero, followed by a visit to the set of Chase's new movie. The meeting is a disaster, but out of mutual desperation, Amanda and Chase strike a deal. What starts as a simple arrangement, though, rapidly becomes more complicated when they realize they need each other in more ways than one. But when the past resurfaces in a new threat, will they stand together or fall apart?
June 7th 2016 by Forge Books
2. You Know Me Well by David Levithan and Nina LaCour
Summary from Goodreads:
Mark and Kate have sat next to each other for an entire year, but have never spoken. For whatever reason, their paths outside of class have never crossed.
That is until Kate spots Mark miles away from home, out in the city for a wild, unexpected night. Kate is lost, having just run away from a chance to finally meet the girl she has been in love with from afar. Mark, meanwhile, is in love with his best friend Ryan, who may or may not feel the same way.
When Kate and Mark meet up, little do they know how important they will become to each other — and how, in a very short time, they will know each other better than any of the people who are supposed to know them more.
Told in alternating points of view by Nina LaCour, the award-winning author of Hold Still and The Disenchantments, and David Levithan, the best-selling author of Every Day and co-author ofNick and Norah's Infinite Playlist (with Rachel Cohn) and Will Grayson, Will Grayson (with John Green), You Know Me Well is a deeply honest story about navigating the joys and heartaches of first love, one truth at a time.
June 7th 2016 by St. Martin's Griffin
3. My Lady Jane by Cynthia Hand, Brodi Ashton, Jodi Meadows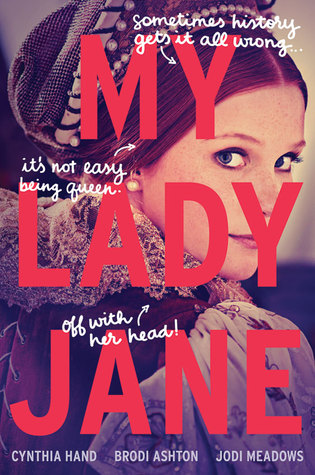 Summary from Goodreads:
The comical, fantastical, romantical, (not) entirely true story of Lady Jane Grey. In My Lady Jane, coauthors Cynthia Hand, Brodi Ashton, and Jodi Meadows have created a one-of-a-kind fantasy in the tradition of The Princess Bride, featuring a reluctant king, an even more reluctant queen, a noble steed, and only a passing resemblance to actual history—because sometimes history needs a little help.
At sixteen, Lady Jane Grey is about to be married off to a stranger and caught up in a conspiracy to rob her cousin, King Edward, of his throne. But those trifling problems aren't for Jane to worry about. Jane gets to be Queen of England.
June 7th 2016 by HarperTeen
4. Ivory and Bone by Julie Eshbaugh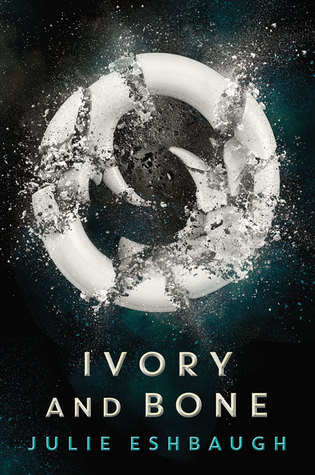 Summary from Goodreads:
A prehistoric fantasy—with allusions to Pride and Prejudice.
Hunting, gathering, and keeping his family safe—that's the life seventeen-year-old Kol knows. Then bold, enigmatic Mya arrives from the south with her family, and Kol is captivated. He wants her to like and trust him, but any hopes of impressing her are ruined when he makes a careless—and nearly grave—mistake. However, there's something more to Mya's cool disdain…a history wrought with loss that comes to light when another clan arrives. With them is Lo, an enemy from Mya's past who Mya swears has ulterior motives.
As Kol gets to know Lo, tensions between Mya and Lo escalate until violence erupts. Faced with shattering losses, Kol is forced to question every person he's trusted. One thing is for sure: this was a war that Mya or Lo—Kol doesn't know which—had been planning all along.
June 7th 2016 by HarperTeen
5. The Loose Ends List by Carrie Firestone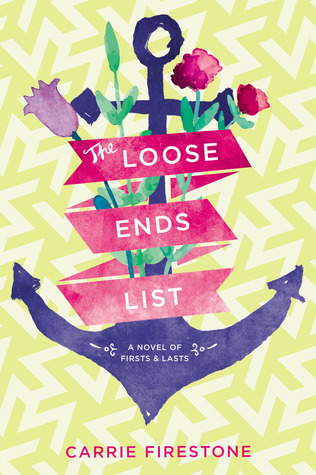 Summary from Goodreads:
Seventeen-year-old Maddie O'Neill Levine lives a charmed life, and is primed to spend the perfect pre-college summer with her best friends and young-at-heart socialite grandmother (also Maddie's closest confidante), tying up high school loose ends. Maddie's plans change the instant Gram announces that she is terminally ill and has booked the family on a secret "death with dignity" cruise ship so that she can leave the world in her own unconventional way – and give the O'Neill clan an unforgettable summer of dreams-come-true in the process.
Soon, Maddie is on the trip of a lifetime with her over-the-top family. As they travel the globe, Maddie bonds with other passengers and falls for Enzo, who is processing his own grief. But despite the laughter, headiness of first love, and excitement of glamorous destinations, Maddie knows she is on the brink of losing Gram. She struggles to find the strength to say good-bye in a whirlwind summer shaped by love, loss, and the power of forgiveness.
June 7th 2016 by Little, Brown Books for Young Readers
6. The Marked Girl by Lindsey Klingele
Summary from Goodreads:
Once upon a time, in a land far, far away (Los Angeles)…
When Cedric, crowned prince of Caelum, and his fellow royal friends (including his betrothed, Kat) find themselves stranded in modern-day L.A. via a magical portal and an evil traitor named Malquin, all they want to do is get home to Caelum—soon. Then they meet Liv, a filmmaker foster girl who just wants to get out of the system and on with her life. As she and Cedric bond, they'll discover that she's more connected to his world than they ever could've imagined…and that finding home is no easy task.
June 7th 2016 by Harper Collins
7. The Leaving by Tara Altebrando
Summary from Goodreads:
Eleven years ago, six kindergarteners went missing without a trace. After all that time, the people left behind moved on, or tried to.
Until today. Today five of those kids return. They're sixteen, and they are . . . fine. Scarlett comes home and finds a mom she barely recognizes, and doesn't really recognize the person she's supposed to be, either. But she thinks she remembers Lucas. Lucas remembers Scarlett, too, except they're entirely unable to recall where they've been or what happened to them. Neither of them remember the sixth victim, Max. He doesn't come back. Everyone wants answers. Most of all Max's sister Avery, who needs to find her brother–dead or alive–and isn't buying this whole memory-loss story.
June 7th 2016 by Bloomsbury USA Childrens
8. Never Never by Sara Saedi
Summary from Goodreads:
When Wylie encounters Phinn—confident, mature, and devastatingly handsome—at a party the night before her brother goes to juvie, she can't believe how fast she falls for him. And that's before he shows her how to fly.
Soon Wylie and her brothers find themselves whisked away to a mysterious tropical island off the coast of New York City where nobody ages beyond seventeen and life is a constant party. Wylie's in heaven: now her brother won't go to jail and she can escape her over-scheduled life with all its woes and responsibilities—permanently.
But the deeper Wylie falls for Phinn, the more she begins to discover has been kept from her and her brothers. Somebody on the island has been lying to her, but the truth can't stay hidden forever.
June 21st 2016 by Viking Books for Young Readers
9. With Malice by Eileen Cook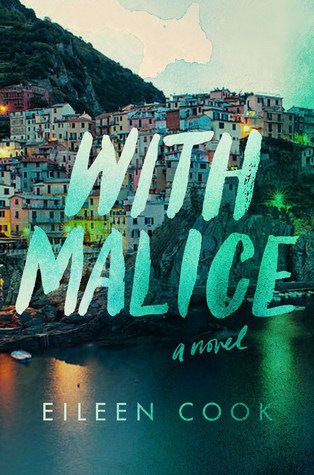 Summary from Goodreads:
A read about a teenage girl who wakes up in a hospital bed and cannot remember the last six weeks of her life, including the accident that killed her best friend–only what if the accident wasn't an accident?
Eighteen-year-old Jill Charron wakes up in a hospital room, leg in a cast, stitches in her face and a big blank canvas where the last 6 weeks should be. She comes to discover she was involved in a fatal accident while on a school trip in Italy three days previous but was jetted home by her affluent father in order to receive quality care. Care that includes a lawyer. And a press team. Because maybe the accident…wasn't an accident. Wondering not just what happened but what she did, Jill tries to piece together the events of the past six weeks before she loses her thin hold on her once-perfect life.
June 7th 2016 by HMH Books for Young Readers
10. The Museum of Heartbreak  by Meg Leder
Summary from Goodreads:
In this ode to all the things we gain and lose and gain again, seventeen-year-old Penelope Marx curates her own mini-museum to deal with all the heartbreaks of love, friendship, and growing up.
Welcome to the Museum of Heartbreak.
Well, actually, to Penelope Marx's personal museum. The one she creates after coming face to face with the devastating, lonely-making butt-kicking phenomenon known as heartbreak.
Heartbreak comes in all forms: There's Keats, the charmingly handsome new guy who couldn't be more perfect for her. There's possibly the worst person in the world, Cherisse, whose mission in life is to make Penelope miserable. There's Penelope's increasingly distant best friend Audrey. And then there's Penelope's other best friend, the equal-parts-infuriating-and-yet-somehow-amazing Eph, who has been all kinds of confusing lately.
But sometimes the biggest heartbreak of all is learning to let go of that wondrous time before you ever knew things could be broken.
June 7th 2016 by Simon Pulse
11. The Long Game by Jennifer Lynn Barnes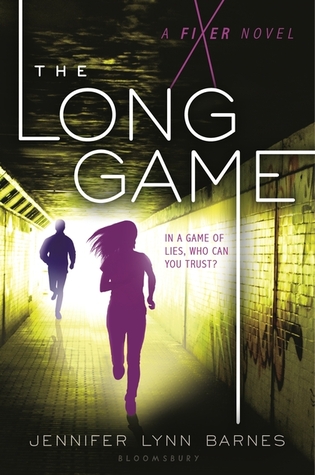 Summary from Goodreads:
For Tess Kendrick, a junior at the elite Hardwicke School in Washington D.C., fixing runs in the family. But Tess has another legacy, too, one that involves power and the making of political dynasties. When Tess is asked to run a classmate's campaign for student council, she agrees. But when the candidates are children of politicians, even a high school election can involve life-shattering secrets.
Meanwhile, Tess's guardian has also taken on an impossible case, as a terrorist attack calls into doubt who can–and cannot–be trusted on Capitol Hill. Tess knows better than most that power is currency in D.C., but she's about to discover first-hand that power always comes with a price.
Perfect for fans of Harlan Coben and Ally Carter, the second book in this thrilling series will leave readers breathless.
June 7th 2016 by Bloomsbury USA Childrens
12. The Way to Game the Walk of Shame by Jenn Nguyen
Summary from Goodreads:
Taylor Simmons is screwed.
Things were hard enough when her single-minded dedication to her studies earned her the reputation of being an Ice Queen, but after getting drunk at a party and waking up next to bad boy surfer Evan McKinley, the entire school seems intent on tearing Taylor down with mockery and gossip.
Desperate to salvage her reputation, Taylor persuades Evan to pretend they're in a serious romantic relationship. After all, it's better to be the girl who tames the wild surfer than just another notch on his surfboard.
June 7th 2016 by Macmillan/Swoon Reads 
13. How it Feels to Fly by Kathryn Holmes
Summary from Goodreads:
The movement is all that matters.
For as long as Samantha can remember, she's wanted to be a professional ballerina. She's lived for perfect pirouettes, sky-high extensions, and soaring leaps across the stage. Then her body betrayed her.
The change was gradual. Stealthy.
Failed diets. Disapproving looks. Whispers behind her back. The result: crippling anxiety about her appearance, which threatens to crush her dancing dreams entirely. On her dance teacher's recommendation, Sam is sent to a summer treatment camp for teen artists and athletes who are struggling with mental and emotional obstacles. If she can make progress, she'll be allowed to attend a crucial ballet intensive. But when asked to open up about her deepest insecurities, secret behaviors, and paralyzing fears to complete strangers, Sam can't cope.
What I really need is a whole new body.
Sam forms an unlikely bond with Andrew, a former college football player who's one of her camp counselors. As they grow closer, Andrew helps Sam see herself as he does—beautiful. But just as she starts to believe that there's more between them than friendship, disappointing news from home sends her into a tailspin. With her future uncertain and her body against her, will Sam give in to the anxiety that imprisons her?
June 14th 2016 by HarperTeen
14. The King Slayer by Virginia Boecker
Summary from Goodreads:
Former witch hunter Elizabeth Grey is hiding within the magically protected village of Harrow, evading the price put on her head by Lord Blackwell, the usurper king of Anglia. Their last encounter left Blackwell ruined, but his thirst for power grows stronger every day. He's readying for a war against those who would resist his rule–namely Elizabeth and the witches and wizards she now calls her allies.
Having lost her stigma, a magical source of protection and healing, Elizabeth's strength is tested both physically and emotionally. War always means sacrifice, and as the lines between good and evil blur once more, Elizabeth must decide just how far she'll go to save those she loves.
June 14th 2016 by Little, Brown Books for Young Readers
15. And I Darken by Kiersten White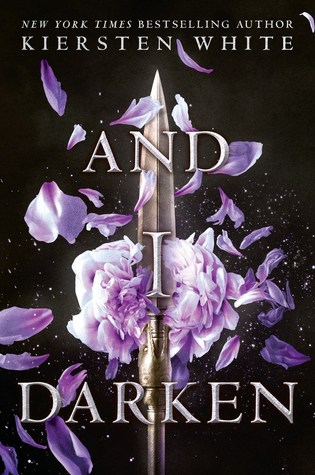 Summary from Goodreads:
NO ONE EXPECTS A PRINCESS TO BE BRUTAL.
And Lada Dragwlya likes it that way. Ever since she and her gentle younger brother, Radu, were wrenched from their homeland of Wallachia and abandoned by their father to be raised in the Ottoman courts, Lada has known that being ruthless is the key to survival. She and Radu are doomed to act as pawns in a vicious game, an unseen sword hovering over their every move. For the lineage that makes them special also makes them targets.
Lada despises the Ottomans and bides her time, planning her vengeance for the day when she can return to Wallachia and claim her birthright. Radu longs only for a place where he feels safe. And when they meet Mehmed, the defiant and lonely son of the sultan, who's expected to rule a nation, Radu feels that he's made a true friend—and Lada wonders if she's finally found someone worthy of her passion.
But Mehmed is heir to the very empire that Lada has sworn to fight against—and that Radu now considers home. Together, Lada, Radu, and Mehmed form a toxic triangle that strains the bonds of love and loyalty to the breaking point.
From New York Times bestselling author Kiersten White comes the first book in a dark, sweeping new series in which heads will roll, bodies will be impaled . . . and hearts will be broken.
June 28th 2016 by Delacorte Press
16. Empire of Dust by Eleanor Herman
Summary from Goodreads:
In Macedon, war rises like smoke, forbidden romance blooms and ancient magic tempered with rage threatens to turn an empire to dust
After winning his first battle, Prince Alexander fights to become the ruler his kingdom demands—but the line between leader and tyrant blurs with each new threat.
Meanwhile, Hephaestion, cast aside by Alexander for killing the wrong man, must conceal the devastating secret of a divine prophecy from Katerina even as the two of them are thrust together on a dangerous mission to Egypt.
The warrior, Jacob, determined to forget his first love, vows to eradicate the ancient Blood Magics and believes that royal prisoner Cynane holds the key to Macedon's undoing.
And in chains, the Persian princess Zofia still longs to find the Spirit Eaters, but first must grapple with the secrets of her handsome—and deadly—captor.
New York Times bestselling author Eleanor Herman entwines the real scandals of history with epic fantasy to reimagine the world's most brilliant ruler, Alexander the Great, in the second book of the Blood of Gods and Royals series.
June 28th 2016 by Harlequin Teen