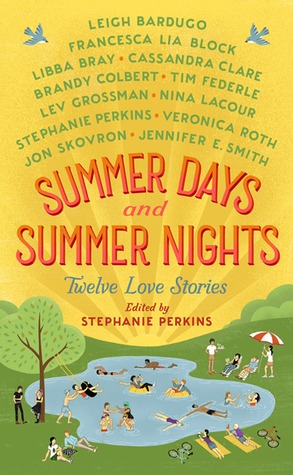 "There are monsters everywhere, tsigele," she said. "It's always good to know their names."
Title: Summer Days and Summer Nights
Editor: Stephanie Perkins
Series: Standalone
Publication: May 17th 2016 by St. Martin's Griffin
Pages: 400
Source: Publisher in exchange for a honest review
Summary from Goodreads:
Maybe it's the long, lazy days, or maybe it's the heat making everyone a little bit crazy. Whatever the reason, summer is the perfect time for love to bloom. Summer Days & Summer Nights: Twelve Love Stories, written by twelve bestselling young adult writers and edited by the international bestselling author Stephanie Perkins, will have you dreaming of sunset strolls by the lake. So set out your beach chair and grab your sunglasses. You have twelve reasons this summer to soak up the sun and fall in love.
Featuring stories by Leigh Bardugo, Francesca Lia Block, Libba Bray, Cassandra Clare, Brandy Colbert, Tim Federle, Lev Grossman, Nina LaCour, Stephanie Perkins, Veronica Roth, Jon Skovron, and Jennifer E. Smith.
---
My Thoughts:
What is it with these anthologies!?! Why must I fall in love so hard so quickly? Maybe it's because this anthology is jam packed full of some of my favorite authors ever to grace this amazing Earth like the goddess Leigh Bardugo and my precious Cassandra Clare. I was in love from the moment I saw the cover, and I am glad to say I have once again found myself blown away.
Head, Scales, Tongue, Tale by Leigh Bardugo
Bardugo dives into the field of Magical Realism in this short story which focuses on friendship, first love/ first crush, family, and a mysterious monster that floats about a loch (not really, but still). It is an exciting tale of mystery and heart-felt humor, as well as carrying a hint of that darkness that I love about Bardugo's writing.
The End of Love by Nina LaCour
Sadly, this was not one of my favorites – it actually one of the ones I had a really hard time getting into. There were a couple, as there usually are, but there are always ups and downs to these sort of things. This story was a bit meh – it was okay, but not okay enough to warrant more than a simple okay. That sentence is probably confusing, so I apologize – but that is how I felt when reading this. The plot was rushed, the character development blah, and the characters themselves seemed like a bunch of posers trying really hard to make profound statements that just fell flat. Despite the obvious effort put forth, this short story is a bit of a rotten apple.
Last Stand at the Cinegore by Libba Bray
If you're looking for something to scare your socks off, this is definitely the short story to dive into. I was not expecting this story, at all. It surprised me – in a good way, of course. I love it when things surprise me, especially when the surprise is of the writing variety. It had its funny moments, its lighter moments, and its plain weird moments – but, overall, Last Stand at the Cinegore was pretty darn entertaining. Sometimes that's all you can ask for.
Sick Pleasure by Francesca Lia Block
This was one of those ones where trying to read it was like sticking pins in your eyes while gargling bleach. Just let that sink in for a moment.
Honestly, I have nothing to say in defense of this story besides the fact that it seemed like a good idea. Maybe if the execution had been better, the writing in particular, I might have been able to get through it and actually feel something other than disgust.
In Ninety Minutes, Turn North by Stephanie Perkins
In this short story, we get to revisit one of my personal favorites from the last anthology: North and Marigold! ALL THE FEELS, I REPEAT, ALL THE FEELS! Picking up a little while, six months to be exact, after "It's a Yuletide Miracle" from My True Love Gave to Me, this short story brings back all of the perfection, adorableness, swoonworthy-ness, and an appropriate amount of heartbreak that was not okay but made perfect sense. DAMN YOU FEELINGS.
Souvenirs by Tim Federle
Before reading this, I had never heard of Tim Federle, and I found myself pleasantly surprised. This short story deals with a bit of a heavier theme than the rest of them, but it handles it with grace. The relationship between Matty and her mother was amazing, detailed, and rich. It was real and complex and I absolutely loved it. Honestly, it is probably what made me love the story so damn much. Overall, this one is an interesting, entertaining, and thought provoking read that is definitely worth trying out.
Inertia by Veronica Roth
EXCUSE ME WHILE I GO DIE OF HAPPINESS! Veronica Roth strikes again, and I loved it – as usual. Not only was this story unique and original, it was so damn different from Divergent that I had to double check who had written it. Roth has proved herself capable of writing more than just a dystopian, and now I find myself salivating with anticipation for her new book, Carve the Mark, to come out next January. This short story will most definitely bring tears to your eyes, so you better be prepared with a box of tissues. It was incredible.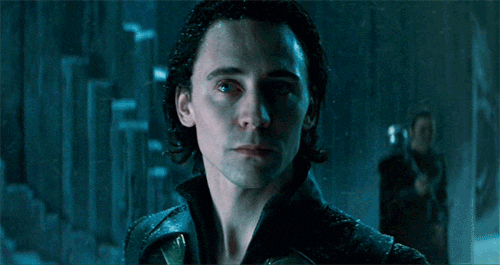 Love is the Last Resort by Jon Skovron
This short story is one of the other ones that I struggled to get through. Despite my initial excitement because I thought the author's name was Jon Snow at first glance (DON'T JUDGE ME!), as I was reading that excitement dimmed and eventually became nonexistent. I couldn't get into the writing, or the characters, or the plot. It felt stale and stiff – like I was watching one of the animations in the Pirates of the Caribbean ride – actually, those have more life than these characters ever could.
Good Luck and Farewell by Brandy Colbert
Good Luck and Farewell, despite having an interesting premise, was simply meh. It just kept going… and going… and going. It was worse than sitting through those anxiety riddled moments during the SAT's or something and you're just waiting for them to yell time.
It had no momentum, it simply was. No signs of changing, no signs of any development beyond a creepy fascination-esque crush that was borderline too much to handle. It was difficult to get through.
Brand New Attraction by Cassandra Clare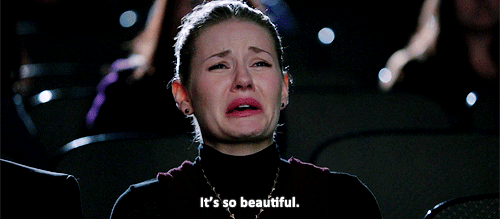 A Thousand Ways This Could All Go Wrong by Jennifer E. Smith
ARGH! This one is painful. I loved it, I loved it so much and then I wanted more and there wasn't any left! It was over too quickly and I wanted so much more out of it. It was sweet, captivating, heart-warming, and complex. It was a wonderful little story that will leave you wanting more. 
The Map of Tiny Perfect Things by Lev Grossman
Cute, but too cute. You catch my drift? It was too much "I love you" and not enough of everything else. It felt too perfect, too untouchable. It made the whole thing unrelatable and sort of alienated me from the whole thing. I felt closed off, like I was watching a really cheesy Hallmark movie.
Overall, I really did enjoy this. There were stories that blew my socks off and stories that give you all the feels, as well as some stories that I wanted to use as kindling – but, I digress, it is still amazing. The great few outweigh the horrible, or whatever other way you want to think of it. This anthology is definitely worth grabbing, there is a little something for everyone.
---