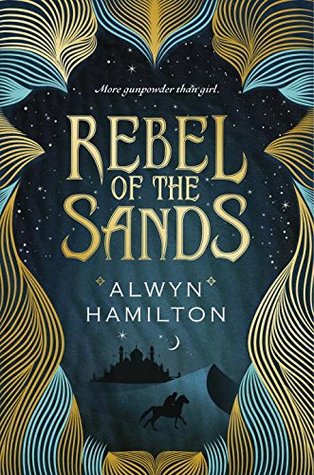 "Haven't you ever wanted something so bad that it becomes more than a want? I need to get out of this town. I need it like I need to breathe."
Title: Rebel of the Sands
Author: Alwyn Hamilton
Series: Rebel of the Sands # 1
Publication:  March 8th 2016 by Viking Books for Young Readers
Pages: 314
Source: Purchased
Summary from Goodreads:
Mortals rule the desert nation of Miraji, but mythical beasts still roam the wild and remote areas, and rumor has it that somewhere, djinn still perform their magic.  For humans, it's an unforgiving place, especially if you're poor, orphaned, or female.
Amani Al'Hiza is all three.  She's a gifted gunslinger with perfect aim, but she can't shoot her way out of Dustwalk, the back-country town where she's destined to wind up wed or dead.
Then she meets Jin, a rakish foreigner, in a shooting contest, and sees him as the perfect escape route. But though she's spent years dreaming of leaving Dustwalk, she never imagined she'd gallop away on mythical horse—or that it would take a foreign fugitive to show her the heart of the desert she thought she knew.
Rebel of the Sands reveals what happens when a dream deferred explodes—in the fires of rebellion, of romantic passion, and the all-consuming inferno of a girl finally, at long last, embracing her power.
---
My Thoughts:
IT TOOK ME LONG ENOUGH TO GET MY HANDS ON THIS THING AND FINISH IT! Holy crap. Finals week is killing me, I'm telling ya. I've been slowly devouring this book, and trust me, it was a pace that was not fast enough. I was hooked from the first page and I wanted to let myself drown in the gloriousness of this book. Rebel of the Sands is a vivid, in-depth, original fantasy that has completely taken over my life.
I love, love, love, love Amani, and Jin, and Shazad, and every single character in this book. They were all so complex, driven, and passionate. They were hilarious, they were easy to relate to even in circumstances you can never plausibly relate to yet imagine so clearly it was like you were there with them. Amani… oh my goodness how I loved Amani – and don't get me started on her relationship with Jin. FRIENDS, THAT SHIP HAS FUCKING SAILED. Woohooo! Back to the regularly scheduled programming up in here, Amani is wonderfulicious. She is headstrong, vicious, and unafraid. I loved her, I really did. She was so different than other protagonists. For a majority of this book, she pretty much only cared about herself and getting what she wanted (though she did have all the feels for Jin). She wasn't afraid to leave, to take chances, or do something completely idiotic with only the faintest hope of survival. She was reckless, and it fucking worked. The world she lives in is no cake walk, I mean, it's a shit show. Girls have  nothing, they are nothing in the eyes of this society – and Amani is not having it. One of my favorite scenes of her's is also connected to a favorite Jin moment, but anyways, a guard is looking for him and he walks in all "I'm looking for a man." And Amani goes "Usually men who come to this part of town are looking for a woman", and I died. I literally died.
Then we have Jin… and HOLY MOTHER FUCKING BATCRAP. I am in love with Jin. By the midway point of this book, I was yelling at Amani that if she didn't get her shit together he was gonna be all mine. He was sarcastic, witty, and caring. There was this one part, actually, there were lots of parts where he had me in tears because I was cracking up so hard. But, I digress, there was this one part early on where Amani is hiding him and whatnot and after it's all over he stands up and he's bleeding all over the place. When he realizes he's been shot, he says "Ah, I had almost forgotten about that" with a completely straight face. Just… words cannot express how much I love my little rebel man. And yes, HE'S MINE.
Everything in this book was sheer perfection. The writing was sublime, it wasn't too much and it wasn't too little. You knew things when you were meant to know them, not a moment sooner. My predictions were all wrong and it made me do a happy little jig, it's a rare thing when that happens. Everything is so carefully crafted. It all felt so real, so utterly vivid. I could picture the sand, I could feel it in my toes and taste in my mouth.
Overall, Rebel of the Sands has not only carved out a name of the stunning Alwyn Hamilton, it has also dug it's claws deep into my being and it will never let go. Filled with action, intrigue, romance, politics, and badass women – Rebel of the Sands is one of the most deserving books to ever have a place on my bookshelf. I need the sequel and I need it now.
---