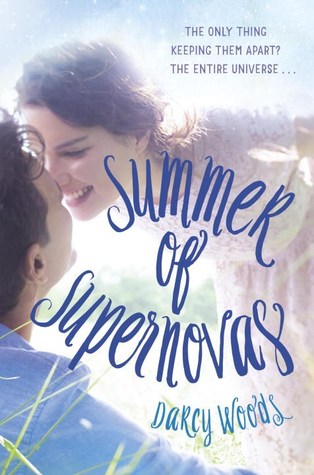 "…if time were really measured in grains of sand, I would take this grain and flatten it. Stretch it as far as physics allowed, let myself bask in this feeling. Forever and ever and ever."
Title: Summer of Supernovas
Author: Darcy Woods
Series: Standalone
Publication: May 10th 2016 by Crown Books for Young Readers
Pages: 352
Source: Netgalley
Summary from Goodreads:
Fans of Jennifer E. Smith and Jenny Han will fall in love with this heartfelt and humor-laced debut following one girl's race to find the guy of her cosmic dreams.
 
When zodiac-obsessed teen Wilamena Carlisle discovers a planetary alignment that won't repeat for a decade, she's forced to tackle her greatest astrological fear: The Fifth House—relationships and love.
 
But when Wil falls for a sensitive guitar player hailing from the wrong side of the astrology chart, she must decide whether a cosmically doomed love is worth rejecting her dead mother's legacy and the very system she's faithfully followed through a lifetime of unfailing belief.
---
My Thoughts:
Just… just…. awwww! Summer of Supernovas is so damn cute. It was the perfect read. It was adorable, fast, fluffy, full of romance, and an all around joyous experience.
This book was one of the cutest, happiest contemporaries I've read in a while. I'm so used to there being some deeper, dark message. I'm used to their being tragedy and heartbreak. Summer of Supernovas was so refreshing. It was the perfect thing to read during finals week – I needed something happy to take my mind off of all the homework and studying and all around chaos of moving out for the summer. This book will make your head fly through the clouds and stars dance before your eyes. It was a delicious summer romance.
While I've never been one to pay attention to horoscopes and astrology, our protagonist Wilamena is completely obsessed. She is convinced she only has a short amount of time to find her soulmate, only her soulmate is from the opposite side of the tracks – as it were. I really liked Wil as a main character. Not only did I learn a heck of a lot about something I had no clue about, she is brilliant. Just… She knows what she wants and she isn't afraid to go out and get it. She is logical, she makes reasonable decisions based on pros and cons, but she still makes mistakes. I mean, don't we all? She felt real. She felt like a real girl who, even though she thought she knew things, still was unsure in her heart. I loved that she clung to her beliefs, I loved how she listened to herself. I loved her, to be honest.
Now, there is a love triangle-esqu thing going down in this book. We've got two swoon worthy men and a girl who can't choose between the one aligned with the stars and the guy who is the opposite of what the stars are telling her. The romance was sweet though, and for once, I feel as if the love triangle trope was handled nicely. It's not instant, it is a slow realization on both sides. Let me tell you, they – Grant and Seth – do not make Wil's choice easy. For once in my life, I don't have a favorite (actually, not for once, Iron Fey and The Infernal Devices). I should say, for once in a contemporary, I don't have a favorite. Everything was just so perfect, I don't really know what else to say about it. It was all woven together with a super sparkly thread — a thread that shined so brightly it could eclipse even the brightest of stars.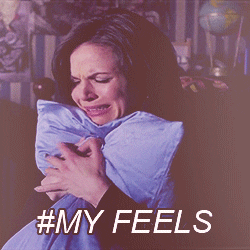 Overall, Summer of Supernovas is an amazing, fun-filled, and romantically charged read. The writing is beautiful, the characters are fantastic, everything is wonderfully complex, and I couldn't have asked for anything better. It is adorable, hilarious, quirky, and refreshing. The plot is sincere, and trust me when I tell you it will give you all the feels. Alllllll the feels.