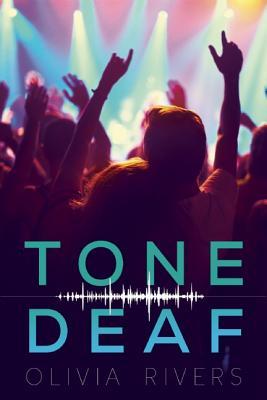 "You're the best kind of pain I've ever felt. I've always worked so hard to avoid pain, but as much as you hurt, I don't want to leave you."
Title: Tone Deaf
Author: Olivia Rivers
Series: Standalone
Publication: May 3rd 2016 by Sky Pony Press
Pages: 288
Source: Author in exchange for a honest review
Summary from Goodreads:
Ali Collins was a child prodigy destined to become one of the greatest musicians of the twenty-first century—until she was diagnosed with a life-changing brain tumor. Now, at seventeen, Ali lives in a soundless world where she gets by with American Sign Language and lip-reading. She's a constant disappointment to her father, a retired cop fighting his own demons, and the bruises are getting harder to hide.
When Ali accidentally wins a backstage tour with the chart-topping band Tone Deaf, she's swept back into the world of music. Jace Beckett, the nineteen-year-old lead singer of the band, has a reputation. He's a jerk and a player, and Ali wants nothing to do with him. But there's more to Jace than the tabloids let on. When Jace notices Ali's bruises and offers to help her escape to New York, Ali can't turn down the chance at freedom and a fresh start. Soon she's traveling cross-country, hidden away in Jace's RV as the band finishes their nationwide tour. With the help of Jace, Ali sets out to reboot her life and rediscover the music she once loved.
My Thoughts:
I am in love. It's official. Tone Deaf was the perfect read, I mean, I started it the other morning and then finished it that night – and I had time left over to screw around with pastels and attempt to be artistic. Let me tell you this, though, Tone Deaf is true artistry – not some half ass attempt at a YouTube tutorial sketch. It might be about a lead singer of a boy band falling in love with a girl from nowhere, as I'm sure all of us have fantasized about at one point in our lives, but it is so much more than that. Tone Deaf is a story of love, discovery, bravery, and friendship. It is about escaping the darkness and finding light within something or someone else. It is about second chances and trust. It was beautiful.
Ali Collins. Deaf. Genius. Abused…. and not a fan of the band Tone Deaf. I loved Ali, I loved, loved, loved Ali. I loved the chapters from her point of view. I loved her voice, her thoughts, everything about her. She might have been timid and shy, but she was also oh so brave. She was terrified, and yet she did what she had to do. She also didn't put up with Jace's shit in the beginning, or at the end – for that matter – and it was awesome. She might have some issues, but she sure as hell puts up a good fight for what she believes in. I also really liked how smart she was, I mean, how could I not? She thought things through, she wasn't impulsive, and she was witty despite her fear. I really don't know what else to say about her without repeating myself over and over again. She was full of life, she had a fiery personality that took no shit from anyone even when it was all she could do to put one foot in front of the other and keep on truckin'. She was… amazing, for lack of a better word.
Then we have Jace. I have a serious love/hate relationship with Jace. I hated him for the first few chapters of the book, I mean, I had good reason. I'm like Ali in a way, I don't start liking or trusting someone until they can prove they're worthy of being trusted. Jace did not prove that until a pivotal part in the story… and I have to tell you, I went back and reread those pages because it gave me all the feels and it was wonderful. Jace is… I don't know. Jace is abrasive, an asshole, arrogant, but also completely broken. He cared about his band, his band mates, and Ali's safety. He grew on me, he really did. By the end of the book I think I loved him just as much as Ali did. He was horribly wonderful. It was torture.
The romance in Tone Deaf was sheer perfection. It was slow, it was sweet, and it was a process both characters had to work towards. Ali had to learn to trust and Jace had to learn to care. It was a beautifully choreographed dance that I would love to read over and over again. It was a romance built on deeper feelings than just attraction, honestly, I wouldn't have it any other way. I want more from them. I WANT MORE AND I WANT IT NOW! Just, when they finally got together my entire brain was just screaming "yes" and I don't know how to describe how much I freaken' loved them.
One of the points that shines the brightest in Tone Deaf, though I loved it all, was how Rivers handled both the sensitive topic of abuse and her protagonist being deaf. The abuse in this book isn't sugar coated or described lightly. It was real, it was heartbreaking, and seeing the characters react to it made it unforgettable. It is a rare thing, in my mind, to find a book that handles abuse or disability in such a way that shows it's not just there for effect. It was a raw, honest telling of something horrific that happens every day to some people in the world. It was an eye-opening view on something best handled with a delicate touch, and Rivers did just that. She managed to pack such meaning into the smallest things. Then we have Ali's deafness, which was also wonderfully handled. Ali is deaf, but she is also Deaf. She is part of a culture that not many people know about or get to experience. I loved seeing how Ali handled her deafness, but she didn't let it define her. The use of ASL (American Sign Language) in the writing, the use of texting, the use of twitter, the lip reading – all of it. It was handled with grace and portrayed more accurately than I have ever seen before. It was an irreplaceable part of the story and of Ali's growth and character arc.
Overall, Tone Deaf has made a place for itself on my forever favorites list. It is a story that I adore and will never forget. It is a story about friendship, about love, and about how even the smallest things we do can change someone else's life. This is a book of discovery and strength even in the darkest of times. It is about standing up for yourself and others. I can't praise it enough.