Waiting on Wednesday is hosted each week by Breaking the Spine and lets us spotlight a book that we are eagerly waiting to be released.
This week's Waiting On Wednesday is The Passion of Dolsa by Julie Berry!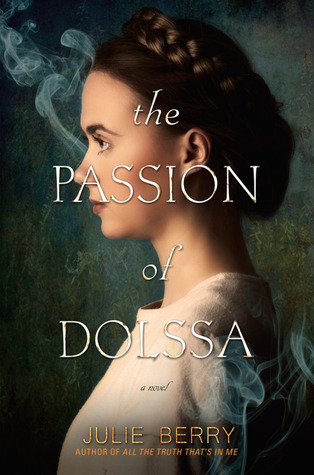 Publication: April 12th 2016 by Viking Books for Young Readers
Summary from Goodreads:
Buried deep within the archives of a convent in medieval France is an untold story of love, loss, and wonder and the two girls at the heart of it all.
Dolssa is an upper-crust city girl with a secret lover and an uncanny gift. Branded a heretic, she's on the run from the friar who condemned her mother to death by fire, and wants Dolssa executed, too.
Botille is a matchmaker and a tavern-keeper, struggling to keep herself and her sisters on the right side of the law in their seaside town of Bajas.
When their lives collide by a dark riverside, Botille rescues a dying Dolssa and conceals her in the tavern, where an unlikely friendship blooms. Aided by her sisters and Symo, her surly but loyal neighbor, Botille nurses Dolssa back to health and hides her from her pursuers. But all of Botille's tricks, tales, and cleverness can't protect them forever, and when the full wrath of the Church bears down upon Bajas, Dolssa's passion and Botille's good intentions could destroy the entire village.
From the author of the award-winning All the Truth That's in Mecomes a spellbinding thriller that will keep you on the edge of your seat until the final page and make you wonder if miracles really are possible.
So, in case you haven't noticed by now, I sort of have an obsession with Historical Fiction and pretty covers… and this book is both. I mean, LOOK AT IT! Ugh.. why does it have to be so pretty? Can the book world pity my wallet for once? No. Fine, I happily surrender to The Passion of Dolsa and whatever I must do to get my hands on a copy. It sounds so intriguing, obviously one of those slow-burny kinda books that make you want to die but you love it all the same. Yea, I want it and I want it now.