HEY! HEY! HEY! It's the start of a new month, you know what that means? That's right. MORE BOOKS. Yippie! Check out fifteen of my most anticipated releases for this month.
1. Future Shock by Elizabeth Briggs
Summary from Goodreads:
Elena Martinez has hidden her eidetic memory all her life–or so she thinks. When powerful tech giant Aether Corporation selects her for a top-secret project, she can't say no. All she has to do is participate in a trip to the future to bring back data, and she'll be set for life.
Elena joins a team of four other teens with special skills, including Adam, a science prodigy with his own reason for being there. But when the time travelers arrive in the future, something goes wrong and they break the only rule they were given: do not look into their own fates.
Now they have twenty-four hours to get back to the present and find a way to stop a seemingly inevitable future from unfolding. With time running out and deadly secrets uncovered, Elena must use her eidetic memory, street smarts, and a growing trust in Adam to save her new friends and herself.
April 1st 2016 by Albert Whitman & Company
2. Eleven Things I Promised by Catherine Clark
Summary from Goodreads:
Catherine Clark has crafted a poignant story about the distances one girl is willing to go in the name of friendship that is at once funny, heartbreaking, and utterly romantic.
Seventeen-year-old Frances wouldn't describe herself as adventurous. Until now . . .
Frances has one week—while she'll be away from home competing in a high school bike race—to do every single thing on the Fix-It List. Ten crazy, totally out-of-character ideas her best friend, Stella, came up with to make the bike ride unforgettable. However, as each item on the F-It List opens Frances up to new adventures, new friends, and possibly even a new romance, it becomes increasingly difficult for Frances to keep the one promise that she knows she absolutely must obey—her promise to not tell anyone the truth about the accident that left Stella broken and angry, and started Frances on her quest to complete the list.
When it comes to friendship, Frances must decide what distances she's willing to go, and what risks she's willing to take, for the person she cares about the most.
April 5th 2016 by HarperTeen
3. Boys of Summer by Jessica Brody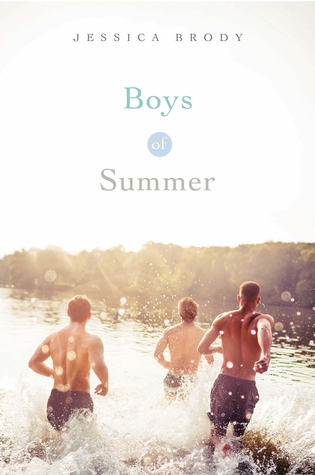 Summary from Goodreads:
Welcome to Winlock Harbor…
Best friends since they were kids, Grayson, Mike, and Ian were hoping for another epic summer on "The Locks", filled with clam bakes, bonfires, and late-night swims in the ocean.
But that was before Ian's dad never returned home from his last deployment. Before Mike had to take on more responsibility in order to help provide for his family. Before Grayson's accident left him with an injured throwing arm and an uncertain future.
It's clear this summer on the island is shaping up to be very different from those Grayson, Mike, and Ian have come to rely on. And when the sacred code of dating a friend's sister or ex is broken, it will push their friendship to the absolute limit, testing their loyalties in a way that could either break them—or save them.
April 5th 2016 by Simon Pulse
4. Burning by Danielle Rollins
Summary from Goodreads:
After three years in juvie, Angela Davis is just a few months shy of release, and she'll finally be free from the hole that is Brunesfield Correctional Facility. Then Jessica arrives. Only ten years old and under the highest security possible, this girl has to be dangerous, even if no one knows what she did to land in juvie. As strange things begin happening to Angela and her friends that can only be traced to the new girl's arrival, it becomes clear that Brunesfield is no longer safe. They must find a way to get out, but how can they save themselves when the world has forgotten them?
April 5th 2016 by Bloomsbury USA Childrens
5. Alight by Scott Sigler
Summary from Goodreads:
Alight reveals to readers the further adventures of Em, Spingate, O'Malley, Bishop, and the other young heroes introduced in Alive. In Alive, Em fought to assert herself as leader and her friends tried to comprehend their own mysterious identity; now she must wrestle not with the challenge of winning power but the grave responsibility of having assumed it, and she and her friends must contend with a grim fact: the revelation of their identity is not an answer but another question—and one with terrifying implications.
April 5th 2016 by Del Rey
6. Girl in the Blue Coat by Monica Hesse
Summary from Goodreads:
An unforgettable story of bravery, grief, and love in impossible times
The missing girl is Jewish. I need you to find her before the Nazis do.
Amsterdam, 1943. Hanneke spends her days procuring and delivering sought-after black market goods to paying customers, her nights hiding the true nature of her work from her concerned parents, and every waking moment mourning her boyfriend, who was killed on the Dutch front lines when the Germans invaded. She likes to think of her illegal work as a small act of rebellion.
On a routine delivery, a client asks Hanneke for help. Expecting to hear that Mrs. Janssen wants meat or kerosene, Hanneke is shocked by the older woman's frantic plea to find a person–a Jewish teenager Mrs. Janssen had been hiding, who has vanished without a trace from a secret room. Hanneke initially wants nothing to do with such dangerous work, but is ultimately drawn into a web of mysteries and stunning revelations that lead her into the heart of the resistance, open her eyes to the horrors of the Nazi war machine, and compel her to take desperate action.
Meticulously researched, intricately plotted, and beautifully written, Girl in the Blue Coat is an extraordinary, gripping novel from a bright new voice in historical fiction.
April 5th 2016 by Little, Brown Books for Young Readers
7. When We Collided by Emery Lord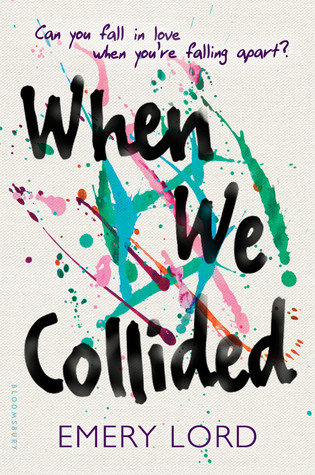 Summary from Goodreads:
Meet Vivi and Jonah: A girl and a boy whose love has the power save or destroy them.
Vivi and Jonah couldn't be more different. Vivi craves anything joyful or beautiful that life can offer. Jonah has been burdened by responsibility for his family ever since his father died. As summer begins, Jonah resigns himself to another season of getting by. Then Vivi arrives, and suddenly life seems brighter and better. Jonah is the perfect project for Vivi, and things finally feel right for Jonah. Their love is the answer to everything. But soon Vivi's zest for life falters, as her adventurousness becomes true danger-seeking. Jonah tries to keep her safe, but there's something important Vivi hasn't told him.
April 5th 2016 by Bloomsbury USA Childrens
8. Flamecaster by Cinda Williams Chima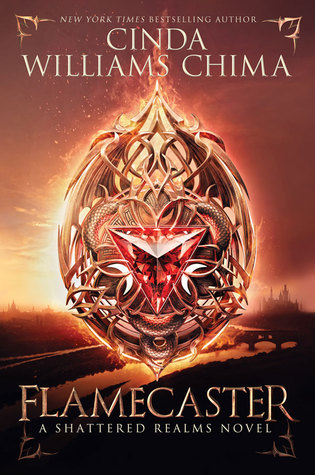 Summary from Goodreads:
Adrian sul'Han, known as Ash, is a trained healer with a powerful gift of magic—and a thirst for revenge. Ash is forced into hiding after a series of murders throws the queendom into chaos. Now Ash is closer than he's ever been to killing the man responsible, the cruel king of Arden. As a healer, can Ash use his powers not to save a life but to take it?
Abandoned at birth, Jenna Bandelow was told that the mysterious magemark on the back of her neck would make her a target. But when the King's Guard launches a relentless search for a girl with a mark like hers, Jenna assumes that it has more to do with her role as a saboteur than any birth-based curse. Though Jenna doesn't know why she's being hunted, she knows that she can't get caught.
Eventually, Ash's and Jenna's paths will collide in Arden. Thrown together by chance and joined by their hatred of the king, they will come to rescue each other in ways they cannot yet imagine.
Set in the world of the acclaimed Seven Realms series a generation later, this is a thrilling story of dark magic, chilling threats, and two unforgettable characters walking a knife-sharp line between life and death.
April 5th 2016 by HarperCollins
9. The Glittering Court by Richelle Mead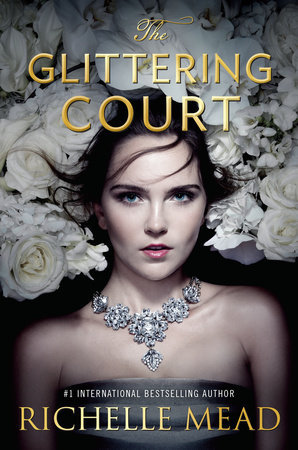 Summary from Goodreads:
For a select group of girls, the Glittering Court offers a shot at a life they've only ever dreamed of, one of luxury, glamour, and leisure. To high-born Adelaide, whose wealthy family is forcing her into a loveless marriage, the Glittering Court represents something else: the chance to chart her own destiny, and adventure in an unspoiled, prosperous new land across the sea.
After a chance meeting with the dazzling Cedric Thorn, Adelaide poses as a servant to join the crop of impoverished girls he promises to transform into proper ladies. But her familiarity with upper class life comes with a price: she must hide her identity from her new friends, mysterious refugee Mira and fiery former laundress Tamsin, and most importantly, from Cedric himself—even though she's falling in love with him.
Everything begins to crumble when Cedric discovers Adelaide's ruse, and she catches the eye of a powerful young governor, who wants her for a wife. She didn't leave the gilded cage of her old life behind just to become someone else's property. But nothing is as daunting—or as wonderful—as the potent, forbidden attraction simmering between Adelaide and Cedric. One that, if acted on, would make them both outcasts in a wild, dangerous, uncharted world, and possibly lead them to their deaths.
April 5th 2016 by Razorbill
10. The Memory Jar by Elissa Janine Hoole
Summary from Goodreads:
Since the accident, Taylor's memory has been fuzzy. But at least she's awake. Who knows what her boyfriend, Scott, will remember when he comes out of the coma. Will he remember that Taylor was driving the snowmobile when it crashed? Will he remember the engagement ring? Her pregnancy?
Will he remember that she tried to break up with him?
Taylor doesn't know. And she doesn't know if she wants him to remember. Plenty of things happened that night and before—secrets wrapped in secrets—that she'd prefer be forgotten.
Facing choices she'd rather ignore, Taylor searches for something more solid than whispers and something bigger than blame to face the future and forgive herself.
April 8th 2016 by Flux
11. The Passion of Dolssa by Julie Berry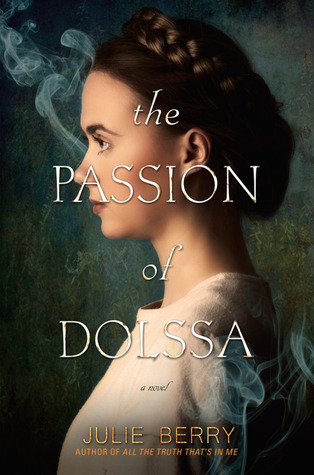 Summary from Goodreads:
Buried deep within the archives of a convent in medieval France is an untold story of love, loss, and wonder and the two girls at the heart of it all.
Dolssa is an upper-crust city girl with a secret lover and an uncanny gift. Branded a heretic, she's on the run from the friar who condemned her mother to death by fire, and wants Dolssa executed, too.
Botille is a matchmaker and a tavern-keeper, struggling to keep herself and her sisters on the right side of the law in their seaside town of Bajas.
When their lives collide by a dark riverside, Botille rescues a dying Dolssa and conceals her in the tavern, where an unlikely friendship blooms. Aided by her sisters and Symo, her surly but loyal neighbor, Botille nurses Dolssa back to health and hides her from her pursuers. But all of Botille's tricks, tales, and cleverness can't protect them forever, and when the full wrath of the Church bears down upon Bajas, Dolssa's passion and Botille's good intentions could destroy the entire village.
From the author of the award-winning All the Truth That's in Mecomes a spellbinding thriller that will keep you on the edge of your seat until the final page and make you wonder if miracles really are possible.
April 12th 2016 by Viking Books for Young Readers
12. Down With the Shine by Kate Karyus Quinn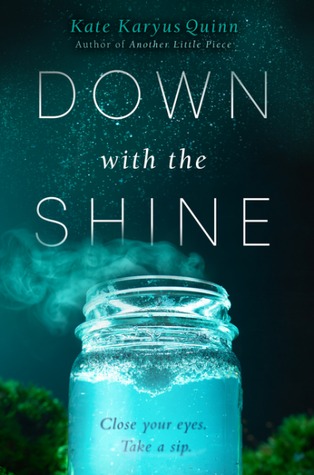 Summary from Goodreads:
There's a reason they say "be careful what you wish for." Just ask the girl who wished to be thinner and ended up smaller than Thumbelina, or the boy who asked for "balls of steel" and got them-literally. And never wish for your party to go on forever. Not unless you want your guests to be struck down by debilitating pain if they try to leave.
These are things Lennie only learns when it's too late-after she brings some of her uncles' moonshine to a party and toasts to dozens of wishes, including a big wish of her own: to bring back her best friend, Dylan, who was abducted and murdered six months ago.
Lennie didn't mean to cause so much chaos. She always thought her uncles' moonshine toast was just a tradition. And when they talked about carrying on their "important family legacy," she thought they meant good old-fashioned bootlegging.
As it turns out, they meant granting wishes. And Lennie has just granted more in one night than her uncles would grant in a year.
Now she has to find a way to undo the damage. But once granted, a wish can't be unmade…
April 26th 2016 by HarperTeen
13. The Star-Touched Queen by Roshani Chokshi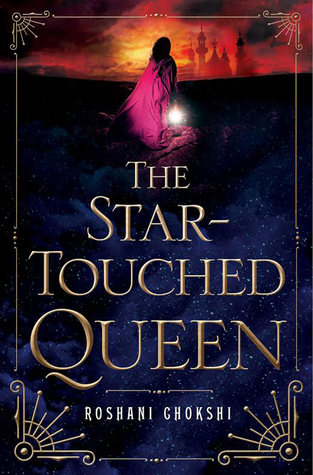 Summary from Goodreads:
Cursed with a horoscope that promises a marriage of Death and Destruction, sixteen-year-old Maya has only earned the scorn and fear of her father's kingdom. Content to follow more scholarly pursuits, her world is upheaved when her father, the Raja, arranges a wedding of political convenience to quell outside rebellions. But when her wedding takes a fatal turn, Maya becomes the queen of Akaran and wife of Amar. Yet neither roles are what she expected. As Akaran's queen, she finds her voice and power. As Amar's wife, she finds friendship and warmth.
But Akaran has its own secrets – thousands of locked doors, gardens of glass, and a tree that bears memories instead of fruit. Beneath Akaran's magic, Maya begins to suspect her life is in danger. When she ignores Amar's plea for patience, her discoveries put more than new love at risk – it threatens the balance of all realms, human and Otherworldly.
Now, Maya must confront a secret that spans reincarnated lives and fight her way through the dangerous underbelly of the Otherworld if she wants to protect the people she loves.
April 26th 2016 by St. Martin's Griffin
14. The Raven King by Maggie Stiefvater
Summary from Goodreads:
The fourth and final installment in the spellbinding series from the irrepressible, #1 New York Times bestselling author Maggie Stiefvater.
All her life, Blue has been warned that she will cause her true love's death. She doesn't believe in true love and never thought this would be a problem, but as her life becomes caught up in the strange and sinister world of the Raven Boys, she's not so sure anymore.
April 26th 2016 by Scholastic Press
15. Soldier by Julie Kagawa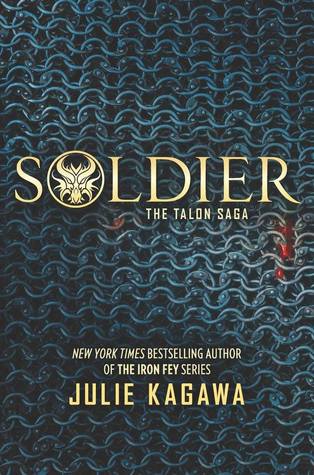 Summary from Goodreads:
A fighter dedicated to saving humankind from dragons in strictest secrecy.
That was what Garret Xavier Sebastian thought he was part of as a soldier of the Order of St. George. What he learned from a fiery dragon hatchling twisted all he believed in and set him on a collision course with certain death-but not without a chance to put things right.
Betrayed and on the run again, Ember and rogue dragon Riley discover an unthinkable truth about Talon and St. George. They'll need Garret's skills and insider knowledge of the Order to negotiate an impossible deal-and if they fail, there will be no way to stop all-out war.
April 26th 2016 by Harlequin TEEN