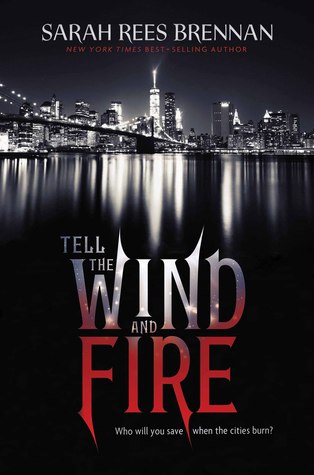 "Maybe that is the only thing I have ever learned about love: love is when you save someone no matter what the cost."
Title: Tell The Wind and Fire
Author: Sarah Rees Brennan
Series: Standalone?
Publication: April 5th 2016 by Clarion Books
Pages: 368
Source: Publisher in exchange for honest review
Summary from Goodreads:
In a city divided between opulent luxury in the Light and fierce privations in the Dark, a determined young woman survives by guarding her secrets.
Lucie Manette was born in the Dark half of the city, but careful manipulations won her a home in the Light, celebrity status, and a rich, loving boyfriend. Now she just wants to keep her head down, but her boyfriend has a dark secret of his own—one involving an apparent stranger who is destitute and despised. Lucie alone knows the young men's deadly connection, and even as the knowledge leads her to make a grave mistake, she can trust no one with the truth.
Blood and secrets alike spill out when revolution erupts. With both halves of the city burning, and mercy nowhere to be found, can Lucie save either boy—or herself?
My Thoughts:
Well, right out of the bat I had no idea this was a retelling of A Tale Of Two Cities when I jumped into this book. Zip. Zilch. Nada. So, I found myself pleasantly surprised at recognizing little details here and there throughout Tell The Wind and Fire. I cried, I laughed, and I did everything that this book wanted me to. I felt just as broken as when I read the original – and that's saying something.
Tell The Wind and Fire was, for lack of a better description, pretty awesome. I mean, there was enough of the old to bring back that hint of nostalgia – but there was also a fresh twist, a sense of vibrancy that breathed new air into an old classic.
I think, despite the obviously amazing scope of pretty much everything, that one of the best parts of this book is the complexity of the character development. Each character has a specific line they follow. A carefully hand-crafted and intricate thread that winds through each and every element of the story. There is not one thing that is not important – and it makes this book all the more wonderful. Everyone has a secret and everyone's secret is either their downfall or their salvation. Each piece is an unstoppable force – each character is an irreplaceable role in the story. Lucie, Ethan, Carwyn… they're all pieces of a larger puzzle.
Overall, Tell The Wind and Fire was a surprise in more ways than one. The writing was astounding, the character development was, and the plot was both wholly original all while paying homage to its predecessor.  This is a story of the battle between good and evil, between light and dark. It is a story that will strike you with its subtle power and even more subtle message. Balance is the most important concept of all, what are you willing to do to achieve it?