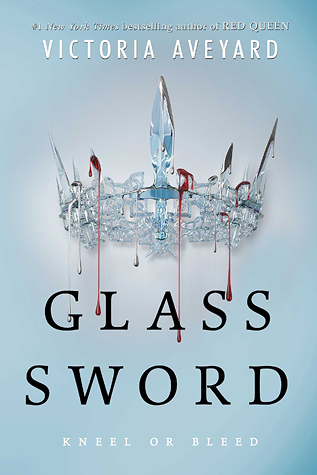 "No one is born evil, just like no one is born alone. They become that way, through choice and circumstance."
Title: Glass Sword
Author: Victoria Aveyard
Series: Red Queen # 2
Publication: February 9th 2016 by HarperTeen
Pages: 444
Source: Purchased
Summary from Goodreads:
Mare Barrow's blood is red—the color of common folk—but her Silver ability, the power to control lightning, has turned her into a weapon that the royal court tries to control.
The crown calls her an impossibility, a fake, but as she makes her escape from Maven, the prince—the friend—who betrayed her, Mare uncovers something startling: she is not the only one of her kind.
Pursued by Maven, now a vindictive king, Mare sets out to find and recruit other Red-and-Silver fighters to join in the struggle against her oppressors.
But Mare finds herself on a deadly path, at risk of becoming exactly the kind of monster she is trying to defeat.
Will she shatter under the weight of the lives that are the cost of rebellion? Or have treachery and betrayal hardened her forever?
The electrifying next installment in the Red Queen series escalates the struggle between the growing rebel army and the blood-segregated world they've always known—and pits Mare against the darkness that has grown in her soul.
My Thoughts:
Glass Sword is an action packed sequel to a book that I loved and that blew my mind to smithereens last year. Much like Red Queen, Glass Sword has surpassed all of my expectations, ripped my heart out and stomped all over the little pieces – all while making me feel things that I cannot even begin to fathom or describe for you. Terror, disgust, pain, sorrow, longing, happiness, joy… none of it comes close because this book is all of those things combined and also so much more.
Because I cannot bring myself to explain things without spoiling them, giving away spoilers for the first book, or reducing myself to a pile of quivering snot and tears – this review shall consist mostly of reaction gifs.
My opinion on Shade:
Anybody can betray anybody:
Everything else:
Me at the end:
So yea, that just about sums it up. READ IT!