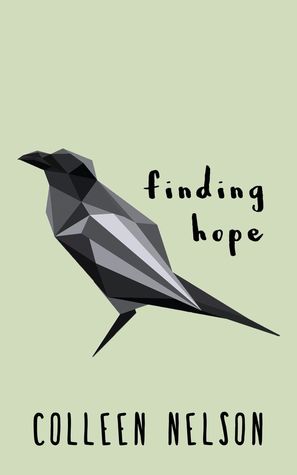 "Dangling
From a thread
Suspended, breath
Catching in my throat.
That Drop won't kill me.
But how will I catch
What I lost?"
Title: Finding Hope
Author: Colleen Nelson
Series: Standalone
Publication: April 12th 2016 by Dundurn
Pages: 200
Source: Netgalley
Summary from Goodreads:
Hope lives in a small town with nothing to do and nowhere to go. With a drug addict for a brother, she focuses on the only thing that keeps her sane, writing poetry. To escape, she jumps at the chance to attend Ravenhurst Academy as a boarding student. She'll even put up with the clique-ish Ravens if it means making a fresh start.
At first, Ravenhurst is better than Hope could have dreamed. She has a boyfriend and a cool roommate, and she might finally have found a place she can fit in. But can she trust her online boyfriend? And what can she do after her brother shows up at the school gates, desperate for help, and the Ravens turn on her? Trapped and unsure, Hope realizes that if she wants to save her brother, she has to save herself first.
My Thoughts:
What first caught my eye about this book was the cover. The cover – minimalist, metaphorical, and attention grabbing – is simply stunning, as is the book as a whole. I've never read anything by Colleen Nelson before this book, but boy, am I glad she is now on my radar. This book is not an easy read by any means, it deals with hard hitting topics like sexual abuse, drug addiction, bullying, and hazing – but it is so, so worth it.
Told through dual point of views, Finding Hope is a lyrically beautiful tale of a young girl looking for an escape and her brother who is entirely dependent upon her and his addiction to meth. This book, as I have said and will likely say again, is simply stunning. It is a delicate puzzle, a dainty lattice work of carefully crafted prose and beautiful poetic interludes. It is a glimpse into the mind of an addict and their loved ones. It is a balancing act – what point does the truth become too much? When can you no longer hide what is truly going on, even from yourself? This book is powerful. It is a whirlwind of emotions, heartbreak, and hope.
The characters were just as complex as the story itself. Our two narrators – Hope and her brother, Eric – are two completely different ends of the spectrum. Hope is naive, Eric manipulative. Hope is a supporter, a provider – and Eric is a leech. Hope, while naive, is strong willed and unafraid to do what needs to be done. She goes on, she fights and puts one foot in front of the other – trudging from one hell into the next. She is incredibly brave, she is a misfit, she is a poet. Her writing helps her through all of the bullshit she has to deal with on a daily basis – it is her livelihood, it is her escape from reality. It was beautiful.
This is a really dark book, so I don't recommend going into this if you're in a bad mood or a reading slump. But, overall Finding Hope was a profound story of a girl that will sucker punch you right in the gut and keep doing so until it is all you can do to take in a deep breath. It was morbid, heart-wrenching, and completely riveting. It is a small tale, but it sure as hell packs one hell of  a punch. I feel honored to have gotten the chance to read this. Finding Hope is brutally honest, as all books should be.