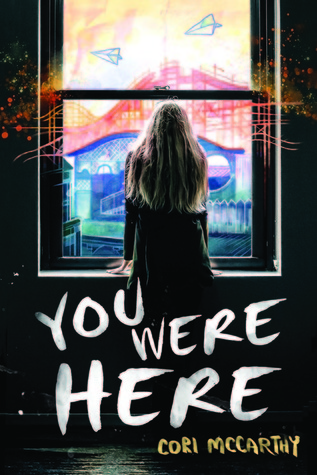 "My mom hated this board. She said he'd break his neck." Her voice was eerily smooth. Isn't that funny?"


"I'm not laughing."
Title: You Were Here
Author: Cori McCarthy
Series: Standalone
Publication: March 1st 2016 by Sourcebooks Fire
Pages: 400
Source: Netgalley
Summary from Goodreads:
Grief turned Jaycee into a daredevil, but can she dare to deal with her past?
On the anniversary of her daredevil brother's death, Jaycee attempts to break into Jake's favorite hideout—the petrifying ruins of an insane asylum. Joined by four classmates, each with their own brand of dysfunction, Jaycee discovers a map detailing her brother's exploration and the unfinished dares he left behind.
As a tribute to Jake, Jaycee vows to complete the dares, no matter how terrifying or dangerous. What she doesn't bargain on is her eccentric band of friends who challenge her to do the unthinkable: reveal the parts of herself that she buried with her brother.
My Thoughts:
Wow.. just wow. You know, sometimes there are those books when words can't do them justice – and You Were Here is one of those rarities. It is a heavy, hard hitting novel about dealing with grief. How do you cope when the person you love the most dies? How do you keep on living knowing your brother no longer stands beside you? How do you find the strength to put one foot in front of the other on the fifth anniversary of their death? How do you honor them? Well, You Were There is a torturous tale that explores what it takes to finally let go.
Jake, Jaycee's brother, was a daredevil who never said no. You dared him to do something, you bet your buttons he was going to do it just to watch you squirm. But, there is only so long you can go on tempting fate before she finally cuts your string. Jake does not walk away from his final stunt – and it leaves devastating ripples. Jaycee, his sister, is broken. She is destructive, angry, confused, and alone. She has just done what her brother couldn't – live past High School. She, on the fifth anniversary of her brother's death, decides to honor his memory by doing yet another thing just for him – completing his final stunt. She, along with four other misfits from the Island of Misfit Toys, embark on an adventure to complete Jake's final stunt.
Each of these misfits is connected to Jaycee and Jake. There is Natalie, Jaycee's best friend from childhood. Zach, Natalie's boyfriend – who brings along his best friend Bishop. Then there is Mike, Jake's friend. Over the course of this adventure, these four characters find themselves growing closer – find themselves bonding over the loss of someone who they all loved.
The characters, each and every one of them, all go through a harrowing journey. They are all trying to grow up and move past the one thing holding them back – but they can't, not until they can cope with their grief. As these characters move through the adventure laid out before them, they learn that the only way to cope – to start to be alright again – is to help each other do the same. No one can be alone in grief – everyone needs to heal, and sometimes to do that you need a shoulder to lean on.
Each character gets a point of view, each character gets a chance to tell their stories. Actually, it was one of the things that made this book so interesting. This book isn't told just in prose, but graphic novel or comic book style as well – whichever you prefer. It was unique – just like the story it holds. It is engaging, emotional, and it perfectly encapsulated what needed to be shown. It was a powerful narrative mode for an equally powerful story.
There is something beautiful about broken people, especially when they come together and make a whole. You Were Here features a diverse cast of emotionally shattered characters who are slowly figuring out how to pick up the pieces a tragic death left behind. This is a clever examination of a journey through love, death, break ups, and revelations. Read it, you won't regret it.
"She wasn't trying to kill herself. She's not like that. She just doesn't have a whole lot of respect for staying alive."