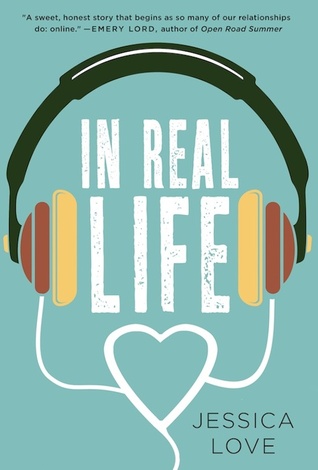 "We've IM'd, texted, sent a million pictures, mailed each other packages, video-chatted, and talked on the phone. We've just never been in the same place at the same time."
Title: In Real Life
Author: Jessica Love
Series: Standalone
Publication: March 1st 2016 by St. Martin's Griffin
Pages: 240
Source: Negalley
Summary from Goodreads:
Hannah Cho and Nick Cooper have been best friends since 8th grade. They talk for hours on the phone, regularly shower each other with presents, and know everything there is to know about one another.
There's just one problem: Hannah and Nick have never actually met.
Hannah has spent her entire life doing what she's supposed to, but when her senior year spring break plans get ruined by a rule-breaker, she decides to break a rule or two herself. She impulsively decides to road trip to Vegas, her older sister and BFF in tow, to surprise Nick and finally declare her more-than-friend feelings for him.
Hannah's romantic gesture backfires when she gets to Vegas and meets Nick's girlfriend, whom he failed to mention. And it turns out his relationship status isn't the only thing he's been lying to her about. Hannah knows the real Nick can't be that different from the online Nick she knows and loves, but now she only has one night in Sin City to figure out what her feelings for Nick really are, all while discovering how life can change when you break the rules every now and then.
My Thoughts:
HOLY FREAKEN BAT-CRAP ROBBIN!! Just… just.. all the feels, and ugh! Okay, if you can't tell already – this review will probably consist of me completely losing my cool and fangirling because that is what this book deserves. In Real Life is, so far, probably one of the best contemporary novel's I've read simply because it is so close to home for me. I have friends online whom I've never met before, I'm looking at you BlogSquad – and I have online friends I have known since I was in Junior High (That's over six years) whom I've never met but they're more like family. In Real Life explores one of these profound relationships, it delves deeply into what it means to know someone else and what it means to take a risk – it was breathtaking. In all honesty, I probably won't be able to do this book justice – so just take my word and run with it!
In Real Life, ironically, is so realistic in its approach to what is going on. Hannah Cho, straight-A, good girl student, decides to break the rules and go on a road trip to Vegas to meet her online friend of four years, Nick. As you can expect, she is terrified. She is terrified meeting him in person won't measure up to her assumptions. She is terrified he won't like her for who she really is – even though they've video chatted. She is terrified it will be awkward, or different, now that the certain anonymity the internet provides is gone. It just… wow. I get you, Hannah, you know? Think of it this way – you're meeting your favorite author. Sure, you've read all their books and know everything you can possibly know about them. You've talked to them on Twitter, maybe in an email or even an interview. You think you know them, but now you're going to meet them face to face – it changes everything. The whole dynamic shifts, and that is what Hannah is experiencing.
As we can all assume, this whole shenanigan does not go down without a hitch. Nick has been keeping secrets – and Hannah doesn't know until it's too late. With her heart laid bare and nowhere to escape, Hannah is forced to work through just what her relationship with Nick is over a short, twenty-four hour window. In Real Life is one of those sweet and spicy books, you love it – but it burns slightly on the way down. It's like a good mole, or a Mexican hot chocolate. Damn, I'm going to make myself hungry if I keep it up with the food analogies.
Even though this book is centrally about the relationship between two characters, the characters themselves stole the show for me. Hannah, sweet, goodie-two-shoes Hannah and mysterious Nick. Oh how I love them. Hannah, as I've said, is a straight-A student. She is the complete opposite of what you would think someone who would do this is – and that is what makes her so amazing. She isn't a daredevil, or reckless, or impulsive – and yet, she is willing to do something completely batshit crazy to meet the boy she loves even though she's never spoken to him in person. Then we have Nick. He's adorably awkward, nerdy, and hilarious. He plays in a band about to get its big break in Vegas (Hannah's excuse). Nick keeps secrets, what can I say? He's not perfect, nobody is. But, it is watching these two characters – these two best friends – work through everything, that makes this story something to cherish forever.
The romance in this book is totally swoonworthy. It is hardcore fangirl material and I wholeheartedly embrace it all. It is so damn cute! It was quirky, fun, and everything you could possibly want in a contemporary romance. Watching these two best friends slowly transform into something more was agonizing and totally worth it in the end. It's frustrating, infuriating, and beautiful.
In Real Life has solidified a spot on my favorites shelf, no doubt about it. It is an enjoyable, poignant, and unique story full of emotion and humor. In Real Life will make you giggle, swoon, and cry. It will make you rage, scream, and want to rip your hair out. It will make you feel all the feels and then want to dive back in for another round at the roller-coaster. If you want a book that will simply put a smile on your face, this is definitely the next book you should grab (It's worth it, trust me).