Books, books, books.. what more could I ask for in the glorious month of March? Spring break? Books. St. Patrick's Day? Books. BOOKS ALL AROUND! This month is full of amazing releases, from new books by favorite authors to wondrous debuts. This month will be the death of me, but I go into it willingly. Check out eleven of my most anticipated releases this month!
1. Seven Black Diamonds by Melissa Marr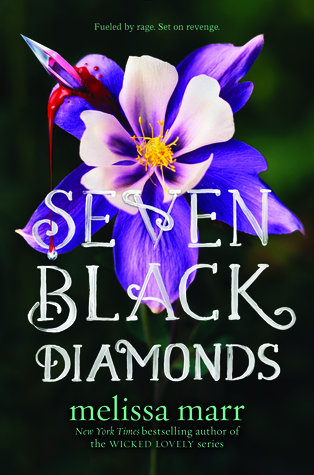 Summary from Goodreads:
This riveting fantasy marks Melissa Marr's return to the world of faery courts that made her Wicked Lovely series an international phenomenon.
Lilywhite Abernathy is a criminal—she's half human, half fae, and since the time before she was born, a war has been raging between humans and faeries. The Queen of Blood and Rage, ruler of the fae courts, wants to avenge the tragic death of her heir due to the actions of reckless humans.
Lily's father has always shielded her, but when she's sent to the prestigious St. Columba's school, she's delivered straight into the arms of a fae sleeper cell—the Black Diamonds. The Diamonds are planted in the human world as the sons and daughters of the most influential families and tasked with destroying it from within. Against her will, Lilywhite's been chosen to join them…and even the romantic attention of the fae rock singer Creed Morrison isn't enough to keep Lily from wanting to run back to the familiar world she knows.
Melissa Marr returns to faery in a dramatic story of the precarious space between two worlds and the people who must thrive there. The combination of ethereal fae powers, tumultuous romance, and a bloodthirsty faery queen will have longtime fans and new readers at the edge of their seats.
March 1st 2016 by HarperCollins
2. In Real Life by Jessica Love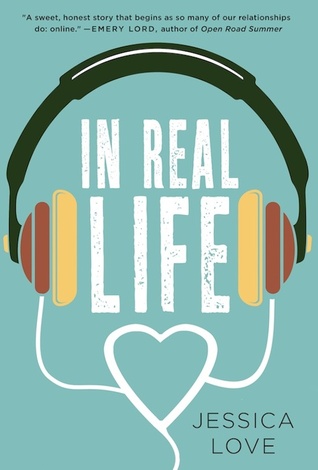 Summary from Goodreads:
Hannah Cho and Nick Cooper have been best friends since 8th grade. They talk for hours on the phone, regularly shower each other with presents, and know everything there is to know about one another.
There's just one problem: Hannah and Nick have never actually met.
Hannah has spent her entire life doing what she's supposed to, but when her senior year spring break plans get ruined by a rule-breaker, she decides to break a rule or two herself. She impulsively decides to road trip to Vegas, her older sister and BFF in tow, to surprise Nick and finally declare her more-than-friend feelings for him.
Hannah's romantic gesture backfires when she gets to Vegas and meets Nick's girlfriend, whom he failed to mention. And it turns out his relationship status isn't the only thing he's been lying to her about. Hannah knows the real Nick can't be that different from the online Nick she knows and loves, but now she only has one night in Sin City to figure out what her feelings for Nick really are, all while discovering how life can change when you break the rules every now and then.
March 1st 2016 by St. Martin's Griffin
3. Into the Dim by Janet B. Taylor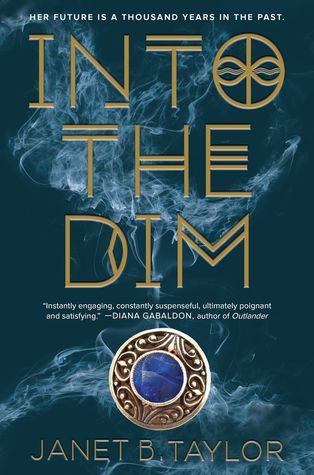 Summary from Goodreads:
When fragile, sixteen-year-old Hope Walton loses her mom to an earthquake overseas, her secluded world crumbles. Agreeing to spend the summer in Scotland, Hope discovers that her mother was more than a brilliant academic, but also a member of a secret society of time travelers. Trapped in the twelfth century in the age of Eleanor of Aquitaine, Hope has seventy-two hours to rescue her mother and get back to their own time. Along the way, her path collides with that of a mysterious boy who could be vital to her mission . . . or the key to Hope's undoing.      Addictive, romantic, and rich with historical detail,Into the Dim is an Outlander for teens.
 March 1st 2016 by HMH Books for Young Readers
4. Burning Glass by Katheryn Purdie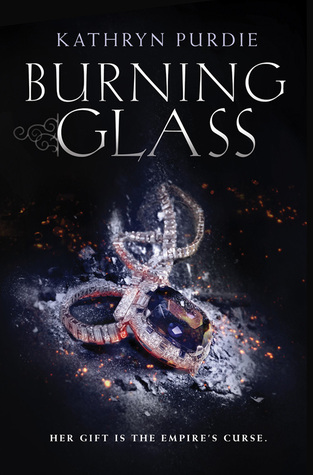 Summary from Goodreads:
Sonya was born with the rare gift to feel what those around her feel—both physically and emotionally—a gift she's kept hidden from the empire for seventeen long years. After a reckless mistake wipes out all the other girls with similar abilities, Sonya is hauled off to the palace and forced to serve the emperor as his sovereign Auraseer.
Tasked with sensing the intentions of would-be assassins, Sonya is under constant pressure to protect the emperor. One mistake, one small failure, will cost her own life and the lives of the few people left in the world who still trust her.
But Sonya's power is untamed and reckless, her feelings easily usurped, and she sometimes can't decipher when other people's impulses end and her own begin. In a palace full of warring emotions and looming darkness, Sonya fears that the biggest danger to the empire may be herself.
As she struggles to wrangle her abilities, Sonya seeks refuge in her tenuous alliances with the volatile Emperor Valko and his idealistic younger brother, Anton, the crown prince. But when threats of revolution pit the two brothers against each other, Sonya must choose which brother to trust—and which to betray.
March 1st 2016 by Katherine Tegen Books
5. A Study In Charlotte by Brittany Cavallaro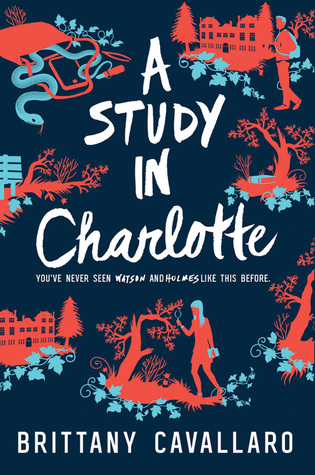 Summary from Goodreads:
The last thing sixteen-year-old Jamie Watson–writer and great-great-grandson of the John Watson–wants is a rugby scholarship to Sherringford, a Connecticut prep school just an hour away from his estranged father. But that's not the only complication: Sherringford is also home to Charlotte Holmes, the famous detective's enigmatic, fiercely independent great-great-granddaughter, who's inherited not just his genius but also his vices, volatile temperament, and expertly hidden vulnerability. Charlotte has been the object of his fascination for as long as he can remember–but from the moment they meet, there's a tense energy between them, and they seem more destined to be rivals than anything else.
Then a Sherringford student dies under suspicious circumstances ripped straight from the most terrifying of the Holmes stories, and Jamie and Charlotte become the prime suspects. Convinced they're being framed, they must race against the police to conduct their own investigation. As danger mounts, it becomes clear that nowhere is safe and the only people they can trust are each other.
March 1st 2016 by Katherine Tegen Books
6. Lady Midnight by Cassandra Clare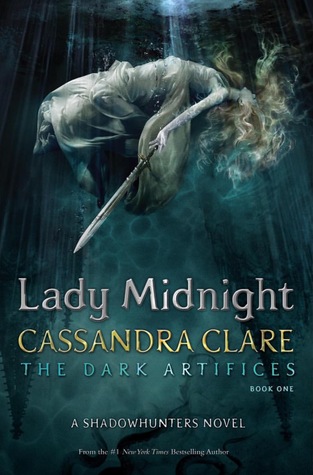 Summary from Goodreads:
The Shadowhunters of Los Angeles star in the first novel in Cassandra Clare's newest series, The Dark Artifices, a sequel to the internationally bestselling Mortal Instruments series. Lady Midnight is a Shadowhunters novel.
It's been five years since the events of City of Heavenly Fire that brought the Shadowhunters to the brink of oblivion. Emma Carstairs is no longer a child in mourning, but a young woman bent on discovering what killed her parents and avenging her losses.
Together with her parabatai Julian Blackthorn, Emma must learn to trust her head and her heart as she investigates a demonic plot that stretches across Los Angeles, from the Sunset Strip to the enchanted sea that pounds the beaches of Santa Monica. If only her heart didn't lead her in treacherous directions…
Making things even more complicated, Julian's brother Mark—who was captured by the faeries five years ago—has been returned as a bargaining chip. The faeries are desperate to find out who is murdering their kind—and they need the Shadowhunters' help to do it. But time works differently in faerie, so Mark has barely aged and doesn't recognize his family. Can he ever truly return to them? Will the faeries really allow it?
March 8th 2016 by Margaret K. McElderry Books
7. Rebel of the Sands by Alwyn Hamilton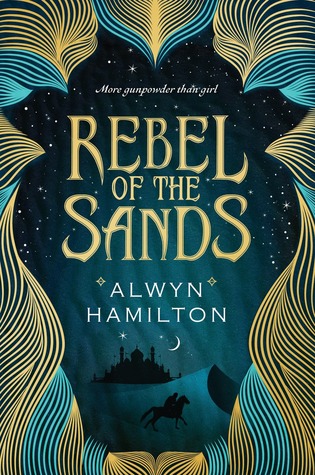 Summary from Goodreads:
She's more gunpowder than girl—and the fate of the desert lies in her hands.
Mortals rule the desert nation of Miraji, but mystical beasts still roam the wild and barren wastes, and rumor has it that somewhere, djinni still practice their magic. But there's nothing mystical or magical about Dustwalk, the dead-end town that Amani can't wait to escape from.
Destined to wind up "wed or dead," Amani's counting on her sharpshooting skills to get her out of Dustwalk. When she meets Jin, a mysterious and devastatingly handsome foreigner, in a shooting contest, she figures he's the perfect escape route. But in all her years spent dreaming of leaving home, she never imagined she'd gallop away on a mythical horse, fleeing the murderous Sultan's army, with a fugitive who's wanted for treason. And she'd never have predicted she'd fall in love with him…or that he'd help her unlock the powerful truth of who she really is.
March 8th 2016 by Penguin
8. The Great Hunt by Wendy Higgins
Summary from Goodreads:
Kill the beast. Win the girl.
A strange beast stirs fear in the kingdom of Lochlanach, terrorizing towns with its brutality and hunger. In an act of desperation, a proclamation is sent to all of Eurona—kill the creature and win the ultimate prize: the daughter of King Lochson's hand in marriage.
Princess Aerity understands her duty to the kingdom though it pains her to imagine marrying a stranger. It would be foolish to set her sights on any particular man in the great hunt, but when a brooding local hunter, Paxton Seabolt, catches her attention, there's no denying the unspoken lure between them…or his mysterious resentment.
Paxton is not keen on marriage. Nor does he care much for spoiled royals and their arcane laws. He's determined to keep his focus on the task at hand—ridding the kingdom of the beast and protecting his family—yet Princess Aerity continues to challenge his notions with her unpredictability and charm. But as past secrets collide with present desires, dire choices threaten everything Paxton holds dear.
Inspired by the Grimm Brothers' tale, "The Singing Bone," New York Times bestselling author Wendy Higgins delivers a dark fantasy filled with rugged hunters, romantic tension, outlawed magic, and a princess willing to risk all to save her people.
March 8th 2016 by HarperTeen
9. A Drop of Night by Stefan Bachmann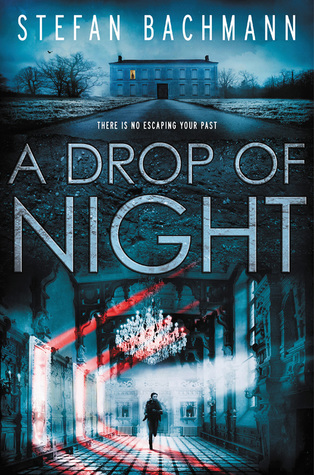 Summary from Goodreads:
Seventeen-year-old Anouk has finally caught the break she's been looking for—she's been selected out of hundreds of other candidates to fly to France and help with the excavation of a vast, underground palace buried a hundred feet below the suburbs of Paris. Built in the 1780's to hide an aristocratic family and a mad duke during the French Revolution, the palace has lain hidden and forgotten ever since. Anouk, along with several other gifted teenagers, will be the first to set foot in it in over two centuries.
Or so she thought.
But nothing is as it seems, and the teens soon find themselves embroiled in a game far more sinister, and dangerous, than they could possibly have imagined. An evil spanning centuries is waiting for them in the depths. . .
A genre-bending thriller from Stefan Bachmann for fans of The Maze Runner and Joss Whedon's The Cabin in the Woods.
You cannot escape the palace.
You cannot guess its secrets.
March 15th 2016 by Greenwillow Books
10. The Way I Used to Be by Amber Smith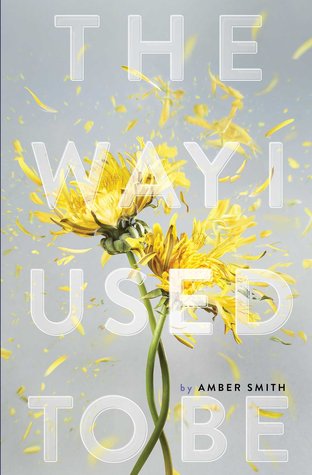 Summary from Goodreads:
In the tradition of Speak, this extraordinary debut novel shares the unforgettable story of a young woman as she struggles to find strength in the aftermath of an assault.
Eden was always good at being good. Starting high school didn't change who she was. But the night her brother's best friend rapes her, Eden's world capsizes.
What was once simple, is now complex. What Eden once loved—who she once loved—she now hates. What she thought she knew to be true, is now lies. Nothing makes sense anymore, and she knows she's supposed to tell someone what happened but she can't. So she buries it instead. And she buries the way she used to be.
Told in four parts—freshman, sophomore, junior, and senior year—this provocative debut reveals the deep cuts of trauma. But it also demonstrates one young woman's strength as she navigates the disappointment and unbearable pains of adolescence, of first love and first heartbreak, of friendships broken and rebuilt, and while learning to embrace a power of survival she never knew she had hidden within her heart.
March 22nd 2016 by Margaret K. McElderry Books
11. Walk The Edge by Katie McGarry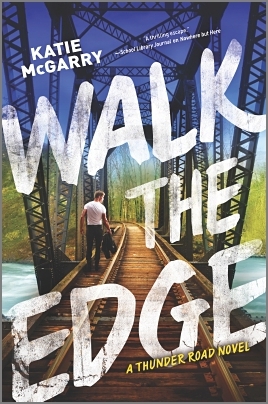 Summary from Goodreads:
One moment of recklessness will change their worlds
Smart. Responsible. That's seventeen-year-old Breanna's role in her large family, and heaven forbid she put a toe out of line. Until one night of shockingly un-Breanna-like behavior puts her into a vicious cyber-bully's line of fire—and brings fellow senior Thomas "Razor" Turner into her life.
Razor lives for the Reign of Terror motorcycle club, and good girls like Breanna just don't belong. But when he learns she's being blackmailed over a compromising picture of the two of them—a picture that turns one unexpected and beautiful moment into ugliness—he knows it's time to step outside the rules.
And so they make a pact: he'll help her track down her blackmailer, and in return she'll help him seek answers to the mystery that's haunted him—one that not even his club brothers have been willing to discuss. But the more time they spend together, the more their feelings grow. And suddenly they're both walking the edge of discovering who they really are, what they want, and where they're going from here.
March 29th 2016 by Harlequin TEEN