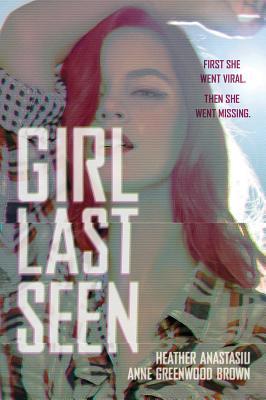 "I'm turned on, happy in her misfortune, then deeply ashamed, then just sad for both her and me."
Title: Girl Last Seen
Authors: Heather Anastasiu and Anne Greenwood Brown
Series: Standalone
Publication: March 1st 2016 by Aw Teen
Pages: 272
Source: Netgalley
Summary from Goodreads:
Kadence Mulligan's star was rising. She and her best friend, Lauren DeSanto, watched their songs go viral on YouTube, then she launched a solo career when a nasty throat infection paralyzed Lauren's vocal chords. Everyone knows Lauren and Kadence had a major falling-out over Kady's boyfriend. But Lauren knows how deceptive Kadence could be sometimes. And nobody believes Lauren when she claims she had nothing to do with the disappearance. Or the blood evidence As the town and local media condemns Lauren, she realizes the only way to clear her name is to discover the truth herself. Lauren slowly unravels the twisted life of Kadence Mulligan and sees that there was more to her than she ever knew. But will she realize she's unknowingly playing a part in an elaborate game to cover up a crime before it's too late?
My Thoughts:
Hmm…. that was very, very interesting. Not bad, certainly not horrible, but also not good. So… interesting. I sometimes have a hard time getting into mysteries or thrillers simply because I cannot force myself into believing the story as something actually plausible – and Girl Last Seen was one of those cases. Now, don't get me wrong – everything else about this book was pretty air tight, but the overall thematic elements just didn't click with me, and that alone was enough to make me go ehh.
Give me a far fetched, insane fantasy world any day. As long as I can find something believable – be it characters, mannerisms, or certain phrases – I can put myself behind the story and collectively scream "hell yes" all hours of the day. But, give me some surface value characters, a plot line out of a telanovela, and pacing that makes the Vampire Academy film look good – and I simply don't know what to do with myself.
I think part of what spun this book out into the no no zone was the multiple point of views. It just didn't work for me. In a thriller, I don't want bits and pieces from everyone – at least when all of those pieces aren't adding to the story as a whole. In this case, it only worked against the main goal and gave way too much away. I like to pride myself on my ability to figure out big reveals way ahead of time, and boy – this book was one hell of an ego boost.
Too add insult to injury, I swear I've read another book pretty damn identical to this – only that book did it better, a lot better. I mean, if you're going to do the same story line as something else – you better make damn well sure you either blow it out of the water or make the concept your own in a unique way. It simply didn't work, and that sucked.
By no means is Girl Last Seen on the blacklist or anything of the sort – some of you might find it highly enjoyable – it just wasn't the book for me. I was able to read all the way till the end – despite the multitude of bumbling cops, weird psychopathic tendencies, and little to no consequences for very despicable actions. While I appreciate the overall attempt, Girl Last Seen fell flat in the long run.