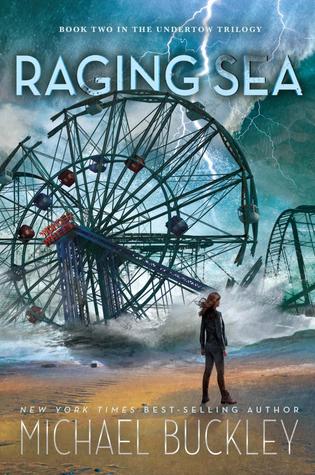 "Your city has been demolished. Your friends are dead and gone. Enemies roam your lands. Soldiers have taken your people. Torn them from the arms of their mothers, all to cut them open and see how they work! Does none of this burn your passions? Where is your fury?"
Title: Raging Sea
Author: Michael Buckley
Series: Undertow # 2
Publication: February 2nd 2016 by HMH Books for Young Readers
Pages: 384
Source: Publisher in exchange for a honest review
Summary from Goodreads:
In the first book of Michael Buckley's Undertow trilogy, the Alpha arrived and the world was never the same. At the start of the second book, most of south Brooklyn is in ruins and the nation is terrified. Nearly everyone that Lyric Walker loves is either missing or presumed dead, including the mesmerizing prince Fathom. It's up to Lyric to unite the Alpha before the second wave of a cataclysmic invasion wipes out mankind for good.
My Thoughts:
Much like my feelings after reading the first book in the Undertow trilogy: wow. Once again, Michael Buckley has blown me straight out of the water – pun intended. This book was exactly what I need right now. It pulled me in, it made me forget everything besides what was going on right on the page and therefore in my head. It makes you feel such a broad spectrum of emotions – it will make you laugh (one of my favorite parts was Lyric's four steps of shoplifting, it was hilarious), it will make you ugly cry until you resemble an over-boiled blow fish, and it will make your heart both sing the praises of love and want to beat it to death with some sort of blunt weapon – a sledge hammer is preferable. Raging Sea is exactly what the title promises – a raging sea of emotions, action, and an overwhelming spectacle I will never forget. 
This book picks up a little after Undertow ends, a few weeks I think – to be exact. Lyric is on the run with Bex and Arcade, and none of them know if their loved ones are alive or dead – all they know is that somewhere, the organization Tempest is holding Alpha hybrid children, their parents, and a bunch of other Alphas prisoner. So, who you gonna call? LYRIC WALKER! Goodness, I love that girl. She might be stubborn, slightly pushover-y, but she is an overall badass who understands just what is at stake throughout the entire book. She, Bex, and Arcade are planning to storm Tempest when they find it and free their people, while simultaneously being on the run because Lyric has been wrongfully labeled a terrorist after the events on Cony Island. Needless to say, hilarity, chaos, and all manner of shenanigans ensue.
Raging Sea delivered on all fronts. We have some serious character development both in Lyric and almost all of the side characters (that moment at the end with Arcade, Lyric, and Bex hit me right in the feels) We've got a plot racing at the speed of light – but perfectly so. It's not too slow, not too fast. A perfect balance between having time to take in certain details all while being caught up in the chaos of a war you know you are loosing.
Additionally, and I repeat myself here: LYRIC WALKER. That girl is a godsend to YA literature (especially the dystopian/apocalypse kind). She is witty, steadfast, and hell bent on saving her parents as well as every other person trapped in Tempest. She does not break, but she is willing to bend – and that is what makes her so remarkable. She can pick her battles, she knows when to act like she's playing along and when to unleash hell. She is powerful – she abuses her power and feels like shit afterwards. She might be part Alpha, but she is human at the core – where it counts. She is real, she is a hero. Lyric is someone I would be willing to follow into battle and a prime example of why is at the end of the book. She is willing to do what needs to be done and yet she refuses to let harm come to anyone when she knows that she alone can end it.
Now, one order of business I have to mention. Fathom. Fathom, Fathom, Fathom – my precious, prickly cinnamon roll from book one was the only issue I had with this book. Though, issue is too strong of a word. I love Fathom, I love him with Lyric and I love his character and how he thinks. What I had a "problem" with, was the stupid ass fight Lyric had with him, herself, and Arcade. It was unnecessary, things were resolved earlier and then they were ripped apart for no good reason other than what seems to be to create drama. While I still loved it, and I would never let something that petty bother me usually, I just expected a bit more out of them after reading Undertow. The two of them, in Lyric's words, burn and are dangerous like gasoline and fire – and boy is it true. I will go down with this ship, Lord help me.
Overall, Raging Sea has infinitely deepened my love for this series. I am head over heels and ready to dive head first into the chaos these books bring. After that cliffhanger at the end (curse you, Buckley), I find myself anxiously awaiting yet another masterpiece to hit the shelves. Raging Sea is a phenomenal continuation of an amazing series and I cannot fathom (see what I did there?) how I am going to get myself through another year of waiting. Michael Buckley, you have done it once again. You ripped out my heart, fed it to a giant octopus, and laughed maniacally while doing so. I can't wait to see what happens next.