First off, I want to send a huge, warm thank you to Parneet at The Enchanted Book for nominating me for this. It always makes me go full butterfly mode when someone takes time out of their day, looks at my blog, and says "Let's tag that shiz" (Vocabulary optional). If you don't already, GO FOLLOW THE WONDERFUL LADY AND BE AMAZED BY HER AWESOMENESS!!
The Rules:
Thank the blog that nominated you
Give 11 facts about yourself
Answer the blogger's questions
Nominate 11 other bloggers and set some questions
11 Random Facts I've Probably Mentioned Somewhere In Cyberspace Before:
I am blind in my right eye
I am currently in the second semester of my sophomore year in college
You can never guess my favorite color…. (shh… it's because I like them all)
I graduated high school certified in Spanish, now all I can remember is how to ask where the bathroom is or if I can have a beer
I absolutely love watching scary movies but I tend to regret it a few hours later when I can't sleep
My favorite season is Fall because I love watching all of the leaves change into pretty rainbow colors
I am extremely antisocial and my general punishment is someone forcing me to go socialize
I am so competitive that I tackled my best friend while playing Spoons…. and yes, I won.
I am the instigator of everything. Someone did something stupid worthy of AFV or Ridiculousness? You bet your buttons I was involved in some way, shape, or form.
I am a Leo, hear me roar
I am completely obsessed with Supernatural…like, it's bad.
Parneet's Questions:
1. Who is your biggest inspiration?
Inspiration for what, exactly? For my blog, probably a mishmash of unnameable people that made me realize it was acceptable to fangirl in public. In life? My biggest inspiration and driving force that makes me do what I do is my parents. There isn't a day that goes by where I don't hear one of their voices in my head telling me to follow my dreams or that I can do something I think is impossible. I can' thank them enough for that, so the least I can do is make them proud.
2. What is it about your favorite character that you love?
WHY MUST YOU TORTURE ME SO! I cannot possibly pick a favorite character, I love far too many. So, instead, I can tell you the qualities I love. First off, I love smart asses (I'm looking at you Rose Hathaway and Jace Wayland/Morgenstern/Lightwood/Heronadle). I don't know what it is about them (that's a lie) that draws me in. I feel as though I can identify with them, mostly their sarcastic assholish tendencies. Besides that, loyalty to a cause or to their values and beliefs is anther big clue in for me. I love it when a character sticks to their convictions and then those convictions become a driving force in their decisions. THAT is something I identify with.
3. What is your favorite book and why?
ALLLLL THE BOOKS. Asking me what type of book is my favorite is like asking me to pick if I like my mom or dad more. Just no.
4. If you were your favorite book character, what would a typical day in your life look like?
Oh lordy, do you really want to know? First of all, I do not have the ability to pick a single favorite book character to live a day in the life of. If I had full creative authority over this situation, I would live a day in the life of each and every one of the characters who have graced my looooonng list of favorites. You know, Kaz Breker, Rose Hathaway, Jace Wayland, Will Herondale, Daemon Black, Alice Cullen, Cinder, Grimalkin (Yes I would want to be a cat)…. should I continue? I can go on for hours.
5. What would happen if you were to transport into the book you are currently reading?
Well, I would be in the midst of a zombie apocalypse – or hitting Mr. Darcy over the head with a sharpened shovel depending on which book this transported me into.
6. Give a quote from a book that has influenced you or changed you as a person.
This quote is actually part of the tag line for my blog because I love it so much. (I even plan on getting a tattoo… eventually)
"Life is a book and there are a thousand pages I have not yet read." – Cassandra Clare
7. What is your favorite kind of dessert?
ICE CREAM, CHEESECAKE, REGULAR CAKE, PIE!!!!! All of it…. just gimme a dessert.
8. How much do you love books? (More than people, more than the internet?)
Uhhh… See below?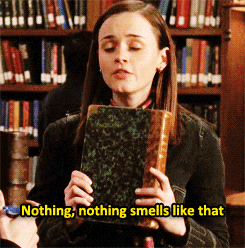 That's it folks! For this tag/award/thing, I shall neglect to actually tag individual people. If you want to do it, go ahead and knock yourselves out. ❤