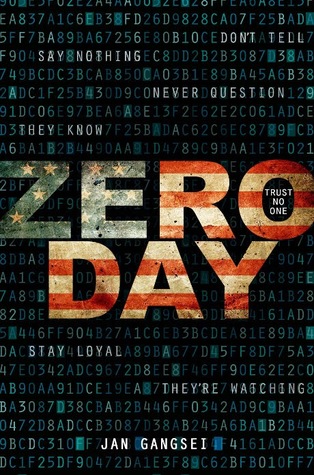 "She was merely dressed up for a show, scripted into the scene by President Webster's staff. A supporting role in the grand drama that was Mark Webster's life.

All Addie had to do was play her part.

Just as the president played his."
Title: Zero Day
Author: Jan Gangsei
Series: Standalone
Publication: January 12th 2016 by Disney-Hyperion
Pages: 368
Source: Publisher in exchange for a honest review
Summary from Goodreads:
Eight years ago, Addie Webster was the victim of the most notorious kidnapping case of the decade. Addie vanished—and her high-profile parents were forced to move on.
Mark Webster is now president of the United States, fighting to keep the oval office after a tumultuous first term. Then, the unthinkable happens: the president's daughter resurfaces. Addie is brought back into her family's fold, but who is this sixteen-year-old girl with a quiet, burning intelligence now living in the White House? There are those in the president's political circle who find her timely return suspicious.
When the NSA approaches Darrow Fergusson, Addie's childhood best friend and the son of the president's chief of staff, he doesn't know what to think. How could this slip of a girl be a threat to national security? But at the risk of having his own secrets exposed by the powerful government agency, Darrow agrees to spy on Addie.
It soon becomes apparent that Addie is much more than the traumatized victim of a sick political fringe group. Addie has come with a mission. Will she choose to complete it? And what will happen if she does?
My Thoughts:
Well…. UGGHHHHH! I cannot fathom a way to tell you how disappointed I am right now. I wanted to like this book, I wanted to like it so much that I forced myself to suffer through a hundred pages before I allowed myself the mercy of giving up. Zero Day was such a mock up political thriller, clearly written with minimal research and knowledge on the subject at hand, that it was not worth the time of day. Reading this book was like poking my eyes out with needles while trying to do a mixture of every single mathematical thing I hate – in other words, it was self inflicted torture.
I shall let my favorite little precious babes, Sam and Dean Winchester (with a special appearance by an angel in a trench coat) , explain my disgust in a series of gifs scavenged from the depths of google because I cannot bring myself to give a damn about how much I hate this book. I am so done right now.
So, yea. That sort of puts it all into perspective, doesn't it? Mix together amateur writing, too many nonessential and random narrators, a sketchy plot with so many plot holes it turned into swiss cheese, and less knowledge than a tadpole and what do you get? Zero Day by Jan Gangsei which I give zero damns about (I really want to say the F word but my family would probably kill me). Good day sir, and adios.