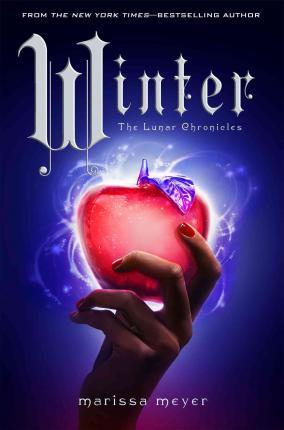 "Yeah, but broken isn't the same as unfixable."
Title: Winter
Author: Marissa Meyer
Series: The Lunar Chronicles # 4
Publication: November 10th 2015 by Feiwel and Friends
Pages: 824
Source: Christmas bookhaul
Summary from Goodreads:
Princess Winter is admired by the Lunar people for her grace and kindness, and despite the scars that mar her face, her beauty is said to be even more breathtaking than that of her stepmother, Queen Levana.
Winter despises her stepmother, and knows Levana won't approve of her feelings for her childhood friend—the handsome palace guard, Jacin. But Winter isn't as weak as Levana believes her to be and she's been undermining her stepmother's wishes for years. Together with the cyborg mechanic, Cinder, and her allies, Winter might even have the power to launch a revolution and win a war that's been raging for far too long.
Can Cinder, Scarlet, Cress, and Winter defeat Levana and find their happily ever afters?
My Thoughts:
ARRRGHHHHH!!! Okay, now that the incomprehensible screeching is out of the way: holy crap. This is how you end a series. This is how you write a damn book. This… this was perfection in every way, shape, and form known to man. Winter made me cry really unattractive big girl tears, practically ignore my family for three days, scream/rage/yell/rampage every other chapter, and made my fangirl heart swoon so badly I possibly have to request medical attention.
I'm having such a difficult time writing this simply for the fact that it would be easier to just say that Winter was amazing and if you haven't read it or the Lunar Chronicles yet dishonor on you, dishonor on your family, dishonor on your cow. I cannot believe that this heart pounding, thrill-ride of a series is over. I can honestly tell you that the main emotion I am feeling right now is sadness and that all I want to do is start them all over from the beginning just so I can relive it all again. This might be one hell of a hulking book coming in at over 800 pages, but boy, those 800 pages almost aren't enough. I could read an infinite amount of pages as long as it continued the story I have fallen so deeply in love with in such a short amount of time.
Winter, bless Marissa Meyer, picks up a little while after Cress gut punches you and abandons you in the alley way it jumped you in. But, let me tell you this, Winter is in no way a walk in the park. It is painful, it will make you feel things you don't want to feel but at the end you'll sit there and beg for it all to happen again and again. Compared to the others in the series, Winter is probably the most torturous. Characters do bad things to the people they love, loved ones of the main characters are nothing more than disposable pawns, and bad, bad, bad things happen to my favorite little precious baby ever and I can't even vent about it because it is a huge spoiler. SOMEONE HELP ME GET OVER ALL THE FEELS!
On the other hand, just like the other three books, this one encompasses a retelling of a classic fairy tale: Snow White. Not only does it include the much loved aspects of the original tale, it also manages to weave the new story seamlessly into what is already happening and what will happen throughout the course of the novel. Each detail is important, say like Princess Winter's love of Apple Tarts. Get it? Apples… Snow White… Evil Queen… purposely failed assassination attempt on Winter… Dun Dun DUN. The dwarfs were there, her true love was there (that was so cruel, if you've read it you know exactly what I am talking about), each and every little thing that should have been there to make the story the best it could have been, was present.
As usual and as I have come to expect in this series, the plot of this book was a masterfully choreographed waltz that flowed without a misstep during the entire number. It was full of action, surprises, suspense, awww worthy moments, and so much more. Winter was complex, adaptive, and a constant fight for survival where the tables could turn at any minute – and trust me, the tables turn quite a few times.
Not only that, but the entire book took place on Luna. Finally! I have been so curious about this planet and we finally got to see the inner workings of the system and the horrors of the Lunar court – which we got some brief glimpses of with Scarlet in Cress. This planet, our moon, was so darn interesting. I don't even know how to describe it.
Also, we have all the ships being shipped so hard that I can't believe it's not butter. Did that make any sense at all? No? Good, cause I have no clue what I am trying to say other than how badly I want to squeal and faint. All of my precious little baby OTPs come together and it is GLORIOUS! Look at my babies… look at the precious little cinnamon rolls. I feel as though I should apologize for the babbling spreading across the internet right now, but oops – LOOK AT THEM!
Overall, this was a phenomenal way to end a breathtaking series that has risen up to become one of my all time favorites. Winter is a powerful tale of what it means to do the right thing, or what you think is the right thing, even at the cost of your own happiness. There is something for everyone to identify with in this series. Be it a love of machinery, a penchant for sarcasm, a favorite coat, technological savagery, or an unbelievable connection with animals – there is a little something for everyone. Despite the large size, this book didn't last me half as long as I wanted it to. I want more, I need more. Winter is by far one of the best concluding books I have ever read – and I've read a lot of books.