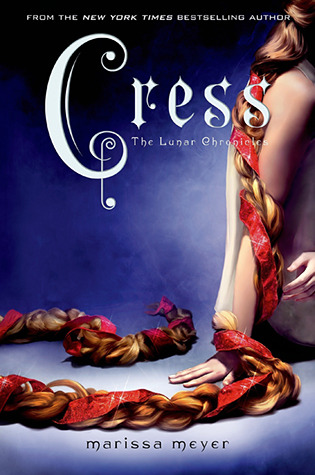 "She dreamed of deep soul connections and passionate kisses and daring escapades. She was certain that he simply had to meet her, just once, and he would feel the same way. It would be like those epic love affairs that exploded into existence and burned white hot for all eternity. The type of love that time and distance and even death couldn't separate."
Title: Cress
Author: Marissa Meyer
Series: The Lunar Chronicles # 3
Publication: February 4th 2014 by Feiwel & Friends
Pages: 550
Source: Christmas bookhaul
Summary from Goodreads:
In this third book in the Lunar Chronicles, Cinder and Captain Thorne are fugitives on the run, now with Scarlet and Wolf in tow. Together, they're plotting to overthrow Queen Levana and her army.
Their best hope lies with Cress, a girl imprisoned on a satellite since childhood who's only ever had her netscreens as company. All that screen time has made Cress an excellent hacker. Unfortunately, she's just received orders from Levana to track down Cinder and her handsome accomplice.
When a daring rescue of Cress goes awry, the group is separated. Cress finally has her freedom, but it comes at a high price. Meanwhile, Queen Levana will let nothing prevent her marriage to Emperor Kai. Cress, Scarlet, and Cinder may not have signed up to save the world, but they may be the only hope the world has.
My Thoughts:
I guess the easiest way to describe my feelings about this book using the least amount of words possible would be something similar to this.
A rude wake up call.
Momentary blissful ignorance of the giant storm brewing/basking in Scarlet and Wolf feels.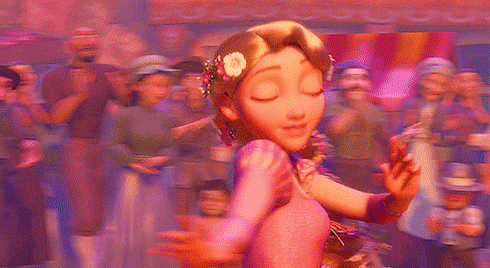 Protecting my sanity while shamelessly continuing to torture myself.
Uncontrollable glee for reasons unbeknownst to the entire universe.
Extreme willingness to threaten any breathing thing getting in the way of my precious babies getting together.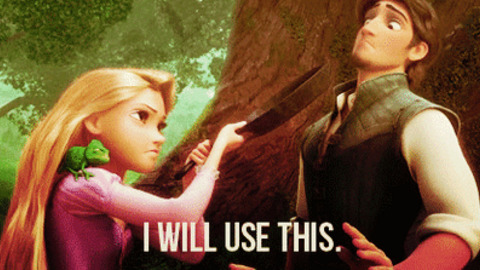 And then… UNCONTROLLABLE FEELS!
As you probably noticed, I used gifs from Tangled. If you're wondering why, it's because – that's right – Cress brings in Rapunzel into the fold. *happy dance*.
Cress, the third book in The Lunar Chronicles, does not disappoint as the midway/prefinale novel. It is action packed, heart breaking, and an all around thrill ride. There is so much that happens in this book. If it were any other novel, it would probably be impossible to keep track of – but Marissa Meyer once again hits the nail right on the head. This book is phenomenal.
Honestly, the best part of all of these books – besides the absolute amazingness that is this crazy ass world – are the characters. The characters are so alive, so real and relatable all the while being perfectly at home in this fictional place. When reading, you can feel their believeability to the point where you expect them to leap right out of the page and appear before your eyes (not that I'd be complaining). Each of these characters, as I've said before, play a key role in everything even though you might not notice it during their initial introductions. Each character as a role to play and a certain way of filling those empty spots that will leave you craving more. Even now, as I write this, I can still hear Iko blabbering away about pretty dresses and shiny things while Thorne compliments his ship. Ugh – the feels these characters bring. How much these characters make you feel almost hurts.
So, speaking of characters. This book, though not primarily about some new introductions, tells the story of Cress and Thorne being thrown together (Rapunzel and Flynn Rider from Tangled, I swear). Cress is sort of a special character – pretty much exactly like Tangled Rapunzel. She is naive, innocent, and pretty socially awkward. Though, instead of being imprisoned in a tower – Cress has been locked away in a satellite orbiting Earth while forced to be a spy for the evil Queen Levana. Cress was a very interesting narrator and I loved every second of it. It took a little getting used to, primarily her daydreams and fantasies, but I soon found myself immersed in her story and anxious to find out what happened next. Make no mistake, she is just as badass as Scarlet and Cinder – though her skill set rests more in electronics and hacking. As I have said before and will say many times again, this series is chalk full of amazing characters and each new addition is no exception.
I don't even know what else to say about this book because it was just done so well! The plot was perfection, the characters were perfection, the writing was absolute perfection. Cress is a book that will make you feel things. It will make you scream, it will make you feel helpless (If you've read it, you know what scene I am talking about). Cress  will make you laugh, it will make you cry, it will make you heart scream with happiness at certain swoon worthy moments, and it will also shatter your heart into a million little pieces. Overall, Cress left me amazed and I grow increasingly impressed with each book I devour. The Lunar Chronicles has become a favorite series of mine and I honestly cannot believe I haven't read them until now. There really isn't much more I can say without excessively repeating myself from my reviews of Cinder and Scarlet, so I leave you with simple advice. GO READ THESE IMMEDIATELY!!