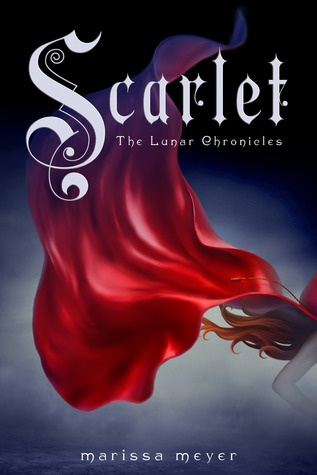 "I think I realized that I would rather die because I betrayed them, than live because I betrayed you."
Title: Scarlet
Author: Marissa Meyer
Series: The Lunar Chronicles # 2
Publication: February 5th 2013 by Feiwel and Friends
Pages: 452
Source: Christmas book haul
Summary from Goodreads:
Cinder, the cyborg mechanic, returns in the second thrilling installment of the bestselling Lunar Chronicles. She's trying to break out of prison—even though if she succeeds, she'll be the Commonwealth's most wanted fugitive.
Halfway around the world, Scarlet Benoit's grandmother is missing. It turns out there are many things Scarlet doesn't know about her grandmother or the grave danger she has lived in her whole life. When Scarlet encounters Wolf, a street fighter who may have information as to her grandmother's whereabouts, she is loath to trust this stranger, but is inexplicably drawn to him, and he to her. As Scarlet and Wolf unravel one mystery, they encounter another when they meet Cinder. Now, all of them must stay one step ahead of the vicious Lunar Queen Levana, who will do anything for the handsome Prince Kai to become her husband, her king, her prisoner.
My Thoughts:
My inner fangirl is screaming, I repeat, my inner fangirl is screaming. HOLY CRAP! This book… I don't even know what to say because I loved this book so much. Not only did Scarlet introduce us to a new cast of characters while simultaneously continuing Cinder's story, it also packed one hell of a gut punch that made me want to rip my hair out. ALL THE FEELS! Ugh… Scarlet is feels central. It is the perfect squeal – both setting an even larger stage for book three and wrapping up certain loose ends from books one and two. I have to say, hands down the Lunar Chronicles is becoming one of my favorite series. I should probably apologize in advance because this review is mostly going to be me squealing/fangirling about everything and anything I can remember.
Scarlet killed me. It was beautifully written, the plot was wonderfully executed, and the new characters (Scarlet, Wolf, and Thorne) made my heart go all pitter-patter. Scarlet picks up almost immediately after Cinder with Cinder in jail and everything basically going to hell in a handbasket. We are introduced to Scarlet (who I freaken love), a young farm girl who is busy making her deliveries around town. Her grandmother has gone missing, Scarlet believing her to be kidnapped while everyone else thinks the "old bat" ran off because she was psychotic. Scarlet meets Wolf… don't get me started on how much I love Mr. Rugged Street Fighter Who Badly Needs A Haircut. Together, Scarlet and Wolf work together to try and rescue Scarlet's grandmother whilst Cinder tries to save the world. Needless to say, Scarlet does not lack in the action sphere of things. Actually, it isn't lacking anywhere. Like I said, perfection.
Just like Cinder, Scarlet is an amazing, kickass, take no prisoners narrator. I loved how focused she was on saving her grandmother and protecting her – despite her feelings. She cares for her family, well – her grandmother, more than her own safety or happiness. Some might say her loyalty is stupid and her downfall, but I admire it immensely. Also, she runs around in a red hoodie with a gun in her belt and it is amazing! She is absolutely one of my favorite narrators/characters of all time now – not to mention how hard I ship her and Wolf. It almost hurts me how much I want them to be together.  It's not just Scarlet that amazed me – among the already astounding cast of characters from book one, thrown into the mix are Wolf and Captain Carswell Thorne. Wolf, I have to say, is a very complex character that has wormed his way deep down into my heart. I loved him from the instant we meet him in the bar – even though I knew he had to be somewhat of bad news. Don't even bring up the later half of the book, I will hurt you just like it hurt my poor, fangirl heart. Wolf is an excellent and a much needed addition to the series. He brought romance with Scarlet *swoons*, brutality, baddassery, and all sorts of goody goodies I don't want to spoil no matter how badly I feel the need to gush right now.
Add in Thorne, basically the Adrian Ivashkov of space. Thorne is constantly cracking jokes or attempting to woo any unsuspecting females and it is absolutely hilarious.
I don't really know how to express just how much I love this cast of characters – nor can I adequately express just how excited I am to see more of them in the next book. I have surprised myself with my restraint – I want to dive straight into Cress rather than take the time to fangirl all over the internet.
Once again, and no surprise to me, Marissa Meyer has done a brilliant job of tying all of this together, building a world, and keeping the pace at the exact place it should be. The world building is astounding! There are so many little details added in, so many itty-bitty puzzle pieces that start to fit together – it was mind blowing in the best way possible. I've begun to pick up on the amazing depth within these books, and I'm only on the second one. There is so much going on below the surface level. You really have to pay attention or else all your little genius light-bulbs won't go off. It makes for a really fun reading experience if you ask me. There is a certain skill, a certain level of craftsmanship necessary to create things to the same scale that Meyer has – and for that I cannot applaud enough or give enough praise.
Overall, Scarlet was an excellent sequel to an already amazing series that made me super excited for the next book all while wrapping up certain cliff hangers from the first book. Scarlet will repeatedly hit you in the feels with a battering ram covered in pretty ribbons and bows and it will make sure you're loving every last second of it! I find myself getting sucked in even more with each and every word I read and process. I am fully and whole-heartedly invested in these characters and their futures, and I know for a fact that there is more to come. Go read this series, seriously, it's slowly becoming my life blood.