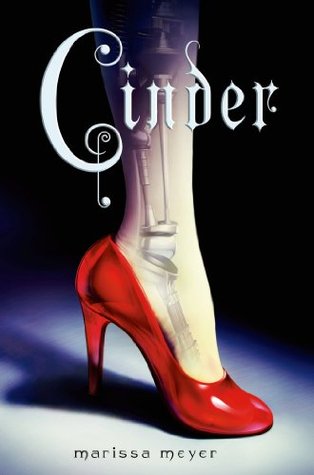 "Vanity is a factor, but it is more a question of control. It is easier to trick others into perceiving you as beautiful if you can convince yourself you are beautiful. But mirrors have an uncanny way of telling the truth."
Title: Cinder
Author: Marissa Meyer
Series: The Lunar Chronicles # 1
Publication: January 3rd 2012 by Feiwel & Friends
Pages: 390
Source: Christmas book haul
Summary from Goodreads:
Humans and androids crowd the raucous streets of New Beijing. A deadly plague ravages the population. From space, a ruthless lunar people watch, waiting to make their move. No one knows that Earth's fate hinges on one girl.
Cinder, a gifted mechanic, is a cyborg. She's a second-class citizen with a mysterious past, reviled by her stepmother and blamed for her stepsister's illness. But when her life becomes intertwined with the handsome Prince Kai's, she suddenly finds herself at the center of an intergalactic struggle, and a forbidden attraction. Caught between duty and freedom, loyalty and betrayal, she must uncover secrets about her past in order to protect her world's future.
My Thoughts:
I have been wanting to read these books forever! Honestly, I'm somewhat ashamed of the fact that I hadn't started them until now. But, holy crap was it worth it. I have not felt that invested, that absorbed, into a story in a long, long time. I started this book and then I finished it within less than twenty-four hours, yupp. I don't even know what to say about this. Cinder had all the feels. It made me scream in rage, want to pull my hair out, swoon at the stupidest things coming out of Kai's mouth, and it made my internal princess go squealing all over the place. Cyborgs, Cinderella, and a futuristic-Star Wars-esq world? COUNT ME THE HELL IN A THOUSAND TIMES OVER.
I am incapable of truly expressing how in love I am right now. All I want to do is sit down and curl up with Scarlet, the next book, because it is sitting less than a foot away just staring at me. I guess, the easiest way to kick off the whole shebang is to say this: Cinder is an absolutely fantastic retelling of one of my all time favorite fairy tales that I will cherish for years to come. Is that simple enough for you?
Cinder is the story of a young-ish cyborg named Cinder. She is a mechanic, one of the best mechanics in Commonwealth to be exact. I loved Cinder, she has completely changed the image of Cinderella and for that I will be forever grateful. So long vapid, blonde barbie and say hello to greasy, overly sarcastic cyborg. Win, just a total win. Cinder still had all of the qualities I loved about Cinderella. She was kind, pretty selfless, but most of all – she still carried a sense of hope within her even after all of the torment forced upon her by her evil stepmother Adri. In all honesty, this adaptation of Cinderella is one of the only ones I've ever seen show an actual cruelty to Cinderella – it was heartbreaking. POOR IKO!! If you don't know what I'm talking about, you don't want to know until you read it, and, if you do know, come cry with me in a corner. I'll bring the chocolate. My joking, flippant nature aside, Cinder truly is a remarkable protagonist. She made this entire fiasco enjoyable – unputdownable to the point where my mother had to remind me to do my chores more than once (sorry about that). Is it strange that I really loved the fact that she was a cyborg? No? Good, because it was awesome. I've never read anything like that before in my life and I can't wait to read it again. Cinder's ability to compute things, download information, and process the world around her was revolutionary in my eyes. Strangely enough, it made her all the more relateable for me.
If you're wondering, all of the other characters were just as amazing. Levana, Peony, Adri, Kai… all of them were just as phenomenal as Cinder – even the ones I hate with all my heart (I'm looking at you Levana and Adri). For a basic lowdown: Adri is Cinder's stepmother (evil bitch), Levana is the queen of Lunar (also evil bitch, but with magical powers), Peony is Cinder's stepsister (not evil, bless her little heart), Pearl is the other stepsister (evil bitch clone), and then there is Kai, the prince/soon to be emperor of Commonwealth. There are a lot of secondary characters also – Iko, Doctor Erland, Sybil – and all of them were just as developed and important. I guess what I am trying to say here is that Cinder holds an excellent cast of characters that you will be unable to resist within its pages.
As for the plot, HOLY CRAP! Okay, now that my unceremonious squealing is out of the way (not really) I can delve just a little bit into it for you. Cinder takes the original tale of Cinderella and turns it on its head with the wonderful additions of Lunar magical people, cyborgs, high-tech society, and a modern, semi-realistic setting. We have Cinder, a slave to Adri and her whims who wants to go to the ball. There are explicit connections between this retelling and the original fairy tale and they are very easy to recognize – which I like. Yes, Cinder gets invited to the ball. Yes, Cinder goes to the ball all dressed up. Yes, Cinder and the prince have a dance. Yes, Cinder loses a shoe ( or in this case, her foot). No, there is no fairy god mother. No, Cinder and Prince Kai are not together in any way, shape, or form. So, you see, Cinderella – but also not. *round of applause for Marissa Meyer*
Overall, Cinder is an excellent revamping of a classic fairy tale deserving of every moment of fame it can grasp. Now that the series is over, I hope it gets turned into a television show or a movie, anything really! Cinder will play with your heartstrings, it will make you rage about being fair, it will make you cry for reasons I will not say. This book is going to give you all the feels – but you'll keep coming back for more. GO BUY THIS AND READ IT ALREADY!
Needless to say, as I mentally prepare myself for book two: