I really should be studying, but shhh…. (It's finals week)
I was tagged for this by the lovely Summer at Xingsings, whom you should definitely check out if you haven't already. I always love her posts, plus, her graphics? Holy cow, I wish I could make stuff like that – don't get me started on her badass bookstagram.
Alright, so the idea of this tag is to let you guys know a little bit more about me and why I started blogging. Shall we begin?
1.How long have you been a blogger?
I actually haven't been blogging very long, I'll hit my one year anniversary in March. I'd been on social media for a while (Tumblr, Instagram, Twitter), but I first started messing around with blogging on Tumblr and that soon turned into my precious baby Reed's Reads & Reviews. I guess I sort of started by accident, too. I'd been obsessed with watching booktube videos to find my next read if I didn't already have one lined up – and as I was sitting there, I suddenly thought "Why can't I do this, too?" I'd always loved books and been an avid reader, ask anyone who knows me, and for once I felt as if I could actually share it with the world in such a way that would reach people. That's all I've wanted, to help people fall in love with books just like I have.
2. At what point do you think you will stop?
Is never a viable answer here? I mean, I don't ever want to stop. I know that there will probably come a point in my life when I can no longer blog, but that doesn't mean I'll ever quit reviewing and sharing my love for everything bookish. In all honesty, I never plan to leave the book world. My dream job is to be an editor in one of the Big Five, so I plan to be constantly surrounded by books of the Young Adult variety – just with a different title besides Blogger to my name.
3. What is the best thing?
The best thing about blogging? Oh goodness.. can I say all of it? I love everything about blogging: the community, the shared love of books, helping people find something to read, interacting with the publishers – all of it. If I had to pick my absolute favorite aspect of blogging, it would have to be that moment when someone tells me that they chose to read/buy/borrow a book because of something I said. It makes me squeal inside and get all fuzzy and happy – I don't know how else to describe it.
4. What is the worst thing? What do you do to make it okay?
I think the worst thing is that I get too excited and can't say no to review copies, or I go netgalley crazy and end up with a crap ton of books I won't have time to read before the archive date. I get serious reviewer guilt and it drives me nuts. If I accept a review copy – from the publisher, author, blog tour, etc. – I feel compelled to get my review up on the specific date requested. But, add multiple review copies, college, and three jobs into a pile and what do you get? Lots and lots of stress.
As for how I deal with it, that's a little bit harder to answer. Part of the problem is that I can't walk away from blogging for a little while, it makes it worse – so instead I might throw myself into it, which also makes it worse. As of right now, I tend to try and throw in other little things to lessen the load. I'll pick a book I really, really want to read that isn't on my review schedule and blow through it to get myself back in the obsessive blogging mood. Or, I go for a run, listen to music, or just hang out with my friends and family (Cards Against Humanity for the win).
5. How long does it take you to create/find pictures to use?
This is probably one of the easiest questions here because I cannot use photoshop/any other photo editor for the life of me. In my posts, I tend to use really crappy photos I took with my phone (Fandom of the Month posts), the cover image of the book, and then a crap ton of random gifs – usually Supernatural focused because Supernatural is life. I would love to learn and get creatively savvy enough to make badass pictures and stuff for my blog, especially a logo – I really want my own logo – but I just can't. *Sad face*
6. Who's your book crush?
That is a cruel question, how am I supposed to pick just one? I mean… Jace, Dimitri, Ash, Puck, Jem, Will, Adrian, Shane, Jack… like… no? I am disinclined to acquiesce your request.
7. What author would you like to have on your blog?
All of them. No, really. I mean, I look up to so many authors and I would love to have all of them on my blog at some point in time. I guess I would have to pick either Stephanie Meyer or Cassandra Clare to be at the top of that list – along with Julie Kagawa and Richelle Mead. It was the three of them that really introduced me into the world of Young Adult literature. Their books helped me through the thick and thin and I will never forget that. Even now, I still long to go back and reread them all over and over again (I've already read the books so many times, but I don't care) just so I can feel that sense of peace once more.
8. What do you wear when you write your blog post?
Um…. normal clothes? I mean, sometimes I'm in my pajamas, sometimes I'm in sweats, and sometimes I can be dressed to the nines – it just depends on what's going on for the day and when I have time to squeeze in some me time. Like right now, instead of studying. While I write this one, I'm just wearing my favorite pair of jeans and a sweatshirt – nothing fancy, just normal clothes.
9. How long does it take you to prepare?
That depends, prepare for what? When I write a review, I finish the book and stew over what I feel for a while before sitting down to write so that I can get my thoughts in order and turn out somewhat of a coherent review. So, I guess a couple days if you count the time it takes to read the book? When it comes to writing the actual review, that only takes about thirty minutes if I'm not interrupted or if I don't get sidetracked. As for other posts – Interviews, Coming Soon, Fandom of the Month, and my weekly memes – it just depends on what's going on and the other circumstances. Some things, like Guest Posts and Interviews require me to wait on someone else before I can post – so that's kind of out of my control for the most part. My weekly memes, Fandom of the Month, and Coming Soon posts can take anywhere from thirty minutes to an hour – usually an hour on the Coming Soon ones. It's a process, but I wouldn't trade it for the world.
10. How do you feel about the book blogger community/culture?
Words cannot express how much I love it, so I leave you with this as an answer: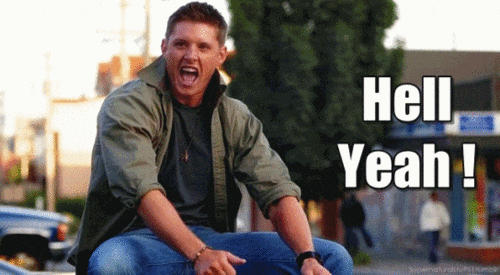 11. What do you think one should do to get a successful blog?
I think only you can measure your own success. You could go off of followers, comments, anything really – but in my opinion, a successful blog is one that makes the owner happy. I find my enjoyment in blogging because I get to share my love of books, and if that love touches someone else then I feel as if I am successful. Followers and stuff is important, yeah, but if that's all you do this for you will never be happy or fulfilled with the superficial stuff  – trust me.
12. Who do you tag?
I tag all of these lovely ladies that I would love to get to know better ❤
Lydia from 22 is still young adult
Fantasy Angel from Avid Reader
Parneet from The Enchanted Book
Jess from Princesscia of Books
Tasha from Head in the Clouds, Heart in the Books