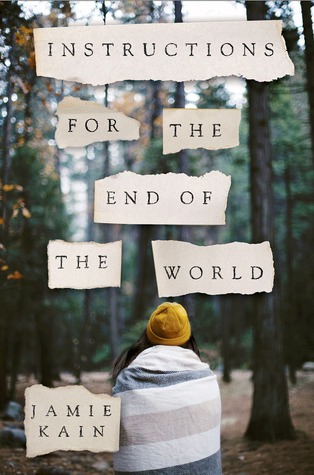 "You said the world might end in fire, or in ice, and that the how of it didn't matter so much as the importance of being prepared for the worst. You said only the strongest would survive."
Title: Instructions for the End of the World
Author: Jamie Kain
Series: Standalone
Publication: December 8th 2015 by St. Martin's Griffin
Pages: 224
Source: Publisher in exchange for an honest review
Summary from Goodreads:
He prepared their family for every natural disaster known to man—except for the one that struck.
When Nicole Reed's father forces her family to move to a remote area of the Sierra Foothills, one without any modern conveniences, it's too much too handle for her mother, who abandons them in the middle of the night. Heading out to track her down, Nicole's father leaves her in charge of taking care of the house and her younger sister, Izzy. For a while, Nicole is doing just fine running things on her own. But then the food begins to run out, the pipes crack, and forest fires start slowly inching their way closer every day. Wolf, a handsome boy from the neighboring community, offers to help her when she needs it most, but when she starts to develop feelings for him, feelings she knows she will never be allowed to act on once her father returns, she must make a decision. With her family falling apart, will she choose to continue preparing for tomorrow's disasters, or will she take a chance and really start living for today?
Instructions for the End of the World is a gripping, young adult novel that explores family, friendship, and love in the midst of the most difficult and dangerous circumstances.
My Thoughts:
Instructions for the End of the World is more than just another "end of the world" story, it is a breathtaking tale that explores the deep bonds of family and what it means to survive. This wonderful book has nothing to do with the apocalypse or the world ending, contrary to what the title leads you to believe, but rather – it is a narrative about dealing with being abandoned and forced into taking the weight of raising a younger sibling on your shoulders. It is a story of discovering the importance of individuality and freedom.
The Reeds are doomsday preppers, well, Nicole and Izzy's father is a doomsday prepper. He has prepared them for every type of disaster possible – earthquakes, fires, floods, and volcanoes – everything except what actually happens: him leaving. Nicole and Izzy are left alone in the woods, and soon the food beings to run out. It falls on Nicole to take care of Izzy, and using all of the handy-dandy survival training, she does just that.
Instructions for the End of the Worldis told in four points of view: Wolf, Nicole, Izzy, and Laurel. Each character had a unique voice and a different way of looking at the circumstances or what was going on around them. Wolf was my favorite by far – despite the fact that this story was mainly about Nicole and Izzy. Personally, I would have preferred one or two POVs. This story felt far too convoluted with the four of them going at it all at once. The writing was beautiful, lyrical even, but that replaced character development and a more fleshed out plot line. The book was still amazing and I loved reading it – don't get me wrong here – I just think it could have been so much more, you know?
As for the characters, like I said, each one was unique in their own little way. I loved Wolf, I really did. Not only is his name badass, but he had this deep understanding and connection with nature that I absolutely loved reading about. I think I connected with his character the most, actually – even though on a surface level I was much more in sync with Nicole. Each voice brought something a little different to the table and opened your eyes in a different way – it was pretty enjoyable. Nicole was the most fleshed out of the characters, as well as being the only one that showed real development over the course of the novel. She starts off trying to do the right thing and care for her sister, and while at the end she is still doing the same, she is now doing it for her own reasons rather than what her father always told her to do. Izzy… I didn't like her. There, I said it. She was just too stereotypical "I hate everything" younger sibling who did stuff simply because you would tell her not to.
I have to say – there were two things that made this book a hit for me: the setting and the focus on family. The fact that The Reeds is a thing in this book in no way affected my view (that's a lie). The setting of this book is breathtakingly beautiful – and, considering I've actually been there, I felt even more connected to the setting than I did to the characters themselves. The world we find ourselves in is vivid, colorful, and full of life. My other favorite part was the exploration of the family dynamics here – it was stunning. I love it when a book focuses more on the relationships between siblings or between a child and a parent rather than a love interest. There is still romance here, trust me, but it is not the focal point. Seeing the way the relationship between Nicole and Izzy was strained and then how it blossomed into what it is at the end was by far the best and most rewarding part of reading this book.
Overall, Jamie Kain has created an unforgettable, original, and exciting coming of age novel. Instructions for the End of the World explores what it means to be family and how those bonds can be tested. It explores the meaning of losing innocence, or recognizing the fact that your childhood is over. Instructions for the End of the World illustrates the incredible idea that freedom is not only important, but it is only yours to control. Surviving the end of the world may be a possibility, it may even be a definite outcome, but what's the point if you're not living your life for you? What's the point of surviving the end of the world if nothing good is waiting for you on the flip side? This book is definitely one I will remember for the rest of my life.
On top of my review, I was given the chance to interview the wonderful Jamie Kain. Do you know how much fun that is? Check it out down below:
1. What made you decide on the setting of the Sierra Foothills? Did that influence the way you told the story?
I love the Sierra Foothills and have spent plenty of time there, so when I wanted a rural setting, one in which a family might be able to set up a sort of compound—as well as one that would be likely to have a spiritual retreat type of community present and a good likelihood of wildfires, it was a natural choice. I've been to several spiritual retreats in the foothills, so it felt very appropriate, and I could imagine in great detail the place I was writing about. Plus it was easy to take a short drive there when I wanted to do research!
2. I have to ask, mostly for my own enjoyment, why did you choose the last name Reed for your protagonist? (I applaud)
Ha! I just like the name. I wish I had a more scholarly answer, but I tend to choose protagonist names based on what the character is like in combination with what I like the sound of—or what just feels right when applied to the character.
3. Did you do any research regarding doomsday prep before delving into the writing?
Oh yes. The research was fun and fascinating. I know someone who is a prepper, and I know a few would-be preppers as well, so aside from talking to them to get insights on their reasons for believing what they believe, I did lots of reading about the world of prepping. I totally understand and appreciate the desire to be self-sufficient. You don't have to live in California for long to feel the limits of civilization—from a population standpoint as well as with regard to water resources and possible natural disasters (especially fire in recent years). In fact it was the post-apocalyptic feel of having wildfires near where I live (the smell, the air pollution, etc), visiting charred forests, and having it constantly on the news that partly inspired the story and made me more curious about the world of prepping.
4. I loved the focus on family and the relationships between family members. Why did you decide to make that the focal point rather than romance like a lot of other Young Adult contemporary books?
I find family dynamics endlessly fascinating—and so fraught with inherent conflict, I just love writing about families. Also, I have two young adult readers at home, in addition to reading YA myself, and none of us read much YA romance. I've noticed how hard it is to find contemporary YA stories that aren't romances, too, and so in part I was writing what I like to read.
4. How did you come up with writing the separate point of views? Do you have a process for keeping everything specific to one character straight?
I love writing stories from the POV of multiple characters. All 4 characters are very real people to me, and they just happened to be the people who wanted to tell the story. I didn't have to decide who was telling me what. The characters decided that. Perhaps that sounds nutty, but I do feel like I'm not a big part of the process. Once the characters are fully imagined, they are just people who are telling me a story, and I'm writing it down. I love switching from one point of view to another in part because it keeps the story fresh, and in part because I'm always curious about what the other main characters are seeing and feeling about the situation.
5. What advice would you give to aspiring writers?
I was an aspiring writer for a long time, so I remember some of the advice that kept me going during hard times. It's important to know that those who make it as writers are the ones who keep trying—they keep trying to improve their craft, keep writing in the face of rejection, and keep submitting their work, taking feedback, and trying again to improve. It's partly a game of endurance. There is luck involved too, but the more you get your work out there, the more chances you give yourself to get lucky.
Also, always respect your audience. Never write for cynical reasons, such as "YA is where the money is." I don't even think that's true, but I hear people say it a lot and with great confidence, and it always makes me do a double take. I don't think about the fact that I'm writing for a certain audience, honestly. I sit down and write a story I would love to read. I pour everything I have into it. Someone told me about my first YA novel, The Good Sister, that I was wasting my talent writing for teen readers, that what I was writing would be lost on them. I don't believe that at all. Teens are at a unique place in life where they have the chance to decide what they believe about life's big questions, so if you are going to write for teenagers, why not give them a chance to ponder big ideas and big questions in their fiction?
The advice I hated the most as an aspiring writer but appreciate the most now that I've been writing for my entire adult life is that you absolutely must find your joy in the process of writing, day in and day out, all alone in a room—and not in the goal of publication. Publication is ephemeral. It comes and goes. It's joys are very temporary. What you are always left with though as a writer is the process of writing. If you don't find your joy there, go do something that does brings you joy.