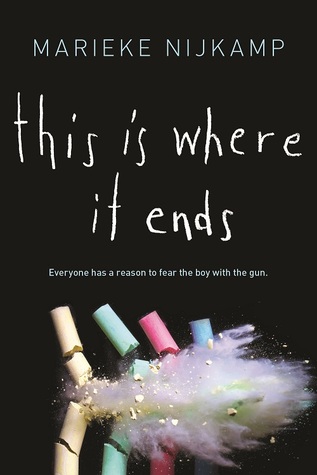 "Fear and survival are two sides of the same coin. Dad taught me that. These last two years he proved it again and again. Terror is our strongest force, because we're only afraid when we have something to lose – our lives, our loves… our dignity. It's been such a long time since I felt afraid."
Title: This Is Where It Ends
Author: Marieke Nijkamp
Series: Standalone
Publication: January 5th 2016 by Sourcebooks Fire
Pages: 292
Source: Publisher in exchange for a honest review
Summary from Goodreads:
10:00 a.m.
The principal of Opportunity, Alabama's high school finishes her speech, welcoming the entire student body to a new semester and encouraging them to excel and achieve.
10:02 a.m.
The students get up to leave the auditorium for their next class.
10:03
The auditorium doors won't open.
10:05
Someone starts shooting.
Told over the span of 54 harrowing minutes from four different perspectives, terror reigns as one student's calculated revenge turns into the ultimate game of survival.
My Thoughts:
Well… that just happened. Gosh, I don't even know what to say because I am feeling so many different things at once. This is one of those reviews where I had to walk away for a while before I could even think about what to possibly say – and as I write this, I am still trying to process everything running through my head. This Is Where It Ends is phenomenal and terrifying. Reading it shook me to my core to the point where I had to vent to my father about how upset and uneasy I was. This was not an easy read in any way, shape, or form. It is hard hitting, covers a difficult subject matter, and will toy with your emotions to bring you to your breaking point.
This Is Where It Ends takes place over an excruciating 54 minute period of the day. But, it is those 54 minutes in which everything changes. It doesn't take very long to kill a lot of people, it doesn't take very long at all – but the fear these characters felt and the trauma they experienced made this book seem like it took forever. Each new chapter, or window of time, I had to double check how much time had passed for I felt as if I were stuck inside of infinity with them. Told through four different points of view, This Is Where It Ends takes you on a wild journey through a living nightmare.
I think the hardest part about reading this book, besides the obvious, was the sheer helplessness of these students. I don't mean helpless where they couldn't defend themselves or others, I mean helpless as in the terror of not being able to protect someone you love. Each of the narrators had a sibling involved in the event, that or someone they loved dearly. I don't want to talk about who the shooter is because it is sort of a spoiler, you don't know until the book wants you to know. I can give a basic run down, though. Claire is the shooter's ex girlfriend and during the shooting her younger brother is trapped in the auditorium with the other students while she is safe outside with the police. Sylvia is Autumn's girlfriend and her brother Tomas was in "detention" so she has no idea where he is – but she knows the two of them are main targets. Autumn, the shooter's sister, is completely terrified for Sylvia and for her brother despite what he is doing. And then there is Tomas, the self sacrificing hero that I can't talk about without wanting to cry. So, you see, each and every one of them was connected in some way – and that made it all the more painful.
One thing that Nijkamp did very well was illustrate the deep bonds of family – both the family of our blood and the family we choose. She created these amazingly complex, heartbreaking characters and threw them into the hell fire of a school shooting. Their reactions, the character's reactions, were so real that I found myself completely destroyed by the events that were taking place. Each shot fired was a shock straight to my heart. The writing is beautiful, the story is gut wrenching and hard to swallow. Nothing about this book and what it was trying to showcase is sugarcoated – it is raw, real, and will keep you clinging to the edge of your seats while simultaneously begging for mercy.
I do not know what else to say about this book other than the fact that you need to read it as soon as humanly possible (or inhumanly if you're just that awesome). This Is Where It Ends is a hard hitting novel about loss and the fear of what you hope is impossible or that will never happen to you. This book confronts issues head on and then tackles them to the ground with a brutality that will both surprise you and make you cry out for more. This, as I have said, is not an easy read. Nor should it be. This Is Where It Ends is perfect and it is the only way a book like this should ever be. Skillfully weaved together with tragedy and hope, This Is Where It Ends is one hell of a book to kick off the new year.
"Together, we'll get out. Together, we'll survive this. Together, we'll be strong enough to face whatever comes our way. This is where it ends."