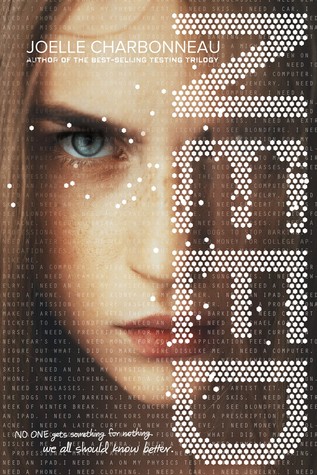 "Maybe I don't understand love because no one who has said they loved me has ever put me first. I've always wanted to be loved,"  
Title: Need
Author: Joelle Charbonneau
Series: Standalone
Publication: November 3rd 2015 by HMH Books for Young Readers
Pages: 352
Source: Publisher at ALA Annual
Summary from Goodreads:
Teenagers at Wisconsin's Nottawa High School are drawn deeper into a social networking site that promises to grant their every need . . . regardless of the consequences. Soon the site turns sinister, with simple pranks escalating to malicious crimes. The body count rises. In this chilling YA thriller, the author of the best-selling Testing trilogy examines not only the dark side of social media, but the dark side of human nature.
My Thoughts:
Well… I didn't finish this book. I got about halfway through and then decided to give up. I couldn't do it anymore. There is a point when a book hits too much, and this hit that mark for me less than one hundred pages in. By page 45, we had about six different narrators – and it only got worse. Need had a brilliant premise and the potential to be a hard hitting, relevant novel – but it fell short of what it was trying to do.
Need is about a social media site that asks for favors in return for granting what you need. The favors start of small, asking you to send invites to other students – much like every social media site in existence. But, then it starts to escalate. What started off as invitations turns into pranks, and then soon enough it turns into malicious crimes leaving behind a rising body count. Like I said, brilliant premise – poor execution.
I can't even talk about the characters. There are far too many and none of them have any sort of character development or real personality. All of them are different stereotypes straight to their core – it was disappointing. I didn't feel anything other than annoyance for any of the characters, even Kaylee who's brother was dying and needed a kidney. No sympathy, no hope, no fear – nada.
Need basically dashed all expectations and then buried them in cement. What I wanted to be a provocative novel about social media usage in today's teens was nothing more than a failed attempt at eliciting a response. In this case, the only response I have for this book is hatred. A little extreme, I know, but there is only so much I can handle before I lose my mind – and this book just about sent me over the edge. I now require some beautifully crafted adventure with amazing characters and I have half the mind to forget my TBR pile and dive back into the Throne of Glass series ( of course to celebrate the movie option).