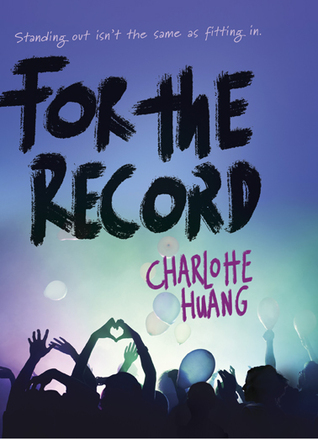 Title: For the Record
Author: Charlotte Huang
Series: Standalone
Publication: November 10th 2015 by Delacorte Books for Young Readers
Pages: 320
Source: Netgalley
Summary from Goodreads:
Chelsea thought she knew what being a rock star was like… until she became one. After losing a TV talent show, she slid back into small-town anonymity. But one phone call changed everything
Now she's the lead singer of the band Melbourne, performing in sold-out clubs every night and living on a bus with three gorgeous and talented guys. The bummer is that the band barely tolerates her. And when teen heartthrob Lucas Rivers take an interest in her, Chelsea is suddenly famous, bringing Melbourne to the next level—not that they're happy about that. Her feelings for Beckett, Melbourne's bassist, are making life even more complicated.
Chelsea only has the summer tour to make the band—and their fans—love her. If she doesn't, she'll be back in Michigan for senior year, dying a slow death. The paparazzi, the haters, the grueling schedule… Chelsea believed she could handle it. But what if she can't?
My Thoughts:
It's a rare thing when a book leaves me speechless, and For the Record has done just that.

This book is any girl's dream come true – especially the girls like me who used to dream they would become famous singers (even though I can't sing – I sound like a dying whale). This book brings every American Idol, The Voice, and America's Got Talent fan's dreams to life. It was beautifully done. For the Record is a complex book full of vivid characters, the deep ties of friendship, and the uncertainty of success.
You guys want a testament for how good this book is? I was approved for this book on Monday via Netgalley and I already have it finished. BAM! How's that? Forget NaNoWriMo, homework, and the book I was supposed to be reading – I would gladly replace all of it with this book over and over again.

For the Record is about a girl named Chelsea who receives a life changing phone call. She is suddenly thrust out into the spotlight and becomes the lead singer of a famous rock band. Through her eyes we are privy to all the inner workings of a tour, of a band, and of rock star life. It's quite a change from small town life if you ask me, and Huang handles the transition perfectly. Chelsea neither loses herself to the sensations of being famous nor does she let the turbulence of fame turn her into a simpering flower. She is flawed, of course – no character should be perfect, but it only makes her story that much easier to relate to. Sure I was frustrated with her and certain things she chose to do or say, but that's what makes a good character. If they don't do at least one thing to piss you off (no matter how small and silly it is), the character simply isn't real enough. Like I said, no one is perfect – so props to Huang for creating a character that embodies that.
In fact, all of the characters are so vibrant in this story that it's impossible not to love them all. They all have their infuriating moments, but there are also the moments where their personalities jump off the page and draw you into their fantastical world. Each and every one of them was unique in their own little ways – it was glorious. I love characters – you can have the lamest plot ever, but as long as your characters shine brightly enough I'll still devour the book like it's nobody's business. Though, having both is always a plus. For the Record does both, the plot and the characters work in tandem to weave together a breathtaking story about what it takes to be famous.
Overall, For the Record is an addictive book that I wish I'd heard about sooner. I will savor this book and the memories that it brings forth. Charlotte Huang has created a brilliant debut novel that deserves to have a home on every single bookshelf.