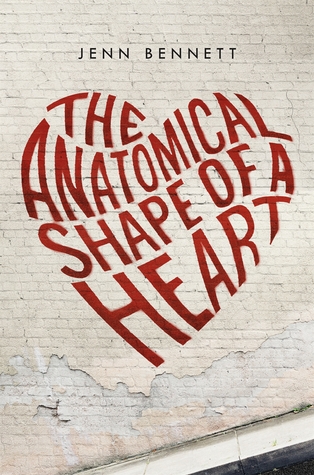 "What do I want?" His fingers brushed over loose strands of hair near my temple. "I want to call you every five minutes. I want to text you goodnight every night. I want to make you laugh. And I want you to look at me like you did that first night on the bus."
Title: The Anatomical Shape of a Heart
Author: Jenn Bennett
Series: Standalone
Publication: November 3rd 2015 by Feiwel & Friends
Pages: 304
Source: Publisher at ALA Annual
Summary form Goodreads:
Artist Beatrix Adams knows exactly how she's spending the summer before her senior year. Determined to follow in Leonardo da Vinci's footsteps, she's ready to tackle the one thing that will give her an advantage in a museum-sponsored scholarship contest: drawing actual cadavers. But when she tries to sneak her way into the hospital's Willed Body program and misses the last metro train home, she meets a boy who turns her summer plans upside down.
Jack is charming, wildly attractive . . . and possibly one of San Francisco's most notorious graffiti artists. On midnight buses and city rooftops, Beatrix begins to see who Jack really is—and tries to uncover what he's hiding that leaves him so wounded. But will these secrets come back to haunt him? Or will the skeletons in Beatrix's own family's closet tear them apart?
My Thoughts:
This book was beautiful. I fangirled so hard while reading this that it should be illegal. The Anatomical Shape of a Heart is adorably quirky in all of the right ways. It will make you swoon, scream in anger, want to cry, and laugh your heart out. It was amazing – the perfect book to pull me out of my reading slump. This book has definitely made my top books of the year list – right up there with Six of Crows, Illuminae, and All the Rage – but for very different reasons.
From the first page of the book, I was in love. Beatrix Adams is not your normal Young Adult protagonist who is this simpering little miss. No, she loves to draw anatomy – specifically, dissections. Her room is full of x-rays, skeletons, and little dolls that she can take the organs out of and then put back together. The Anatomical Shape of a Heart starts off with Beatrix, or Bex, right in the thick of things – for the most part anyway. She's breaking the rules so that she can do exactly what she wants to do: sit in the medical lab at the med school and draw cadavers. Her mother said no, she does it anyway because she knows doing it is the only way to get the scholarship money she needs. Right on. I loved her to pieces. She has this strange artistic flare – and not in the normal sense. She is straightforward, quirky, sarcastic, and vulnerable all at the same time. She knows what she wants and how to get it. Her character arc is really spectacular, at least I think so. She starts off as this sort of stuck up, nose in a book type and she slowly opens up the more she is around Jack.
Speaking of Jack, I might as well get on to why I love him so freaken much. Straight out of the gate, literally two pages in, we meet Jack. I didn't think that I could fall in love with a character so damn quickly, but hell if I wasn't just as charmed as Bex – if not more so. Jack is the definition of swoonworthy. Not only is he extremely attractive, charming, and funny – he is also kind, thoughtful, and extremely caring and gentle. He asks questions to make sure he is doing things right, he vows to fix his mistakes, he takes responsibility for his actions – no matter the consequences. He has one of the biggest hearts I think I have ever seen for a love interest in a Young Adult book – and it was beautiful. Jack is dangerous, he'll make you forget that real boys exist and I loved every second of it. Jack broke my little heart into a million tiny pieces. He's respectful, protective, and he never pressures Bex into anything she doesn't want to do. I mean, he even asks her what went wrong with her previous boyfriend so that he won't make the same mistake – while also reminding her that if they can't even talk about being physical, how could they ever possibly make that leap.
Which leads me into my next point.
One other thing I love about Bex is that she wasn't a virgin and she knew exactly what she wanted when it came to a physical relationship – she had boundaries and such, don't get me wrong, but she was also achingly real. She was a real voice that real teens and young adults alike can relate to and understand – she wasn't some delicate flower who wilted at the first mention of anything remotely sexual. I find one of my pet peeves with Young Adult literature is that if often doesn't explore the sexuality of the main character – or at least sexual desire. Books tend to lighten it up or cover it up with flowery language – or the scenes are so perfected and covered in a glowing light that it's completely unbelievable. But not here. Not only is Bex unflinching in her thoughts, she isn't afraid to voice her opinion on things – such as having sex in a car. Jack, too, is just as honest as her. I have to say, this book is one of the most honest and real descriptions of a physical relationship between two characters that I have ever seen. It wasn't all hearts, rainbows, and pretty candles. No, it was laughter, mess-ups, and pure love.
I'm not trying to make it seem as if this book is all about the sex, because it is not in any way, shape, or form. The relationship between Bex and Jack is so perfectly paced. It's not too fast (the dreaded insta-love) and it is not too slow. It's just right. There is a real connection between the two of them during their first meeting, and that connection extends throughout the entire novel. This isn't some cheesy romance where you meet and all of a sudden are head over heels in love. It takes a good majority of this book for the two of them to realize just how deeply they fell for each other – it was breathtaking. The execution of this book was flawless – there is no other way to put that.
The Anatomical Shape of a Heart is so much more than just a cutesy romance novel, though it does have its moments that will turn you into a complete sap. This book is also about family drama. It delves deeply into the histories of both families involved and explores all of the relationships between the characters. Every character had a unique voice and purpose in this novel. Though, I must say. I loathe Bex's mother. I won't go into details as to why, at least not spoilery ones. Let's just say that Bex's mother lies and then forbids Bex from seeing Jack again for the stupidest reason possible. I hated that woman, actually. I swear, she is the perfect example of a hypocrite. If I ever see that woman, you can bet I'll be looking at her like this:
How dare she tear my little babies apart?
The Anatomical Shape of a Heart is the perfect mixture of all things that make a great book. There is laughter, tears, heartbreak, and one of the most beautiful romance's I've seen in a long time. This book is character oriented and the development and delicate exploration of relationships will tug on all of your little heartstrings and throw you around like a puppet. The Anatomical Shape of a Heart is a captivating story that is woven with so many different threads that it will leave you breathless and aching for more. Goodness, I don't even know what else to say that will make you go read this book. You need it, trust me.