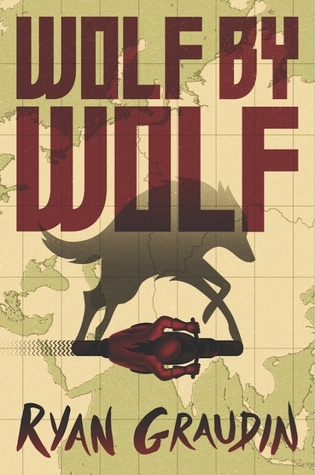 "Her self reflection was no reflection at all. It was a shattered mirror. Something she had to piece together, over and over again. Memory by memory. Loss by loss. Wolf by wolf."
Title: Wolf by Wolf
Author: Ryan Graudin
Series: Wolf by Wolf #1
Publication: October 20th 2015 by Little, Brown Books for Young Readers
Pages: 400
Source: Publisher at ALA Annual
Summary from Goodreads:
The year is 1956, and the Axis powers of the Third Reich and Imperial Japan rule the world. To commemorate their Great Victory over Britain and Russia, Hitler and Emperor Hirohito host the Axis Tour: an annual motorcycle race across their conjoined continents. The victor is awarded an audience with the highly reclusive Adolf Hitler at the Victor's ball.
Yael, who escaped from a death camp, has one goal: Win the race and kill Hitler. A survivor of painful human experimentation, Yael has the power to skinshift and must complete her mission by impersonating last year's only female victor, Adele Wolfe. This deception becomes more difficult when Felix, Adele twin's brother, and Luka, her former love interest, enter the race and watch Yael's every move. But as Yael begins to get closer to the other competitors, can she bring herself to be as ruthless as she needs to be to avoid discovery and complete her mission?
My Thoughts:
I don't even know what to say right now because this book was so amazing. It blew my mind for all intents and purposes. You know it's a good book when I put off writing the next chapter in my own just to finish it. Wolf by Wolf you tear you apart and leave you salivating for the next book when you finally reach the end (and trust me, you won't want to reach the end). Not only is Wolf by Wolf lyrically beautiful and elevated, it also contains one of the most heartbreaking stories of strength I have ever seen.
Yael, Inmate 121258ΔX and Experiment 85, is out for revenge. A survivor of one of the Nazi death camps, Yael has witnessed horrors beyond imagining. She lost her home, she lost all of her possessions, her culture, her family, and herself. Experiment 85 was meant to be a test, a question of whether or not it was possible to bleach the skin, hair, and eyes into the perfect Aryan specimen. It was a success, and not only that, it gave Yael the ability to skinshift – she can transform her face and body into any other person. She is virtually invisible. She is on a mission to kill Hitler.
The plan is a very elaborate scheme, if you ask me, which only made this book more fun. After Hitler's triumph, he and Emperor Hirohito created the Axis Tour – a tournament of motorcycle racing that is meant to showcase the great honor and strength of both countries. The previous year, a female won the race – Adele Wolfe – and was granted the opportunity to dance with Hitler himself. Yael, bless her heart, disguises herself as Adele to win the race so that she can get within striking distance. What she doesn't count on is Adele's twin and former love interest joining in the race alongside her. Let's just say that it gets pretty chaotic.
Wolf by Wolf is an alternate fantasy novel, the first of its kind I have ever read. What if Hitler won World War Two? What if he defeated Britain and Russia? What if the United States never stepped in to help? This book explores that, and it is absolutely terrifying. The world as we know it today never existed, our history entirely different. Wolf by Wolf takes place in the year 1956 – more than ten years after the start of the war, fifteen years since the start of the Holocaust. If you guys know me, you know that I love history – especially the two world wars. They were my favorite topics in class back in high school and that love carried over till today. And, let me tell you, Wolf by Wolf does not disappoint on the historical front – on any front actually. Not only is it accurate in the historical details of what actually happened, it predicts a future based on those events that is almost undeniably what would have happened.
Okay, enough about how much I love history and the fangirling part of me that spazzed over the amazingness laid out before me. Yael. Oh my goodness, I love Yael. She is so, so strong. She is fierce in her own right and she isn't afraid to show it. But, she isn't perfect. She is terrified, she can't stand to look at the mark on her wrist, she is terrified of the sound of trains. She is perfectly imperfect, and it was wonderful. Yael's ability to skin shift is partially a driving force in this book, though it is mostly her desire for revenge on Hitler for what he did to her and her people. Yael is brave, but not in the "in your face kind of way". There are subtle things at work in her character, especially at the end when she holds the gun in her left hand. If you've read it, you know exactly what I am talking about.
The other characters are just as amazing, at least the main two I'm concerned with – that is. Felix Wolfe and Luka Lowe. Felix, Adele's twin, is the most amazing brother. He is kind, compassionate toward his sister and the rest of his family, he protects her – but he also doesn't put up with her shit. There are more than a few scuffles along the way, but it never stops him from his mission: protect Adele at all costs so she can come home. It is quite sad, really. He stays overnight in the desert to fix her bike, he rides with her even when her pace is pushing him, he supports her in all things – except Luka Lowe.
Luka… what to say about Luka? Goodness, well, he's a heart throb for one. A previous victor of the race, he is arrogant, cocky, attractive (and he knows it), infuriating, and a bunch of other words I could possibly get in trouble for saying. But, he is also kind – to a certain degree. He protects Adele, he loves her to be completely honest. There is animosity and some distrust, but for good reason – might add. Don't worry, though, he is pretty chill about it – once he gets her back, all is said and done. It was kind of funny actually, at least his attitude about it I mean. I did really like him, it was hard not to.
Wolf by Wolf is pretty fast paced. It is told through "Now" and "Then" sections, which makes the story fly by. Now, as you might assume, is the race. Then is Yael's life and how she came to be who she is when the book starts. It details her journey of surviving the death camp, how she escaped, how she lived after, and how she joined the resistance. It details every person she lost, each of her five wolves. It was heartbreaking, I found my eyes watering more than once.
Overall, Wolf by Wolf is one of the best books I have read this year. It stands high up on my list with Illuminae and Six of Crows. A book filled with lyrical language, horrifying truths, and a twist at the end that will leave you clinging to your seats – Wolf by Wolf is a must read for any self-respecting lover of books. It is the kind of book that will keep you up at night, that will keep you thinking for weeks after reading it. It is revolutionary. I am honored to have gotten the chance to read and review an early copy.
"She-wolf. An interesting choice."
"I didn't choose it," she told him. "It chose me."