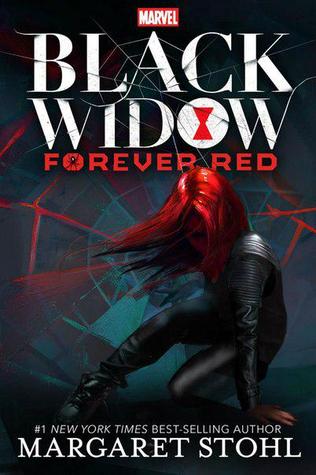 Every Russian family line ends in a czar. That's the only way the genealogist gets paid, sir.
Title: Black Widow: Forever Red
Author: Margaret Stohl
Series: Standalone
Publication: October 13th 2015 by Marvel Press
Pages: 401
Source: Publisher at ALA Annual
Summary from Goodreads:
Natasha Romanoff is one of the world's most lethal assassins. Trained from a young age in the arts of death and deception, Natasha was given the title of Black Widow by Ivan Somodorov, her brutal teacher at the Red Room, Moscow's infamous academy for operatives.
Ava Orlova is just trying to fit in as an average Brooklyn teenager, but her life has been anything but average.The daughter of a missing Russian quantum physicist, Ava was once subjected to a series of ruthless military experiments-until she was rescued by Black Widow and placed under S.H.I.E.L.D. protection. Ava has always longed to reconnect with her mysterious savior, but Black Widow isn't really the big sister type.
Until now.
When children all over Eastern Europe begin to go missing, and rumors of smuggled Red Room tech light up the dark net, Natasha suspects her old teacher has returned-and that Ava Orlova might be the only one who can stop him. To defeat the madman who threatens their future, Natasha and Ava must unravel their pasts. Only then will they discover the truth about the dark-eyed boy with an hourglass tattoo who haunts Ava's dreams. . . .
Black Widow:Forever Red features all the heart-pounding adventure readers expect from Marvel, written by #1 New York Times best-selling author Margaret Stohl. Uncover a new side of the Marvel Universe that will thrill loyal fans and newcomers alike, as Stohl reveals the untold story of Black Widow for the very first time.
My Thoughts:
I was skeptical from the start. Not only had I heard that this book wasn't really worth the hype, I have been raised as a huge Marvel superhero fan – I was terrified they were going to destroy one of my favorite characters in the Marvel universe.
There is only one way to come out and say what I want to say, so I apologize in advance.
THIS BOOK RUINED BLACK WIDOW AND EVERYTHING I LOVED ABOUT HER!
There was none of this:
Nor this:
And certainly none of this:
YOU CAN'T HAVE BLACK WIDOW WITHOUT BLACK WIDOW!
Okay, so, what do I mean by that?
Black Widow: Forever Red is supposed to be about Natasha Romanov, AKA Black Widow – but this book is barely even about her. It follows two kids, Alexi and Ava as they discover that they have special powers blah….blah…blah. Romanov barely makes an appearance even though the book is titled after her! She is present, but she is in no way, shape, or form the main character.
I will say this, the writing wasn't bad – but it wasn't good either. It felt forced, and it showed through the characters. Ava seemed whiny and unneeded and Alex was just a huge stereotype of anger management issues. Needless to say here, not even the characters that were involved in the plot could save this sinking ship. It was like the damn Titanic on crack. Save yourself the time, money, and the pain of reading this book – it's not worth it. You wan't Black Widow? Sorry, you won't find her amazing badassery here.
I can't even find the words to describe how upset I am right now, so instead I leave you with:
Sorry not sorry about the lack of real review here, I'm too damn angry.