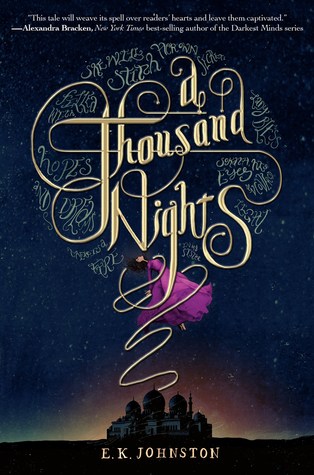 "Power twists men's minds so easily. They bend toward it like a tree reaches for light and water"
Title: A Thousand Nights
Author: E.K Johnston
Series: Standalone
Publication: October 6th 2015 by Disney Hyperion
Pages: 336
Source: Publisher at ALA Annual
Summary from Goodreads:
Lo-Melkhiin killed three hundred girls before he came to her village, looking for a wife. When she sees the dust cloud on the horizon, she knows he has arrived. She knows he will want the loveliest girl: her sister. She vows she will not let her be next.
And so she is taken in her sister's place, and she believes death will soon follow. Lo-Melkhiin's court is a dangerous palace filled with pretty things: intricate statues with wretched eyes, exquisite threads to weave the most beautiful garments. She sees everything as if for the last time. But the first sun rises and sets, and she is not dead. Night after night, Lo-Melkhiin comes to her and listens to the stories she tells, and day after day she is awoken by the sunrise. Exploring the palace, she begins to unlock years of fear that have tormented and silenced a kingdom. Lo-Melkhiin was not always a cruel ruler. Something went wrong.
Far away, in their village, her sister is mourning. Through her pain, she calls upon the desert winds, conjuring a subtle unseen magic, and something besides death stirs the air.
Back at the palace, the words she speaks to Lo-Melkhiin every night are given a strange life of their own. Little things, at first: a dress from home, a vision of her sister. With each tale she spins, her power grows. Soon she dreams of bigger, more terrible magic: power enough to save a king, if she can put an end to the rule of a monster.
My Thoughts:
Well… that just happened. I hate it when this happens. I don't feel anything right now, do you know how sucky that is? I don't feel happiness, or anger, nada – zip. I'm indifferent, and that makes writing this review really difficult. Usually, when I really like something or something really pisses me off, I can go on a rant that lasts for paragraphs – but now? I feel nothing, as I have said. So, I'm apologizing in advance if this review is a little meh, because that is the only way I can describe what is going through my head.
A Thousand Nights is a retelling of 1001 Nights that, I think, reached a little too high. This book is marketed as a Young Adult book, yet the voice is far too dense and the subject matter it tackles is very heavy and filled with difficult analogies and metaphors. It reads like an old philosophy text rather than a Young Adult novel, though it still tells a story. I think that might be the biggest problem, actually, I felt like I was reading a text book which sort of sucked all the enjoyment out of reading the book. Now, it wasn't bad or anything – it just wasn't good either.
Our narrator remains nameless throughout the book, which also helped create the detachment from above. I felt no sympathy, no fear, nothing. I didn't care what was happening to her or her family, I didn't care what was happening in the qsar, I could care less about how she felt about Lo-Melkhiin. The rest of the characters were the same. None of them have names except for Lo-Melkhiin. They are referred to by their station. Lady-Bless, Brother-of-mine, Sister-of-mine, mother, Lady-mother. Frankly, it was annoying. Like I said before, this book was just meh. It happened, it was there, I read it, and now it's done. *sigh*
I will say this, the world was beautiful and intriguing. I did like all of the little details, it made everything much more believable when the entire story was surrounded by fantasy. The descriptions were very lyrical and full of life that everything else in the story seemed to lack. I would like to know more, though. I want to know why things were the way they were, I mean, Lo-Melkhiin hadn't killed anyone other than his wives – why did he stay in power? I guess that was the only thing that kept me reading. I was curious as to how things were going to play out and how it would affect the world – which was more alive than the characters themselves.
Overall, this book was like really bad sex. There is a lot of build up to absolutely nothing. The climax (or lack thereof), was not worth the wait and the effort. I hope this review isn't too scatter brained – I feel like it is. Hey! Look at that, I finally feel something. Guess what it is? Regret. Don't read this, yea… just don't unless you are looking for a horrible way to kill time.