Waiting on Wednesday is hosted each week by Breaking the Spine and lets us spotlight a book that we are eagerly waiting to be released.
This weeks Waiting On Wednesday is Soundless by Richelle Mead!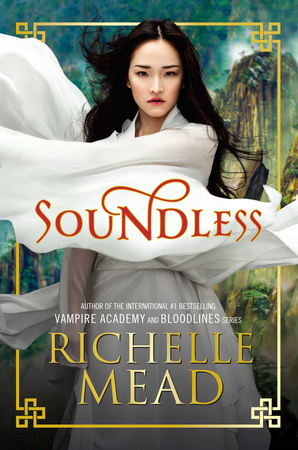 Publication: November 10th 2015 by Razorbill
Summary from Goodreads:
For as long as Fei can remember, there has been no sound in her village, where rocky terrain and frequent avalanches prevent residents from self-sustaining. Fei and her people are at the mercy of a zipline that carries food up the treacherous cliffs from Beiguo, a mysterious faraway kingdom.
When villagers begin to lose their sight, deliveries from the zipline shrink and many go hungry. Fei's home, the people she loves, and her entire existence is plunged into crisis, under threat of darkness and starvation.
But soon Fei is awoken in the night by a searing noise, and sound becomes her weapon.
Richelle Mead takes readers on a triumphant journey from the peak of Fei's jagged mountain village to the valley of Beiugo, where a startling truth and an unlikely romance will change her life forever…
OH MY GOD!!! *fangirl screaming*. Okay… I love Richelle Mead. I love Vampire Academy, Bloodlines, and Game Board of the Gods. I am so excited for this book that it is absolutely ridiculous! Just thinking about this book coming out next month is making me squeal. Not only is Richelle Mead one of my favorite authors, her writing is absolutely astounding. Soundless, by the sound of it (haha, see what I did there?) is going to be no different. This book sounds amazing. A main character who can't hear anything and then can suddenly hear? DO YOU GUYS KNOW HOW COOL THAT SOUNDS!?! I think I need to calm myself down a little bit, but eh, who cares? I am going to scream, and cry, and fangirl so hard when this comes out that my friends are going to commit me to a psych ward.