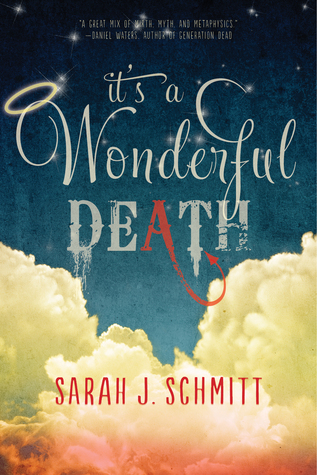 "My life may have been short in time, but it was long in moments that mattered and in love. In the end, isn't that what life is all about?"
Title: It's a Wonderful Life
Author: Sarah J. Schmitt
Series: Standalone
Publication: October 6th 2015 by Sky Pony Press
Pages: 320
Source: Publisher at ALA Annual
Summary from Goodreads:
Seventeen-year-old RJ always gets what she wants. So when her soul is accidentally collected by a distracted Grim Reaper, somebody in the afterlife better figure out a way to send her back from the dead or heads will roll. But in her quest for mortality, she becomes a pawn in a power struggle between an overzealous archangel and Death Himself. The tribunal presents her with two options: she can remain in the lobby, where souls wait to be processed, until her original lifeline expires, or she can replay three moments in her life in an effort to make choices that will result in a future deemed worthy of being saved. It sounds like a no-brainer. She'll take a walk down memory lane. How hard can changing her future be?
But with each changing moment, RJ's life begins to unravel, until this self-proclaimed queen bee is a social pariah. She begins to wonder if walking among the living is worth it if she has to spend the next sixty years as an outcast. Too quickly, RJ finds herself back in limbo, her time on Earth once again up for debate.
RJ is a snarky, unapologetic, almost unredeemable, very real girl. Her story is funny and moving, and teens will easily connect with her plight. Prepare to meet the Grim Reaper, who's cuter than you'd expect; Hawaiian shirt–wearing Death Himself; Saint Peter (who likes to play Cornhole); and Al, the handler for the three-headed hound that guards the gates of Hell. This cast of characters accompanies RJ through her time in the afterlife and will do their best to gently shove her in the right direction.
My Thoughts:
Well… this book is feels central. I mean, this book is so full of feels that I'm getting tearful just thinking about it. It's a Wonderful Death is a beautiful book about redemption, what it means to be good, and the uncertainty that comes with second chances. It is a wonderfully evocative novel, showcasing a brilliant message through a medium described as "Mean Girls meets A Christmas Carol". I loved every second of this book, there is no other way for me to put that. In the words of Schmitt herself, this book is "humbling, but not preachy" and it is completely stunning.
We start off on the day that RJ (our resident mean girl) dies, an accident – of course – and is thrown into the realm of the spiritual. That right there was intriguing, I mean, the whole premise behind this book was captivating but it was the creativity behind the new interpretation of the afterlife that really caught my attention. I don't want to say too much about why or how the whole afterlife thing works, it's a lot more fun if you discover it the same way our protagonist did – one piece at a time. I can say this, though, Heaven is basically where people go to live out their dreams in peace and Hell is sort of like a rehabilitation center where the souls learn lessons and then are reborn for a second chance – at least, that's the information I could piece together. Sorry about my tangent there – but at least it is still relevant-ish! So, back to RJ. Rowena, her full name, is accidentally collected by a Grim Reaper when someone with the sight sees him coming and throws RJ in the way. Long story short, she is unhappy at being wrongly collected and puts up one hell of a fight to get herself back down to earth.
RJ herself is an amazing protagonist. At the beginning, I hated her – like we are supposed to. My favorite part of the book is her character arc, which is sort of the whole point of the book anyway. She goes from being a mean girl out of necessity, to realizing that standing up for what she believes in and doing the right thing is much more fulfilling. I loved reading her transformation, she went from being someone who I wanted to hit in the face with a hardcover dictionary to a girl I wanted to be friends with and was very proud of. There really isn't much to say about her other than the fact that she is a fighter, she isn't afraid to stand up for herself or others (not anymore anyway), she is hilariously stubborn and curious, and she is a serious little spitfire. I'd be terrified to get in her way or be on her bad side, but I would love to be one of her friends. Also, RJ is a freaken riot. She is hilarious, though I don't know if it was intended that way or not. She has a deadpan sense of humor and a razor sharp wit, I loved how she could whip out a major can of sarcasm whoop ass – she reminded me of myself in that aspect (though I might be tooting my own horn a little bit there).
The plot was very well paced. The story moved on at a perfect rhythm, at least in my opinion. The book started right in the thick of it, which I love, and then it moved on as needed. I don't really know how else to describe it, the story progressed exactly when and where it needed to. The entire narrative was compelling, the characters multidimensional, and the world original. It had everything it needed to be a success, and boy – let me tell you, this book is going to be a success if we can get the word out there, and that is exactly what I plan to do.
It's a Wonderful Death has quickly become one of my favorite books simply for the hope it provides. This book made me think, it made me stop and wonder what the consequences of every choice I have made could possibly be. Who have I hurt? Who have I helped? Is my life truly something that is considered valuable and worth living? Have I lived my life to its full potential? This book will make you wonder all of the same things, and trust me, it does it in such a way that you won't know what is happening until it is already done. Schmitt has created something beautiful there, and you can sure as hell guarantee that I am going to get this into the Young Adult Literature class here on campus. Overall, it is a wonderful read that will make you question what your true fate is while also making you laugh, cry, and rage at the unfairness in the world.