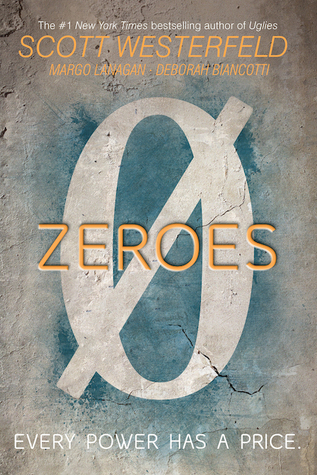 "The Zeroes, they'd called themselves as a joke. Like heroes, but not."
Title: Zeros
Authors: Scott Westerfeld, Margo Lanagan, Deborah Biancotti
Series: Zeros # 1
Publication: September 29th 2015 by Simon Pulse
Source: Author signing at ALA Annual
Summary from Goodreads:
Ethan, aka "Scam," has a way with words. When he opens his mouth, whatever he wants you to hear comes out. But Ethan isn't just a smooth talker. He has a unique ability to say things he doesn't consciously even know. Sometimes the voice helps, but sometimes it hurts – like now, when the voice has lied and has landed Ethan in a massive mess. So now Ethan needs help. And he needs to go to the last people who would ever want to help him – his former group of friends, the self-named "zeros" who also all possess similarly double-edged abilities, and who are all angry at Ethan for their own respective reasons. Brought back together by Scam's latest mischief, they find themselves entangled in an epic, whirlwind adventure packed with as much interpersonal drama as mind-bending action.
My Thoughts:
I feel so horrible right now. I wanted to like this book, hell, I wanted to love it. I love all of Scott Westerfeld's other books. I loved Uglies, I loved Afterworlds – but sadly, this one fell woefully short. I don't know if it is because I tried to read this so soon after Six of Crows, which basically is somewhat of the same concept. At least, it is the same concept in the aspect of an unusual group banding together to complete a task. I don't know what to say. I struggled with this book. I struggled to get into it and had to force myself to complete it – which sucked. I felt sort of trapped. I wanted to read Zeros, but when I started it, my excitement became a relentless net I couldn't escape from. Unfortunately, this book couldn't live up to its own description and it crumpled under the weight of what it tried to take on.
The characters were diverse. Each of them had their own special power and reason for being a part of the action, but I don't feel as if any of them were developed the way they should have been. All of them were one dimensional and far too dependent. I usually love Westerfeld's characters, so I don't know if this was an side effect of working with other authors or just a lack of interest in development and more focus on the story line. This was the kind of book where the multiple point of views did no work for me, if anything, I hated it. Like I said in my first paragraph, I'm coming down from the high of reading Six of Crows (which was amazing), so getting into this was really difficult. It had the same idea (ish), the same type of broad cast, and the same amount of point of views – but it could not hold its own. The characters felt far too distanced, I couldn't get into their heads and part of me didn't even want to try. I think my biggest problem was the lack of development, as I have already said. I hate it when books focus on plot more than anything else, it takes a beautiful skill to successfully weave character development with plot – and this book simply did not show it.
I barely have anything to say about this book other than the fact that it was a serious disappointment. I'm so upset right now it's sort of shameful, actually. I got to meet Scott, Margo, and Deborah at ALA this year, and listening to them talk and explain the book boosted my expectations up so high that actually delving into this book felt like taking a nose dive off of the Empire State Building. When watching the authors, I got to see them banter, laugh, and show a sense of comradery that I had expected from the characters in the book – but no such relationship existed. I guess the moral of this whole thing is this: don't expect anything from anyone, more often than not, it's not what you hope it is going to be. Zeros is exactly what the title says it is going to be, nothing worth your time.