Get ready to add these 25 upcoming young adult novels to your bookshelf! I've taken picks from both my bookshelf and from Goodreads, you won't want to miss them.
The Rest of Us Just Live Here by Patrick Ness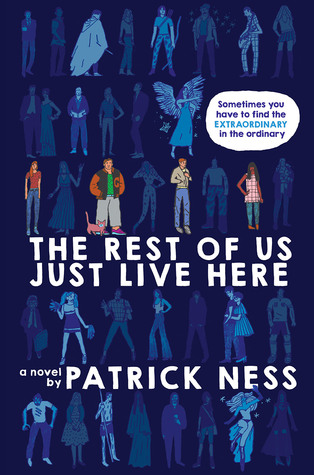 Summary:
What if you aren't the Chosen One?
The one who's supposed to fight the zombies, or the soul-eating ghosts, or whatever the heck this new thing is, with the blue lights and the death?
What if you're like Mikey? Who just wants to graduate and go to prom and maybe finally work up the courage to ask Henna out before someone goes and blows up the high school. Again.
Because sometimes there are problems bigger than this week's end of the world, and sometimes you just have to find the extraordinary in your ordinary life.
Even if your best friend is worshiped by mountain lions.
October 6th 2015 by HarperTeen
2. A Thousand Nights by E.K Johnston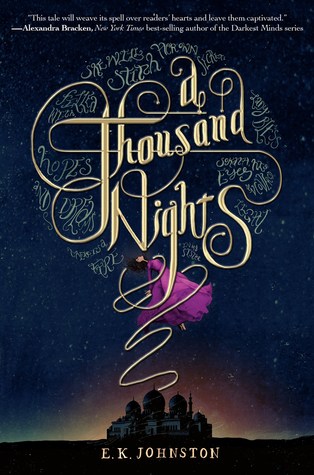 Summary:
Lo-Melkhiin killed three hundred girls before he came to her village, looking for a wife. When she sees the dust cloud on the horizon, she knows he has arrived. She knows he will want the loveliest girl: her sister. She vows she will not let her be next.
And so she is taken in her sister's place, and she believes death will soon follow. Lo-Melkhiin's court is a dangerous palace filled with pretty things: intricate statues with wretched eyes, exquisite threads to weave the most beautiful garments. She sees everything as if for the last time.But the first sun rises and sets, and she is not dead. Night after night, Lo-Melkhiin comes to her and listens to the stories she tells, and day after day she is awoken by the sunrise. Exploring the palace, she begins to unlock years of fear that have tormented and silenced a kingdom. Lo-Melkhiin was not always a cruel ruler. Something went wrong.
Far away, in their village, her sister is mourning. Through her pain, she calls upon the desert winds, conjuring a subtle unseen magic, and something besides death stirs the air.
Back at the palace, the words she speaks to Lo-Melkhiin every night are given a strange life of their own. Little things, at first: a dress from home, a vision of her sister. With each tale she spins, her power grows. Soon she dreams of bigger, more terrible magic: power enough to save a king, if she can put an end to the rule of a monster.
October 6th 2015 by Disney Hyperion
3. It's a Wonderful Death by Sarah J. Schmitt
Summary:
Seventeen-year-old RJ always gets what she wants. So when her soul is accidentally collected by a distracted Grim Reaper, somebody in the afterlife better figure out a way to send her back from the dead or heads will roll. But in her quest for mortality, she becomes a pawn in a power struggle between an overzealous archangel and Death Himself. The tribunal presents her with two options: she can remain in the lobby, where souls wait to be processed, until her original lifeline expires, or she can replay three moments in her life in an effort to make choices that will result in a future deemed worthy of being saved. It sounds like a no-brainer. She'll take a walk down memory lane. How hard can changing her future be?
But with each changing moment, RJ's life begins to unravel, until this self-proclaimed queen bee is a social pariah. She begins to wonder if walking among the living is worth it if she has to spend the next sixty years as an outcast. Too quickly, RJ finds herself back in limbo, her time on Earth once again up for debate.
RJ is a snarky, unapologetic, almost unredeemable, very real girl. Her story is funny and moving, and teens will easily connect with her plight. Prepare to meet the Grim Reaper, who's cuter than you'd expect; Hawaiian shirt–wearing Death Himself; Saint Peter (who likes to play Cornhole); and Al, the handler for the three-headed hound that guards the gates of Hell. This cast of characters accompanies RJ through her time in the afterlife and will do their best to gently shove her in the right direction.
October 6th 2015 by Sky Pony Press
4. A Step Towards Falling by Cammie McGovern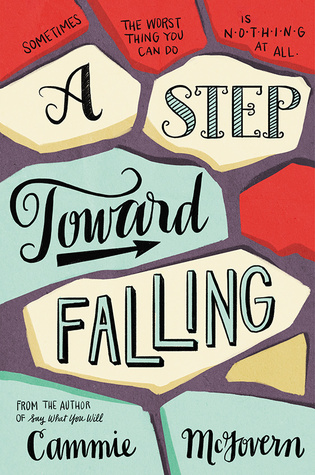 Summary:
Emily has always been the kind of girl who tries to do the right thing—until one night when she does the worst thing possible. She sees Belinda, a classmate with developmental disabilities, being attacked. Inexplicably, she does nothing at all.
Belinda, however, manages to save herself. When their high school finds out what happened, Emily and Lucas, a football player who was also there that night, are required to perform community service at a center for disabled people. Soon, Lucas and Emily begin to feel like maybe they're starting to make a real difference. Like they would be able to do the right thing if they could do that night all over again. But can they do anything that will actually help the one person they hurt the most?
October 6th 2015 by HarperTeen
5. Future Perfect by Jen Larsen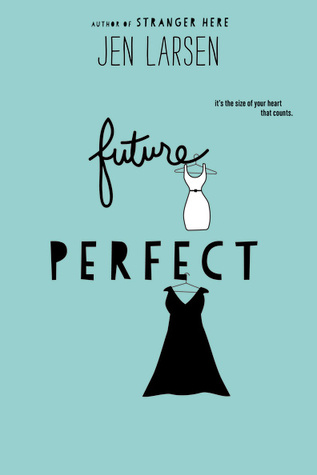 Summary:
Every year on her birthday, Ashley Perkins gets a card from her grandmother—a card that always contains a promise: lose enough weight, and I will buy your happiness.
Ashley doesn't think there's anything wrong with the way she looks, but no amount of arguing can persuade her grandmother that "fat" isn't a dirty word—that Ashley is happy with her life, and her body, as it is.
But Ashley wasn't counting on having her dreams served up on a silver platter at her latest birthday party. She falters when Grandmother offers the one thing she's always wanted: tuition to attend Harvard University—in exchange for undergoing weight loss surgery.
As Ashley grapples with the choice that little white card has given her, she feels pressured by her friends, her family, even administrators at school. But what's a girl to do when the reflection in her mirror seems to bother everyone but her?
Through her indecisions and doubts, Ashley's story is a liberating one—a tale of one girl, who knows that weight is just a number, and that no one is completely perfect.
October 6th 2015 by HarperTeen
6. We'll Never Be Apart by Emiko Jean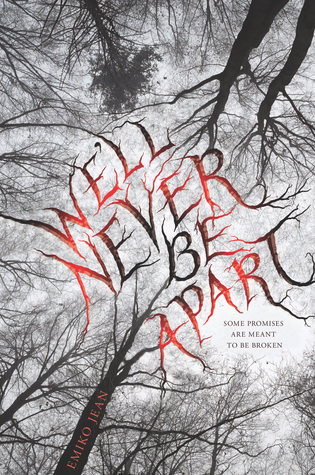 Summary:
Murder.
Fire.
Revenge.
That's all seventeen-year-old Alice Monroe thinks about. Committed to a mental ward at Savage Isle, Alice is haunted by memories of the fire that killed her boyfriend, Jason. A blaze her twin sister Cellie set. But when Chase, a mysterious, charismatic patient, agrees to help her seek vengeance, Alice begins to rethink everything. Writing out the story of her troubled past in a journal, she must confront hidden truths.
Is the one person she trusts only telling her half the story?
October 6th 2015 by HMH Books for Young Readers
7. An Inheritance of Ashes by Leah Bobet
Summary:
The strange war down south—with its rumors of gods and monsters—is over. And while sixteen-year-old Hallie and her sister wait to see who will return from the distant battlefield, they struggle to maintain their family farm.
When Hallie hires a veteran to help them, the war comes home in ways no one could have imagined, and soon Hallie is taking dangerous risks—and keeping desperate secrets. But even as she slowly learns more about the war and the men who fought it, ugly truths about Hallie's own family are emerging. And while monsters and armies are converging on the small farm, the greatest threat to her home may be Hallie herself.
October 6th 2015 by Clarion Books
8. Velvet Undercover by Teri Brown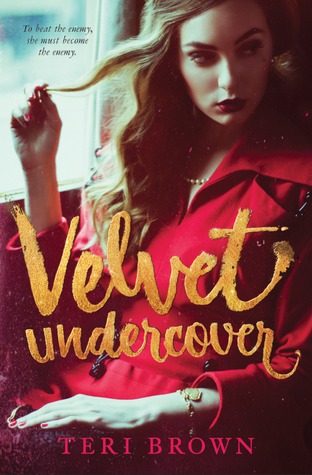 Summary:
Samantha Donaldson's family has always done its duty for the British Crown. In the midst of World War I, seventeen-year-old Sam follows in their footsteps, serving her country from the homefront as a Girl Guide and messenger for the intelligence organization MI5. After her father disappears on a diplomatic mission, she continues their studies of languages, high-level mathematics, and complex puzzles and codes, hoping to make him proud.
When Sam is asked to join the famed women's spy group La Dame Blanche she's torn—this could be the adventure she's dreamed of, but how can she abandon her mother, who has already lost a husband to the war? But when her handlers reveal shocking news, Sam realizes there's no way she can refuse the exciting and dangerous opportunity.
Her acceptance leads her straight into the heart of enemy territory on a mission to extract the most valuable British spy embedded in Germany, known to the members of LDB only as Velvet. Deep undercover within the court of Kaiser Wilhelm II, Samantha must navigate the labyrinthine palace and its many glamorous—and secretive—residents to complete her assignment. To make matters worse she finds herself forming a forbidden attraction to the enemy-a dangerously handsome German guard. In a place where personal politics are treacherously entangled in wartime policy, can Samantha discover the truth and find Velvet before it's too late…for them both?
October 20th 2015 by Balzer + Bray
9. Underneath Everything by Marcy Beller Paul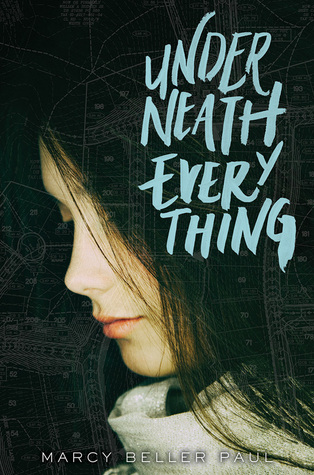 Summary:
Mattie shouldn't be at the bonfire. She should be finding new maps for her collection, hanging out with Kris, and steering clear of almost everyone else, especially Jolene. After all, Mattie and Kris dropped off the social scene the summer after sophomore year for a reason.
But now Mattie is a senior, and she's sick of missing things. So here she is.
And there's Jolene: Beautiful. Captivating. Just like the stories she wove. Mattie would know; she used to star in them. She and Jolene were best friends. Mattie has the scar on her palm to prove it, and Jolene has everything else, including Hudson.
But when Mattie runs into Hudson and gets a glimpse of what could have been, she decides to take it all back: the boyfriend, the friends, the life she was supposed to live. Problem is, Mattie can't figure out where Jolene ends and she begins.
Because there's something Mattie hasn't told anyone—she walked away from Jolene over a year ago, but she never really left.
October 27th 2015 by Balzer + Bray
10. What We Left Behind by Robin Talley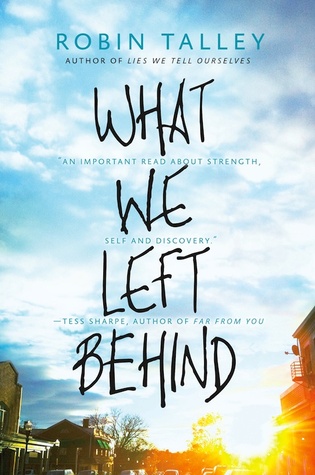 Summary: 
Toni and Gretchen are the couple everyone envied in high school. They've been together forever. They never fight. They're deeply, hopelessly in love. When they separate for their first year at college—Toni to Harvard and Gretchen to NYU—they're sure they'll be fine. Where other long-distance relationships have fallen apart, their relationship will surely thrive.
The reality of being apart, however, is a lot different than they expected. As Toni, who identifies as genderqueer, falls in with a group of transgender upperclassmen and immediately finds a sense of belonging that has always been missing, Gretchen struggles to remember who she is outside their relationship.
While Toni worries that Gretchen, who is not trans, just won't understand what is going on, Gretchen begins to wonder where she fits in Toni's life. As distance and Toni's shifting gender identity begins to wear on their relationship, the couple must decide—have they grown apart for good, or is love enough to keep them together?
October 27th 2015 by Harlequin Teen
I'm so excited for all of these books, it is sort of ridiculous, actually. I hope all of you are looking forward to these just as much as I am. What are some of your most anticipated books for October? Any scary stories?