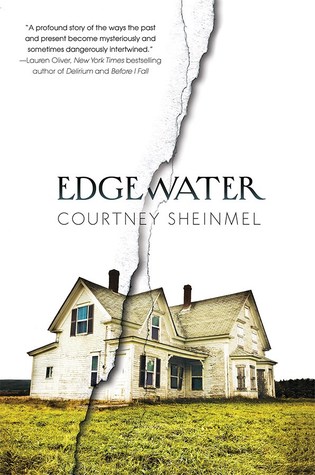 "You tell yourself a story for long enough, it becomes truer than the truth itself."
Title: Edgewater
Author: Courtney Sheinmel
Series: Standalone
Publication: September 8th 2015 by Amulet Books
Pages:336
Source: Publisher at ALA
Summary from Goodreads:
Lorrie Hollander used to be a rich girl, but now she's lost everything because of the secrets and lies of the people around her. It's been 12 years since Lorrie's mother skipped town and left Lorrie in the care of her unstable aunt Gigi. Together they live in a neglected, decrepit mansion called Edgewater, the eyesore in a town of extraordinary wealth and privilege.
When Charlie, the son of an esteemed senator, takes an interest in Lorrie, her shame for her family and lifestyle runs deep. But what she doesn't know is that Charlie's family is hiding something, too, and that their secrets are inextricably tied. Now Lorrie must confront the truth about her family—and everything she ever thought she knew about herself.
My Thoughts:
This book is not what I thought it was going to be. It started off how I imagined it would, the love interest was introduced in the way I thought he would be – but after that, all bets were off. Edgewater shocked me, both in the unexpectedness of the ending and with the brutal and in-your-face portrayal of life at the decaying mansion called Edgewater.
When I started this book, I fell in love with Charlie instantly. Now, Charlie is not the protagonist, but he is all I really feel the need to talk about. Well, more accurately, Charlie is the only thing I feel like I can talk about. We know from the synopsis that Charlie, the senator's son, takes an interest in our protagonist, Lorrie. I thought this book was going to be a romance, a cute girl meets boy who doesn't care about her shitty home life type of romance. I was wrong. There is romance in it, and yes, Charlie is seriously swoon worthy – but, in the entirety of this book, Charlie and Lorrie only kiss twice. Once in the beginning and once, very chastely, in the end. I WANTED SO MUCH MORE! How dare Sheinmel make me love Charlie so much and then not even showcase his amazingness? Not that I hated the book or anything, I actually really loved it – but I still wanted more. The scenes he was in were amazing, his chemistry with Lorrie was amazing, he was simply amazing. I was underwhelmed by everything that didn't have him in it, except for Lorrie of course. Lorrie is our protagonist, and she is pretty bad ass in her own right. Not bad ass in the traditional sense of the word, but in the way that she is a take charge, take no shit kind of girl – and I love main characters like that. One thing that bothered me, though, was her constant need for people to view her in a good way. The way she tried her best to keep who she really was because she was ashamed of her family and her home sort of bothered me. It fit perfectly with the story, considering it is one of the main plot points, but otherwise, it just made me want to smack Lorrie upside the head with my very non-Gucci, on sale at Ross purse. Money isn't everything, and how long it took Lorrie to realize that really bothered me.
I don't know what else to say about this book, everything I want to talk about I actually can't because it is a huge spoiler. It sucks, I want to vent and to rage and scream and all things associated with a good book that bothered you but you loved it all the same. I want to complain about things, I want to rave about how much I love things (namely Charlie), but I can't.
Edgewater is a brilliant book. It takes everything we hate about ourselves, how we are terrified of how other people view us, and the inescapable bonds of family and showcases them in a beautiful way. Edgewater will make you cry, it will make you cling to your roommate and rant about Charlie until one in the morning (No? Just me then?). It is an all-around powerful book about family, what it means to belong, the price of keeping secrets, and the power of friendship. If you don't have this book already, go find yourself a copy as soon as possible. It's worth it.
"For every person you meet, there will be a last time you'll say goodbye. And there's not always a way of knowing when that will be."