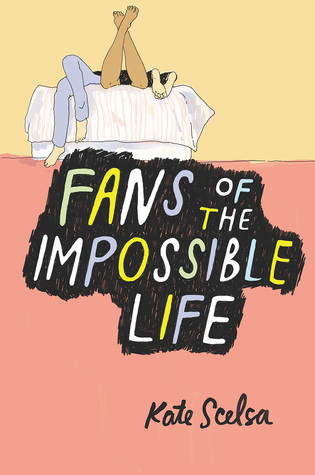 "May we live impossibly," Sebby said when he opened his eyes. "Against all odds. May people look at us and wonder how such jewels can sparkle in the sad desert of the world. May we live the impossible life."
Title: Fans of the Impossible Life
Author: Kate Scelsa
Series: Standalone
Publication: September 8th 2015 by Balzer + Bray
Pages: 368
Source: Publisher at ALA Annual
Summary:
A captivating and profound debut novel about complicated love and the friendships that have the power to transform you forever, perfect for fans of The Perks of Being a Wallflower.
Mira is starting over at Saint Francis Prep. She promised her parents she would at least try to pretend that she could act like a functioning human this time, not a girl who can't get out of bed for days on end, who only feels awake when she's with Sebby.
Jeremy is the painfully shy art nerd at Saint Francis who's been in self-imposed isolation after an incident that ruined his last year of school. When he sees Sebby for the first time across the school lawn, it's as if he's been expecting this blond, lanky boy with mischief glinting in his eye.
Sebby, Mira's gay best friend, is a boy who seems to carry sunlight around with him. Even as life in his foster home starts to take its toll, Sebby and Mira together craft a world of magic rituals and impromptu road trips, designed to fix the broken parts of their lives.
As Jeremy finds himself drawn into Sebby and Mira's world, he begins to understand the secrets that they hide in order to protect themselves, to keep each other safe from those who don't understand their quest to live for the impossible.
My Thoughts:
Fans of the Impossible life, as the summary suggests, is a story about friendship. I have to say that I really loved this book because of that focus, sure there was romance, but the central story was the journey three individuals went through on the road to becoming friends and remaining that way. This book will make you feel things. It will make you cry, it will make you laugh (especially Sebby), it will make you question how much you know the people around you, and it will tear your heart into little pieces that you will never get back and you won't want to.
"There was something in me that I was afraid to show other people. And I needed to find a place of strength to look inside and figure out what was trying to get out, and then, you know, embrace it. Be myself."
When Fans of the Impossible Life starts off, we get a glimpse into the mind of who I believe to be our main protagonist, Jeremy. There are three narrators for the book, Mira, Sebby, and Jeremy, but Jeremy seems to be the central focus caught up into the whirlwind that is Mira and Sebby's friendship. Not that it is a bad thing, it is actually one of the best things that seems to have happened to Jeremy – and I really loved reading about how their friendship developed over time.
As I said before, this book has three narrators and three different narration styles. I was sort of intrigued by the different narration. Jeremy speaks through a first person point of view, Mira speaks through a third person limited point of view, and Sebby who speaks in a second person point of view. This was the first time I have ever read something in a second person point of view, and the first chapter from Sebby's point of view sort of caught me off guard – but I still liked it. Each character had their own distinct voice, each character was their own individual, and the differing narrative point of views helped to solidify that.
"At this point there were still things that we didn't know about each other. Secrets that we had to protect. It would be a while before it was all out in the open, the messy and difficult and unmanageable truth of our individual lives."
Every single character in this book now holds a special place in my heart, especially Jeremy. I don't want to talk about the characters too much, each of them hold their own secrets and I don't want to spoil any of them for you. Jeremy, goodness I loved Jeremey. I don't know how else to describe him other than being completely adorable. He is so sweet, so shy, so thoughtful and kind that every single one of his chapters turned me into a sentimental puddle. Mira, our resident fashionista, was an absolute joy. I really resonated her, especially in her darkest moments – I could see myself through her eyes, in her thoughts. It was quite terrifying to be honest, but it only made me love her more. I really liked her obsession with clothes, it really made me want to go binge watch Project Runway – which Scelsa even referenced with Sebby's hilarious Tim Gun impression. Speaking of Sebby, he was sort of an enigma throughout the entire book. He was an essential part of Mira's life, and she part of his, but we never really knew anything about him other than that and that he lived in a foster home. I did like Sebby, don't get me wrong, he provided some serious comedic elements, but he also sort of pissed me off. I can't talk about all of the characters, there are far too many lovable ones – but I can sum them up with one quote from Rose after she dyed her hair.
"Freak out at the dyke rejecting your heteronormative arbitrary beauty standards!" She picked up the copy of Glamour and rubbed it on her body. "I got your Glamour right here, bitch!"
I do want to bring up a point I found really interesting. There is a large section in the book about The Great Gatsby during a flashback Jeremy has about his freshman year of high school. Now, I absolutely hated The Great Gatsby when I read it, but listening to Jeremy's ideas about Nick and the general discussion the class had about the book made me feel as if I was sitting in class again. It was sort of nice, it was one of the first times I have ever seen a classroom scene portrayed so vividly and to the right degree in a book. It was really refreshing.
Fans of the Impossible Life deals with some hard-hitting themes. There is heavy drug usage, explicit language, talk of multiple suicide attempts, bullying, and homosexuality – but Kate Scelsa handles all of these topics with such grace that they all felt like integral parts of the story, and they were, to be honest. I love books that deal with controversial or heavy topics, they always hit me harder and make me feel more than basic fantasy or romance novels – not that there aren't some out there that hit me right in the feels. But, the way each and every issue was incorporated into the characterization of the individuals throughout was awe-inspiring, it was all so raw and honest that it felt totally real. It made me stop and think about every person I walked past on my way to class and ask myself "what do you think they're going through?" and "how can I help?"
"There was also something liberating about it all being out in the open. There was no opportunity for me to hide, so there were no choices to make. The kids who wanted to torture people were going to torture me because I was an easy target, but at least I knew who my real friends were."
One thing I do want to point out is that even though I loved the book as a whole, I was extremely disappointed and underwhelmed by the ending. It seemed as though there was this large build up to absolutely nothing. It could have really gone somewhere, it could have been as compelling and emotional as the rest of the book – but it just left me feeling meh. I wanted more out of it, maybe more of a resolution for what was going on, maybe some sort of cliff hanger that made me feel something other than indifference – I don't know. Don't get me wrong here, this in no way affected my view of the book itself – I just think that it could have been so much more.
Fans of the Impossible Life is a hard-hitting, enjoyable, and imaginative story about a girl, her gay best friend, and the boy who is in love with them both. I can't express how much I loved this book, apart from the ending that is. It made me laugh and cry, it made me smile and want to throw the book at the wall – it made me feel, and that is the goal of every book out there, is it not? I want to meet these characters, I want to be in their circle of friends, and I want to join them in their impossible life.